Youth hunters end a fruitful weekend
ADDISON COUNTY — A bountiful Youth Hunting Weekend on Nov. 9 and 10 left many young hunters and their families with smiles on their faces and gave hope to area hunters of all ages heading into the 16-day rifle season that started this past Saturday.
In all, hunters age 15 and younger brought 142 deer to one of Addison County's seven wildlife reporting stations after bringing them down that weekend. That total topped the best Youth Hunting Weekend total the county has seen in at least 17 years, when the Independent began reporting deer totals.
Nick Fortin, a Vermont Fish & Wildlife Department deer project leader based in Rutland, said the strong Addison County results track with others in the region.
"It looks like most of the Champlain Valley did really well," Fortin said.
Robbie Bedell, owner of Green Mountain Trails End in Bristol, which handled 29 deer that weekend, noted four young hunters brought bucks with 8- or 9-point racks to his Route 116 store.
"We had some good ones," he said.
Bedell said signs last week were pointing to a good rifle season.
"Right now it's time to hunt. There's a lot of deer," Bedell said. "It's going to be a lot of fun."
Weigh station operators cited plentiful feed, such as acorns and chestnuts, in the woods for deer as one reason for the healthy herd numbers. Fortin said a largely favorable weather forecast for the opening of rifle season was another reason for optimism heading into the state's most popular 16 days of hunting.
Combined with the 224 deer that bow hunters killed in a productive season from Oct. 5 to Nov. 1, the county's total number of deer weighed so far stood at 366 heading into rifle season.
The number approached the 384 combined youth and archery total from 2018, a year that ended up setting a county record of 1,345 for deer weighed in all four seasons: archery, youth weekend, rifle, and December's muzzleloader/bow. The record refers to post-2005, when regulations banning shooting spikehorn bucks were put in place.
Hunters are running well ahead of 2017, when hunters killed 1,079 deer in the four seasons, the second-best total since 2005. This year looks to be historically successfully for local deer hunters: After archery and youth weekend in 2017 county hunters had weighed only 271 deer in the county.
On this past Nov. 9 and 10 young hunters brought down a number of trophy bucks, including the year's first to top 200 pounds: A 204-pound, 7-pointer Carter Audet shot in Orwell and had weighed at Buxton's Store, and a 201-pound, 8-pointer, that Jordan Morrison killed in Lincoln that was handled at Lincoln General Store.
Among the other notable bucks were a 193-pound, 8-pointer Logan Ladeau shot in Bristol and had weighed at Green Mountain Trails End, and a 194-pound, 8-pointer Matthew Conant killed in Addison and brought to Rack 'N Reel in New Haven.
Youth hunters who killed deer on Nov. 9 and 10 and took the animal to a county weigh station included the following. They are listed by name of hunter, town of kill, and details of the deer taken.
C&S HUNTING SUPPLIES   
Dalton Rheaume, Salisbury, doe 88 pounds; and Nora Warren, Salisbury, doe 80.
WEST ADDISON GENERAL STORE
Jacob Hanlon, Ferrisburgh, buck 160 pounds, 5 points; Kaiden Lecompte, Panton, doe 125; and Colton Reed, Addison, 106-2.
VERMONT FIELD SPORTS
Madison Graves, Panton, buck 181-6; Tupper Quenneville, Salisbury, buck 176-8; Alanna Trudeau, Middlebury, buck 170-4; Abygayle Lanpher, Leicester, buck 162-7; Larry Bougor, Salisbury, buck 159-8; Isabella Gale, Salisbury, buck 147-6; Cole Disorda, Orwell, buck 147-9; Remington Coburn, Salisbury, buck 140-4; and Timothy Whitney, Shoreham, buck 130-3.
Also, Patrick Scholar, Whiting, buck 127; Steviee Bell, Shoreham, buck 120-2; Derek Raymond, Salisbury, doe 115; Nolan Warner, Middlebury, buck 114; Kegan Brown, Salisbury, doe 114; Emma Brown, Middlebury, buck 111-2; Keegan McCullough, Middlebury, buck 111-4; Isaac Kennedy-Mitchell, Pittsford, doe 111; Timothy Laframboise, Cornwall, buck 110-4; and Brady McDonough, West Haven, doe 110.
Also Brady Lloyd, Salisbury, buck 109-4; Wyatt Fallon, Leicester, buck 107-2; Matthew Cole, Leicester, doe 105; Kade DeVries, New Haven, buck 104-4; Kaylee Maloy, Sudbury, 100 doe; Caleb Whitney, Cornwall, buck 100-2; Emma Dwyer, Ripton, 94 doe; Devon Cyr, Cornwall, fawn; Drake Felkl, Sudbury, fawn; Daniel Moore, Leicester, fawn; Colin Foster, Bridport, fawn; and Ayden Trombley, Cornwall, fawn.
BUXTON'S STORE
Lilly Russell, Orwell, buck 116-4; Joe Buxton, Orwell, buck 108-3; Asa Young, Orwell, buck 122-2; Walter Schondube, Orwell doe 95; Tanner Burns, Shoreham, buck 124-3; Julie Carrara, Castleton, buck 119-5; Nick Gosselin, Benson, buck 134-6; Trey Lee, Orwell, buck 141-4; Oliver Audet, Orwell, 141-4; Andrew Barker, Castleton, buck 135-4; and Stephan Hills, Benson, buck, 135-6.
Also, Brady New, Orwell, doe 109; Gus Hill, Benson, doe 106; Zeke Arace, Benson, doe 100; Lexi Orleans, Orwell, buck 119-2; Hayden Martin, Orwell, fawn; Charlotte Newton, Orwell, buck 120-3; Samuel Young, Orwell, 130-5; Levi Wilson, Orwell, buck 151-6; Avery Audet, Orwell, buck 102-2; Brody Little, Orwell, doe 121; Nathan Jones, Orwell, buck 108-4; and Joseph Bergevin, Shoreham, buck 152-3.
Also, Gabriel New, Whiting, doe 136; Lincoln Wilcox, Hubbardton, 116-4; Addyson Fleming, Whiting, doe 135; Michael Dame, Shoreham, doe 115; Tristan Stearns, Shoreham, doe 103; Brandon Eastman, Orwell, buck 131-2; Alyssa Warren, Shoreham, buck 106-3; and Bentley Eastman, Orwell, buck 120-2.
Also, Caden Reed, Orwell, doe 110; Wyatt Casenelli, doe 125; Cooper Laroche, Shoreham, fawn; Sawyer Cadoret, Shoreham, buck 113-2, William Lussier, Castleton, buck 91-4; and Thomas Given, West Haven, buck 133-7.
GREEN MT. TRAILS END
Logan Ladeau, Bristol, buck 193-8; Tucker Babineau, Starksboro, buck 170-9; Kiley Sorrell, Charlotte, buck 160-8; Willa Lathrop, Buck 154-6; Blake Bowen, Middlebury, buck 151-4; Alivia Briggs, New Haven, 145-6; Paden Lathrop, Bristol, doe 138; Payton Shepard, Huntington, buck 137-8; Hagan White, New Haven, buck 135-2; and Megan Stevens, Huntington, buck 132-2.
Also, Wilder Devine, Bristol, doe 129; Dylan Sicard, Starksboro, doe 127; Evan Audy, New Haven, buck 124-2; Hunter Little, Lincoln, doe 123; Ethan Bromley, Starksboro, buck 123-4; Isayah Isham, Hinesburg, buck 121-2; Brooklyn Ryersbach, Moretown, buck 117-4; and Solomon Whitcomb, Starksboro, doe 116.
Also, Brighton Fuller, Bristol, buck 114-2; Dominic Saunders, Bristol, doe 110; Tucker Davis, Bristol, doe 109; Caiden Whitcomb, Starksboro, buck 107-2; Levi Mcguire, Middlebury, doe 103; Bradley Well, Starksboro, 78 doe; Isak Irish, New Haven, fawn; Carson Bertrand, Bristol, fawn; Tucker Porter, Starksboro, fawn; Arthur Barrows, Weybridge, fawn; and Cloe Briggs, New Haven, fawn.
LINCOLN GENERAL STORE  
Gavin McNulty, Shoreham, buck 135-4; Jordan Morrison, Lincoln, buck 201-8; Madison Spafford, Shrewsbury, buck, 143-7; Hunter Brown, Lincoln, fawn; Cole Shepard, Lincoln, fawn; Robert Cavoretto, Lincoln, fawn; and Wyatt Cavoretto, Lincoln, buck 112-3.
RACK 'N REEL  
William Auclair-Israel, Williston, buck 161-9; Elijah Duprey, Waltham, fawn; Austin Macarthur, Huntington, buck 154-6; Alyssa Ouellette, Bridport, buck 96-2; Scott Botala, Charlotte, buck 116-4; Kyra Bradford, Ferrisburgh, doe 90; Joleigh Bradford, Ferrisburgh, doe 115; Isaac Preston, Ferrisburgh, doe 114; Isabella Kilbourn, Ferrisburgh, doe 148; and Samantha Hallock, Salisbury, buck 180-8.
Also, Cameron Stone, New Haven, buck 148-4; Ethan Gebo, Ripton, buck 128-4; Mason Livingston, New Haven, buck 139-8; Hunter Pizzagalli, Charlotte, buck 158-9; Ryan Thomas-Danyow, Ferrisburgh, buck 149-8; Bryn White, Monkton, buck 106-2; Logan Stearns, Panton, doe 115; Collin Blier, New Haven, buck 170-8; and Tyerell Lavoie, Ferrisburgh, fawn.
Also, Clara Palmer, New Haven, buck 168-6; Nathan Bingham, Weybridge, 138-6; Devan Hemingway, Ferrisburgh, buck 132-5; Jamison Huizenga, Monkton, buck 108-2; Chase Stokes, Hinesburg, buck 108-2; Chad Fredette, Ferrisburgh, doe 122; Carter Paquette, Waltham, buck 145-8; Timothy Ashley, Cornwall, buck 135-3; and Caleb Stearns, Ferrisburgh, 120 doe.
Also, Evan Ambrose, Ferrisburgh, buck 117-4; Wyatt Giroux, Hinesburg, buck 103-2; Mason White, Weybridge, doe 108; Collin Dupoise, New Haven, buck 152-6; Matthew Conant, Addison, buck 194-8; Eleanor Hurlburt, New Haven, buck 129-2; Rowan Clark, Bristol, buck 145-4; Dakota Parker, New Haven, buck 127-2;
Andy Kirkaldy may be reached at [email protected].
More News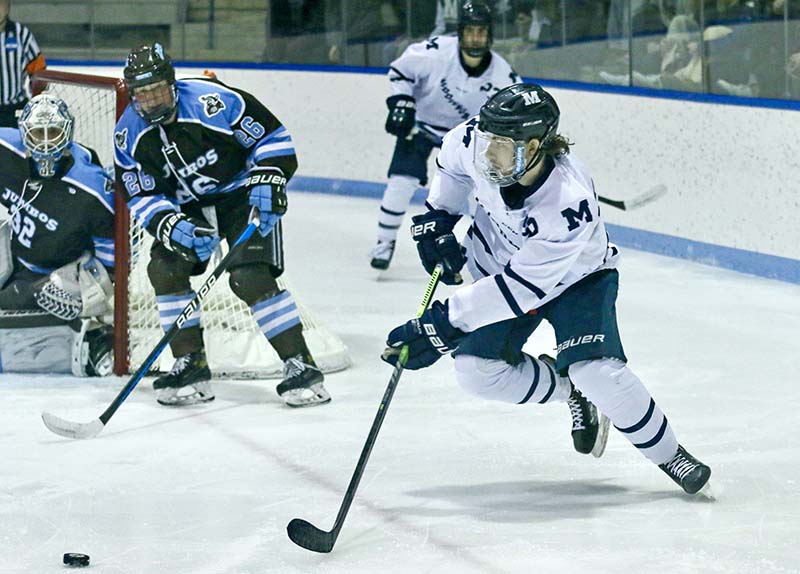 Middlebury College men's hockey surged passed Conn College before falling to Tufts this pa … (read more)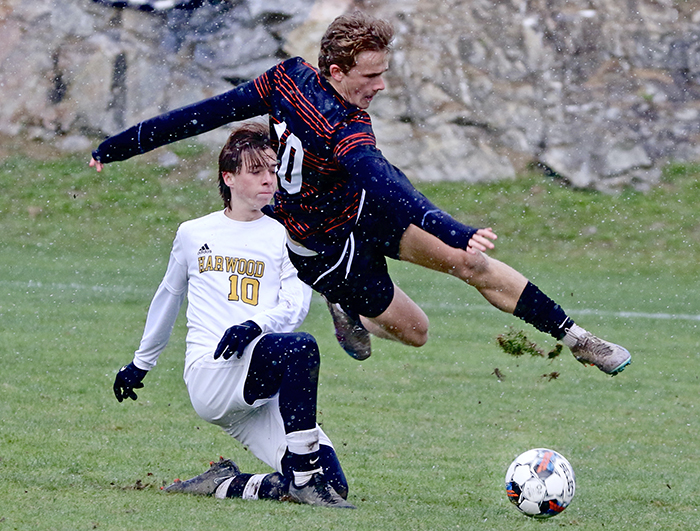 Seven local high school boys' soccer players were named to the Division II or III All-Stat … (read more)
Five area high school girls' soccer players were named either Division I or D-II All-State … (read more)