A local farm gives animals a 'Second Chance'
ADDISON — A lot has happened in the six months since Liz and Noah Hurlburt first entertained the idea of having a farm.
They got married, purchased 34 acres near Lake Champlain in Addison, moved their family down from Williston, built fences and stalls, opened a catering business and acquired more than 100 animals.
"We were merging our families — six kids and five dogs — and so we thought … space," said Noah, a science teacher who grew up in rural Vermont. "And a sense of place. There's a quality of life that comes with that, which is really important."
The Hurlburts call their new home Second Chance Farm, which reflects their mission: to educate people about the importance of maintaining biodiversity by raising animals that have been designated by the Livestock Conservancy as critically threatened.
For instance, "we found San Clemente Island goats," Liz said. "There are only 700 of them in the whole world, and we got six of them."
The Hurlburts believe this is a lesson in and of itself.
"We thought it was important for children to understand," Liz said. "There are fewer than 700 of these things in the whole world, and you can actually do something so that they don't become extinct. And if something does go extinct, there's consequences to that — and let's talk about what those are."
"Every animal has a story," Noah added. "And we feel like those stories need to be told."
BEGINNERS
Meanwhile, the story of Second Hand Farm continues to evolve, sometimes in amusing ways.
"We're those people who don't know how to do this yet," said Liz, a business executive who works from home. "But we're learning."
The couple's children have woken them up in the middle of the night on more than one occasion, with announcements about sheep on the lawn or goats that are "eating everything."
A few of the animals have embarked on their own adventures.
"That's how we met one of our neighbors," Liz explained. "The day after we moved in we ended up getting a pregnant mini-donkey and she escaped and started walking down Lake Street, and so our neighbor took her and called us."
Sometimes the work can be emotionally difficult. Soon after they announced their first open house last month, Second Chance Farm received a rescue request from someone in distress.
"They messaged us and said, 'I'm in a domestic violence situation. I have seven goats and two horses and I won't leave until I know they're OK, because if I leave, and leave them here, they will get killed.'" Liz explained. "And here it was, eight o'clock in the morning…"
"And I was out there cleaning stalls and (Liz) came out and said, 'OK, we're going,'" Noah recalled.
"And I was like, OK, let's talk this through," Liz said. "Here's the number for the National Domestic Hotline. Do I need to call the police? And an hour later we were there and took these seven goats."
PLACE-BASED LEARNING
The Hurlburts plan to make Second Chance Farm a nonprofit organization, which they hope to fund in part through educational offerings.
"I see pre-K through 12, place-based experiential learning for kids," said Noah, who is currently the after-school programs director at a Burlington school.
Noah developed Second Chance Farms' curricular offerings, which meet state standards and can be tailored for any grade. Sample programs include discovery walks, farm ecology, forest ecosystems and wild orienteering, where student teams complete a course and solve a natural history mystery.
"We can develop a custom place-based curriculum that meets the standards that teachers need — and we can do it in an equity-based way, cheaply," he said.
Second Chance Farm began reaching out to local and regional schools late last summer, looking to form partnerships.
More information about the farm's educational opportunities is online here.
COMMUNITY SPACE
Second Chance Farm welcomes more than just schoolchildren.
Noah has been working to finish a studio on the property, which they plan to offer as a community space.
"It's easy to isolate yourself, especially in a rural place," he said. "There's a lot of like-minded people in the community, but sometimes they're doing their part as sort of islands unto themselves. It would be amazing if we could provide a place to gather those people and ideas."
In addition to hosting youngsters, Liz envisions providing a space for the elderly community, she said.
SECOND CHANCE DINNERS
Sometimes it's not just animals that need a little extra help.
Recognizing that, Second Chance Farm now offers "Second Chance Dinners," for free, to one family in the local community each week.
"Whether you're down on your luck, struggling to put real food on the table or just need a break, let us feed you," they wrote in the program description. "It's not charity. It's neighborly."
"We see people having hard times, and we see the community rallying around those people," Noah said. "So we've come up with an open platform (to make that easier)."
To learn more — or to nominate a family for a Second Chance Dinner — contact the farm through Facebook Messenger. All messages are kept confidential.
THIS LITTLE PIGGY
The Hurlburts also have a catering license and operate a food truck, which they've named "This Little Piggy."
It's important to stress, however, that they're not turning their rescue animals into meals.
"We've been asked about that," Liz said.
What they do sell is a fun variety of foods the family learned to love while vacationing in Hawaii earlier this summer, like waffle pops, Brazilian coxinhas and huli huli chicken.
"The food truck can go anywhere," Noah said. "School events, football games, races. We have lots of ideas about how to use it for fundraisers."
On Oct. 18, they plan to take their cooking and catering skills one step further with "Farm Dinners," which they'll cook and sell on weekends.
The menu will change periodically, but as of this writing, options include braised beef stew and homemade meat & cheese lasagna. Typical meals will serve four to six people.
For more information click here.
PUMPKIN CHUCKIN'
Hoping to build on the success of their Grand Opening weekend, which drew more than 300 people over two days, the Hurlburts have planned another event later this month.
The 1st Annual Halloween Bash will be held at the farm on Saturday, Oct. 26, from 3 to 7 p.m., and feature "pumpkin chuckin'," animal encounters, costume contests and music.
"The food truck will be fired up and our animals will be sporting great costumes," they wrote on the event's Facebook page.
In the end, Second Chance Farm isn't about making money, though they would like to be able to "keep the lights on and feed the animals." Instead, they see it as the physical manifestation of their feelings about community and connectedness.
Noah put it a simpler way.
"It's a labor of love."
For more information about Second Chance Farm, click here or visit the farm's Facebook page.
Reach Christopher Ross at [email protected].
More News
Blasting ledge could begin on Monday in Vergennes as work on the $25 million Vergennes Gra … (read more)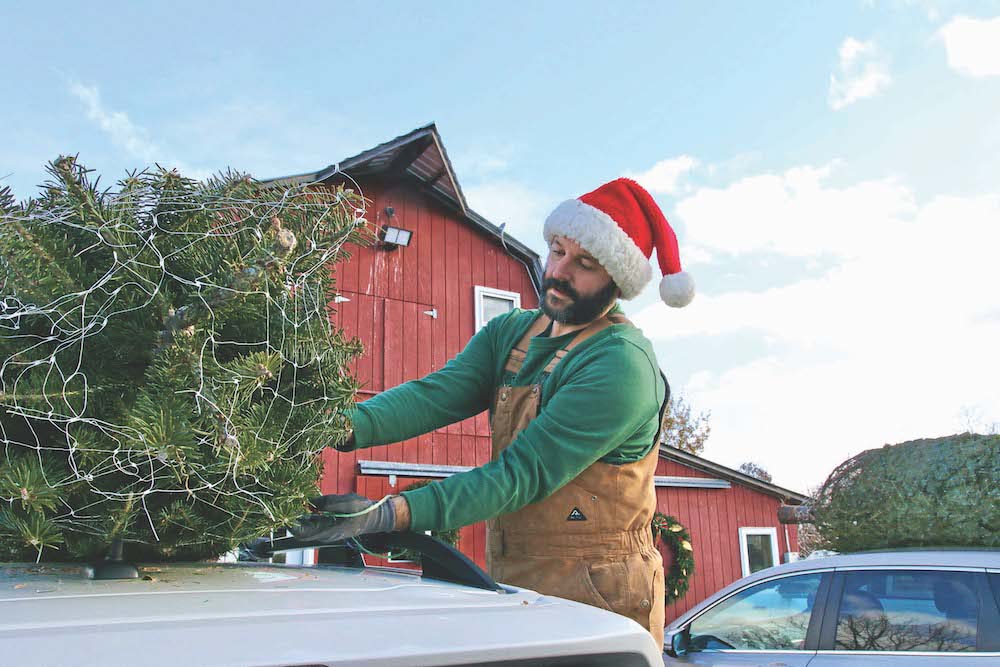 With the holiday season underway, county Christmas tree farms have begun welcoming visitor … (read more)
As the Middlebury Snowbowl prepares for opening day this Saturday, Dec. 9, loyal skiers an … (read more)