Matt Dickerson: There's something about fishing gear
I have a complex relationship with fishing gear.
It's like one of the old status question about whether two people are dating, and the answer is, "It's complicated." 
I'm a big fan of fishing gear. That's not complex. I'm a big fan of fishing, and at least some fishing gear is necessary for fishing. (Though, as it turns out, much of it isn't.) I've had a set of fly rods for several years that I'm quite happy with. They don't wear out, and as long as I can avoid slamming them in car doors, sitting on them in canoes, or catching the tips on tree trunks when walking along river banks, they should last the rest of my life. (Confession. I've broken several rods, and only one while actually landing a big fish.) A couple years ago, I even admitted to my wife that unless we left Vermont and moved to the ocean I shouldn't need to buy another fly rod.
I've also finally found a set of fly reels I really like, though that took longer. Fly reels look pretty simple, and you'd think they wouldn't be that important given that most of the time while fly fishing you hold the line in your hands. However, as I learned the hard way, the drag ends up being very important when playing a big fish, and the balance and quality of the machining impacts how smoothly they play out line.
But then we come to waders. Since almost all of my fishing is wading, and most of it is in Vermont in cold rivers, waders are important. They also leak. Not when they're new, of course. Or even within the first few months. But then the honeymoon is over. The relationship gets rocky. Eventually the constant wearing takes a toll, and long before I feel like they should be leaking, they start to leak. Since waders are too expensive for me to replace the moment the water on the outside starts appearing on the inside, I wear them long after the leaking begins. Usually the leaky period for my waders lasts longer than the unleaky period.  
Then there is all the other gear that I don't really need, and might not have even known existed, until I walked into Green Mountain Adventures or Vermont Field Sports and see it and realize how cool it is. And then I have to justify why I'm suddenly a few dollars poorer because of an item I don't actually need to catch fish. "It's complicated," I tell my wife. What I want to say, is that it will solve all my fishing problems
Like the problem of what to do when you are fishing a river, and over the course of a couple hours want to use two different techniques that require very different setups of your fly rod, or even two different rods. For example steelhead fishing, when you want to swap between Spey casting and nymphing. Or like my recent trip in Alaska when I wanted one rod rigged for drifting egg patterns (with weights and a strike indicator), and one for casting streamers, and my time on the river was too limited to waste precious seconds re-rigging from one to the other. I've tried hauling two rods with me before and leaving one against a tree, but I'm always worried about losing one, and also when I'm fishing I'm often constantly moving down the shoreline and so it's impractical to carry two.  
I wouldn't have had a solution if I hadn't walked into Green Mountain Adventures one afternoon when Steve Atocha had a Fishpond Quick Shot fly rod holder on the cash register. He actually owned one himself and used it, and said it worked. You can rig two rods up, and keep one strapped to your pack, out of the way, but readily handy when it's time to switch. So now I own one. Definitely something I needed.
I also own a new portable castable Lowrance Fish Hunter sonar device not much bigger than a golf ball. Many years ago I had a similar device. It transmitted a signal via radio frequency to an LCD wristwatch with a very low resolution display that in theory would indicate when a fish was below the device. The sonar device seemed to work OK under perfect conditions down to a limited depth. I used it a couple times, and a little fish icon showed up on my display once or twice (though I never caught one of those fish). But the device had a non-replacable non-rechargable battery. It had a few dozen hours of use and then it was worthless. Not wanting to use up its lifespan, I rarely used it at all. 
Then along came new technology. The Lowrance Fish Hunter Pro portable castable model has five sonar transducers and produces an amazing image showing the depth and structure of a large swath of the lake bottom down to over 100 feet in depth, and more importantly showing any fish between the device and the bottom. It transmits all that info via WIFI to your smart phone, and to an app that can do things like map out the bottom. 
I used it in Maine this summer, exploring a new lake in the White Mountain National Forest with my brother. The first night, trout were rising for flies on the surface, and we didn't need the sonar. The next morning, however, the hatch was off. Fish were down. We paddled around the little lake, searching with the sonar, until I found a group of fish about six feet down. We dropped some streamers in the water near them and landed one.  
Now I consider it an indispensable device: not quite as important as my fly rod, but somewhere higher up the scale than my waders — or, at least the ones that are leaky. 
More News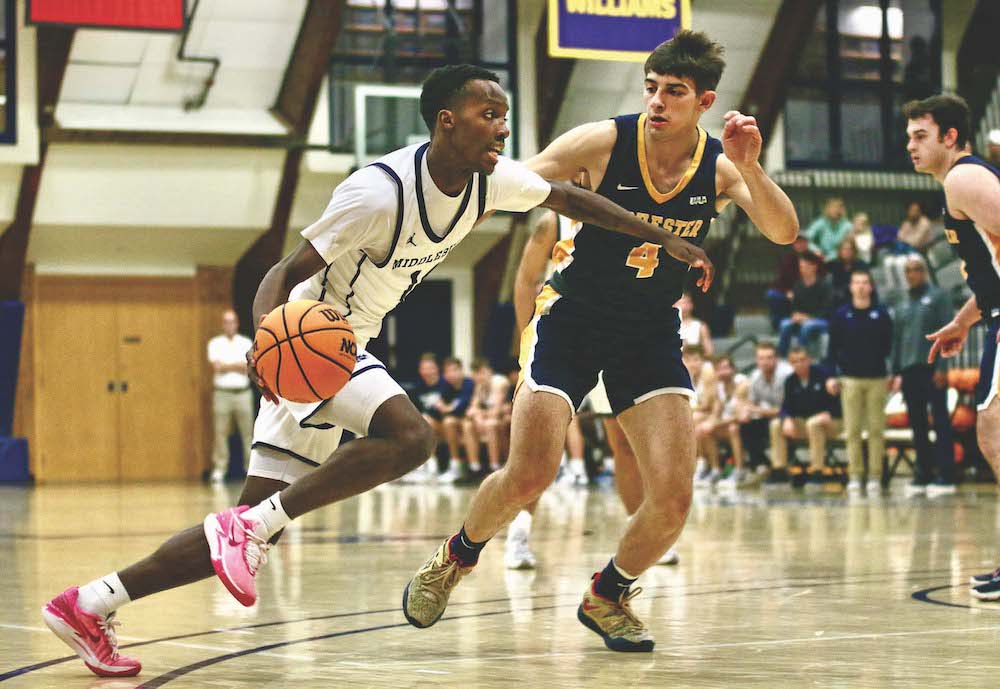 The Middlebury College men's basketball team dropped a pair of home games to teams in the … (read more)
The Middlebury College women's basketball team split a pair of games this past weekend at … (read more)
The Middlebury College women's hockey team lost one game and settled for a tie in another … (read more)