Wool used for fertilizer? Yep, sheep hair's a low-phosphorus alternative
SHOREHAM — Will and Judy Stevens of Golden Russet Farm & Greenhouses in Shoreham spent a little extra time with their broccoli harvest this year.
They counted and weighed it, head by head.
Earlier this summer Golden Russet had planted a 300-foot row of broccoli without any soil amendments, Will Stevens explained. In a second row, they had fertilized 100 feet with peanut
meal, which is commonly used, and another 100 feet with a trial organic fertilizer provided by UVM Extension as part of a new study.
The trial fertilizer, it turned out, produced nearly the same size broccoli as the peanut meal. In fact, it produced broccoli faster.
"Getting a harvest three or four days earlier did get my attention," Stevens said. "It seemed like something to take seriously."
The trial fertilizer, which UVM researchers hope will benefit Vermont agriculture twice over, is composed of a single ingredient: sheep's wool.
DECLINING INDUSTRY
In 2017 Addison County produced more wool than any other county in Vermont, according to the 2017 USDA Census of Agriculture.
This was more of a default ranking than an achievement, however.
Wool production in Vermont declined by 44 percent between 2012 and 2017, and in Addison County it just happened to have declined at a slower pace than in other counties.
"Over the last decade the price of wool has been so low that most people don't deal with it," said Kimberly Hagen, a former sheep farmer who worked for 33 years in the wool industry. "People cart it out to the woods or they store it in the backs of their barns."
Hagen, now a grazing specialist at UVM's Center for Sustainable Agriculture, is working with Vermont Grass Farmers Executive Director Meghan Sheridan on a trial to see how wool — in the form of pellets — performs as a fertilizer.
"The U.S.ships 80 percent of its wool overseas to places like China and India and then buys it back as value-added products like sweaters and rugs," Hagen explained.
As if finding ways to turn their raw materials into value-added products hasn't been challenging enough, sheep farmers have also been struggling to solve the problem of "waste wool," the crumbly, short, coarse stuff sheared from a sheep's back end, legs and head.
Waste wool is also known as "dirty wool" or "black wool" — and for good reason.
It's filthy.
"You have to scour the wool, which is expensive and water-intensive," Hagen said. "Then you're left with wash water that's nutrient-rich," which poses the same kind of problem — though on a much, much smaller scale — the dairy industry faces. "Dealing with that water can also be expensive."
BERLIN TO UTAH
A few years ago Hagen encountered wool pellets being used as fertilizer during a visit to Germany.
In subsequent research she discovered that a Utah sheep rancher named Albert Wilde had obtained a patent to manufacture and sell the same kind of pellets, but he was having trouble keeping up with demand.
Because wool pellets can reduce watering by as much as 25 percent, they've become very popular with California's water-intensive cannabis industry, Hagen explained.
Any hope that Vermont sheep farmers had just found a buyer for their wool was soon dashed, however. Shipping the stuff cross-country turned out to be cost-prohibitive (and fossil-fuel intensive).
So Hagen and her fellow researchers turned their sights on their home turf.
MADE IN VERMONT?
Water retention might be less important here than it is out west, but wool pellets (as manufactured in Utah) contain 9 percent nitrogen, 1 percent phosphorus and 2 percent potassium.
"What we really like is that there's little or no phosphorus and the pellets also act as a slow-release of nitrogen," Hagen said. "Even if the yield ends up being the same, it's a win-win. Replacing peanut meal with a local product would save money and cut down on fossil fuel use."
Hagen obtained funding for a small trial in Vermont and ordered 1,000 pounds of pellets from Utah. Then she invited Albert Wilde to Vermont.
"He was very generous with his knowledge and his time," she said of his visit. "While he was here we got out an old switch-grass pelletizing machine and experimented with it."
They noticed that the pellets they made from Vermont wool seemed to turn out better when the machine got warmer — perhaps because the lanolin in the wool was melting just enough to act as a binding agent, Hagen said.
"We're still doing a lot of research and development," she acknowledged. "This is the kind of thing where you have to know a lot about machines."
NEXT STEPS
Later this month Hagen and her team will collect crop data from Golden Russet and three other farms, and analyze how Wilde's Utah pellets performed.
Report in hand, they then hope to apply for a grant that will enable them to conduct a much wider trial next year.
At some point down the road, patent issues will also need to be addressed.
Then sheep farmers will need to join together.
"Vermont is the biggest producer of wool in New England, but most of its sheep farms are hobby size and the state doesn't produce nearly enough wool to make this work," Hagen said. "We would need to have New York on board."
Even if an industry does emerge in the Northeast, the price point of wool pellets may be too high for widespread crop use.
"It certainly couldn't be used for corn crops, but maybe they could be useful for small veggie farms," Hagen said. "It all depends on the cost of production."
In the meantime, people are paying attention.
"The Agency of Agriculture has been helpful and has collaborated with us on this," Hagen said. "(Secretary of Agriculture) Anson Tebbetts and (energy specialist) Alex DiPillis are interested and watching."
Will Stevens will be watching, too, and not just because Golden Russet is always looking for suitable and affordable fertilizers.
"We're hopeful about the economic development piece of this," he said. "This could support the development of a new market for Vermont agricultural products."
Reach Christopher Ross at christopherr@ addisonindependent.com.
More News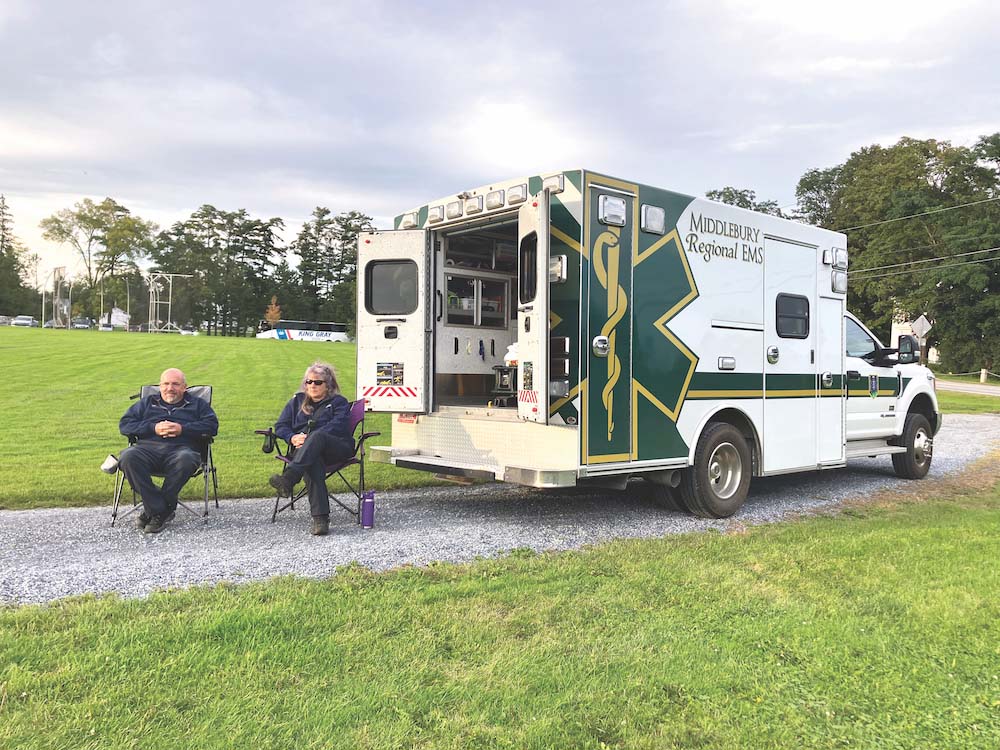 Middlebury Regional Emergency Medical Services wants to eliminate its annual Town Meeting … (read more)
Middlebury police are investigating the death of a Middlebury College junior and say the p … (read more)
Vergennes resident Margaret Clifford offers nearly a century of recollections, from losing … (read more)