Vietnam vets stage 50th reunion in Middlebury
We really were a band of brothers … Living in those conditions we lived in you had to take care of each other. And we did, and thought nothing of it. It was just second nature, and we got through it, the good and the bad.
— Roch MacIntyre
MIDDLEBURY — On Sept. 12, 1969, the 184 members of the 131st Combat Engineers of the Vermont National Guard attended a ceremony at the Guard's Camp Johnson. There, most of them took off their uniforms for the final time.
They had completed 17 months of active, full-time duty that began with an April 12, 1968, call-up that had long been rumored. That duty included four months of training at Virginia's Camp Belvoir from May to September 1968.
It ended in September 1969 after the 131st Engineers had spent a year rebuilding a mountainous road that spanned almost the width of South Vietnam.
On Sept. 19, 1968, the Guard members left Camp Belvoir for the long journey to their assignment — using their construction and engineering skills to reconstruct a mountainous stretch of road from the coast of South Vietnam to the city of Buan Ma Thuot. The distance stretched about 60 miles as the crow flies, not far from the Cambodian border.
Fast-forward 50 years to Saturday, Sept. 21, 2019.
On this past Saturday the 131st Engineers Company gathered again, this time on Exchange Street on Middlebury, home of Middlebury VFW Post 7823.
Around 60 veterans of the 131st Engineers, about a third of them from Addison County, and their families accomplished an easier mission — polishing off a meal of roast ham, mashed potatoes and caramelized carrots and peas.
And they swapped stories with their buddies, some of them still close friends and others they had not seen since that day at Camp Johnson.
According to local veterans of the 131st, they picked up right where they left off.
Roch MacIntyre, now owner of MacIntyre Services Inc. in Middlebury and back then a master sergeant, said hardly a beer was cracked due to the excitement of conversation.
"We were too busy talking, catching up on old times and telling lies — exaggerations," MacIntyre said. "We had a great time. It was nice to see the guys."
Salisbury's Dick LaFave, formerly Foster Motors' service manager, was also a sergeant back then. He agreed with MacIntyre about the non-stop chatter and one of its main focuses — the quality of the work the 131st did and their unit's favorable comparison with other units.
"(The reunion) just brought back a lot of good times we had even though it was a bad time. Everyone had their little conversations about what went on. It brought back a lot of memories of stuff you had forgotten, different things on worksite projects, and how we did this, and how much better than the regular army we were," LaFave said. "That was one big discussion right there. We were just tremendously better. Our equipment was better. It was just everything."
'ALL THE TALENT'
The 131st was the only Vermont Guard unit called up for the Vietnam War. MacIntyre, who enlisted in 1964 and ended his career at Camp Johnson that day in 1969, said many believe their activation was a trial run.
"We always thought, and I still say it today, that bringing up the National Guard and sending us to the combat zone was a test to see if the National Guard could back up the regular army," MacIntyre said. "And we did. The reports and the critiques that were done on us, and I've seen copies of them, were that, 'These guys knew what they were doing.'"
It should come as no surprise the Vermonters excelled, he said.
"We were made up of truck drivers, loggers, farmers. Everybody knew how to operate heavy equipment. It was second nature. We ran rings around the regular army. We knew what we were doing and enjoyed doing it. Our average age was 25, where the regular army was 18, 19. At that age that's a big difference," MacIntyre said.
LaFave, who enlisted in 1964 and served in the Guard for 25 years, saw it the same way. The unit had skilled members of virtually every trade, he said.
"We had somebody who could do everything. We had electricians, carpenters, mechanics, equipment operators, crane operators," LaFave said. "We had all the talent." 
MISSIONS ACCOMPLISHED
Another source of pride for the 131st is that the company did not lose a man in Vietnam. One member earned a purple heart, recently deceased local resident Louis "Mickey" Emilo. A mortar round exploded near a guard tower Emilo was staffing, knocking him out of the tower. Emilo injured his leg badly in the fall.
The 60 members of the 131st this past Saturday honored their commanding officer, Capt. John E. Andrews, with a plaque for his efforts in bringing them all home safely.
Of course, MacIntyre said, luck was also involved. He cited two incidents in which road mines did not explode and another in which a rocket landed in their compound and fizzled.
And there was another factor. Even though the crew would occasionally take Viet Cong fire out on the road, they didn't seem to get hit, the veterans said.
"We would get sniped at, out on the work jobs and that sort of thing, but mainly just to let you know they were there," MacIntyre said. "We used to say the road is just as important to them as it is to us. We got the hell off it at 4, 4:30 in the afternoon, and from that time until daylight the next morning it was kind of their road, you know? But they damn sure let you know they were out there."
The road ran from just north of Na Trang on the South China Sea to Buan Ma Thuot near the Cambodian border, about 160 miles north of what was then Saigon and is now Ho Chi Minh City.
Make no mistake, the veterans said, the road was in tough shape before the 131st went to work. MacIntyre said vehicle traffic went from fewer than 50 a day before the 131st arrived to about 350 a day.
"It was in deplorable condition. The bridges were all knocked out. It was a piece of junk," he said.
Work was a challenge in hilly and at times mountainous terrain.
"They (hills) were pretty steep when you got to them. A lot of traverses to get over them," MacIntyre said. "It was pretty tough to move equipment."
The 131st's mission had two goals, he said. One was to improve the supply line to the Fourth Infantry Division along the Cambodian border, but the other was to help the Vietnamese people.
"That part of Vietnam, in the central highlands, was huge in the rubber tree plantations and coffee, which they hadn't exported for a couple years. Which was a real drain to the economy, so the idea was not just to supply our troops and supply ourselves with that highway, but help these people get back on their feet economically," MacIntyre said. "And we did that … We're pretty proud of our accomplishment."
They persevered despite many being parents of young children. Neither MacIntyre nor LaFave fit that description, but they empathized with their comrades who did.
"Ninety-five percent of our unit were married, with children. It was very tough," MacIntyre said. "But we did it with a stiff upper lip and held our heads high and got the job done."
REUNION
Underhill's Dick Page, a carpenter, was the driving force behind the reunion, only the second major gathering of the 131st — the first came 25 years ago.
"Dick Page was the guy who wasn't going to let this go away," LaFave said.
MacIntyre and New Haven's Charlie Palmer also helped organize and persuade the group to meet at the Middlebury VFW.
"A bunch of us got together over the telephone and said we're running out of time. We're all in our 70s now," MacIntyre said.
Both of them were thrilled by the turnout — 60 represents about 45 percent of the surviving members of the 131st — and the chance to catch up with their buddies, especially those from out of the county.
"It was really good to see everybody again," LaFave said. "Fifty years is a long time."
Of course, MacIntyre said, there was a certain amount of friendly trash talking.
"I said, 'What happened to you guys? You've all changed, and I'm the only one who's stayed the same,'" he said. "They said, 'Guess again, Boy Blunder. Go look in the mirror.'"
Joking aside, MacIntyre said everyone agreed on one basic truth.
"One of the things we were all commenting on on Saturday is that we really were a band of brothers. We never had a cross word. We all got along great. We supported each other. And you had to, living in those conditions we lived in you had to take care of each other," MacIntyre said. "And we did, and thought nothing of it. It was just second nature, and we got through it, the good and the bad."
And that sentiment, LaFave said, made Saturday feel, more than anything, like a family reunion.
"I guess that's what it basically was, because we were a family for quite a while, over a year and a half," he said.
Andy Kirkaldy may be reached at [email protected].
***
131ST ENGINEERS COMPANY
According to 131st.org, the following surviving members of the 131st Engineers Company, which staged a 50th reunion at the Middlebury VFW on Saturday, Sept., 21, are local residents:
Richard LaFave, Leslie Champine, Richard Choquette, Wayne Cyr, Michael Dragon, Leland Euber, Bruce Larabee, Roch MacIntyre, Charles Palmer, Maurice Quesnel, Ronald Adams, Roger Bofinger and Richard Bruso.
Also, Douglas Cone, Gerold Cook, Joseph Cyr, Donald Dayton. Armond Gevry, Ronald LaFave, Roger Quesnel, Dale Richert, Leighton Riley, Richard Sullivan, Robert Welch, Barry Forbes, Brian Forbes, Carl Ploof, Charles Rivers, Dennis Ingram and Arlend Ladue.
More News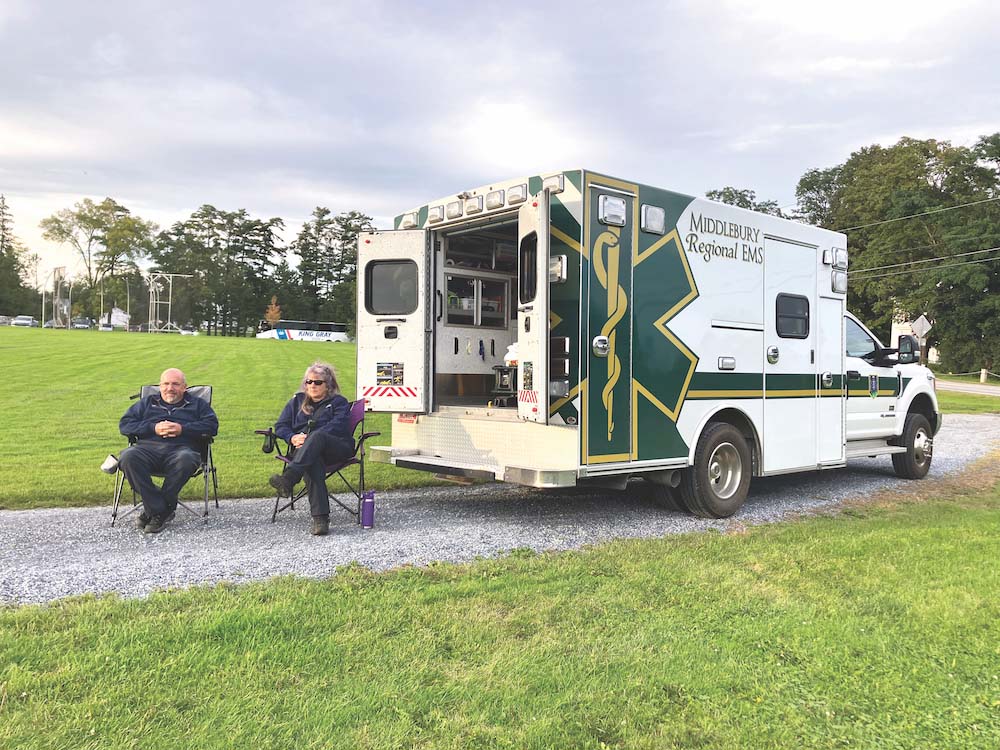 Middlebury Regional Emergency Medical Services wants to eliminate its annual Town Meeting … (read more)
Middlebury police are investigating the death of a Middlebury College junior and say the p … (read more)
Vergennes resident Margaret Clifford offers nearly a century of recollections, from losing … (read more)