Solid waste budget reflects 9.3% bump
MIDDLEBURY — The surging costs of recycling and a rise in employee health insurance costs are the major reasons for the 9.3-percent increase reflected in a proposed 2020 Addison County Solid Waste Management District (ACSWMD) budget. The trash district plans to spend $3.52 million in the coming year.
District officials are projecting a 12.4-percent increase in health insurance premiums. The ACSWMD — which operates a transfer station in Middlebury and offers a variety of waste-reduction education programs — has a staff of 14 full- and part-time employees.
But the biggest impact on the 2020 spending plan is recycling. The market has been in a tailspin since China enacted more stringent import rules for recyclables. It's been around two years since the district received revenue from such material.
"Although we are able to continue recycling… it is costing so much money now," district Manager Teri Kuczynski said on Monday. "We used to receive a portion of the revenues from the sale of recyclables, but that's no longer the case."
Instead, the district is paying Casella Waste Management to accept and process the county's recyclables at the company's materials recovery facility (MRF) in Rutland.
"Their processing costs have gone up for two reasons," Kuczynski said. "The quality has become so restricted, because of China's import rules, also known as the 'China Sword.' It's maintaining a standard that few MRFs can reach. And in some cases, (China) is not accepting some of the materials anymore. So it's been necessary to find domestic markets here in the U.S., and that is taking some time."
The ACSWMD board met on Thursday, Sept. 19, and recommended increasing the district's gate fee for recyclables from the current $92 per ton, to $120 per ton, for 2020.
"That's a large jump, but it doesn't even cover all our (recycling program) losses," Kuczynski said, anticipating the district will still end up losing around $9,000 in that category in 2020.
Unfortunately, the news is worse for this year. Addison County residents and businesses are becoming more diligent recyclers, and that's increasing the volume of material coming into the ACSWMD transfer station. Kuczynski estimates the 2019 loss will be between $40,000 and $60,000. That's up dramatically from a 2018 recycling program loss of around $25,000.
It should be noted the transfer station deals in large quantities of single-source recyclables brought in by area haulers following pickup at curbside or at municipal drop-off locations. Haulers will see the direct impact of the ACSMD fee hike; how they pass that on to their consumers is up to them. By law, haulers must bundle the cost of accepting recyclables into what they charge per bag of trash.
District officials estimate that increase will translate into a bump of 56 cents per 30-gallon bag of material.
Also of note is the fact that ACSWMD operations are subsidized through tipping fees and not through local property tax assessments.
In another effort to mitigate increased expenses, the ACSWMD is proposing to increase its general tipping fee for solid waste and construction/demolition debris by $2 per ton, from $126 to $128. That would amount to a 5-cent bump per 30-gallon bag of trash.
The higher tipping fee also reflects a recent decline in scrap metal prices — again largely due to new import restrictions from China.
"Industry-wide, it's a very difficult time right now," Kuczynski said. "But we're doing our best to honor our commitment to recycling."
Kuczynski called the ACSWMD's 2020 spending plan a "break-even budget."
In other ACSWMD news for 2020, the district next year will start new, state-mandated recycling programs for asphalt shingles clean drywall. The price: $110 per ton. Folks should also be aware that a state law banning the presence of residential food scraps in landfills kicks in on July 1, 2020. That date coincides with the launch of a ban on single-serve plastic packaging, as well as plastic straws and stirs. See addisoncountyrecycles.org for more details.
ACSWMD directors will receive input from area residents and officials on the proposed 2020 district budget before putting it to a vote in November.
Reporter John Flowers is at [email protected].
More News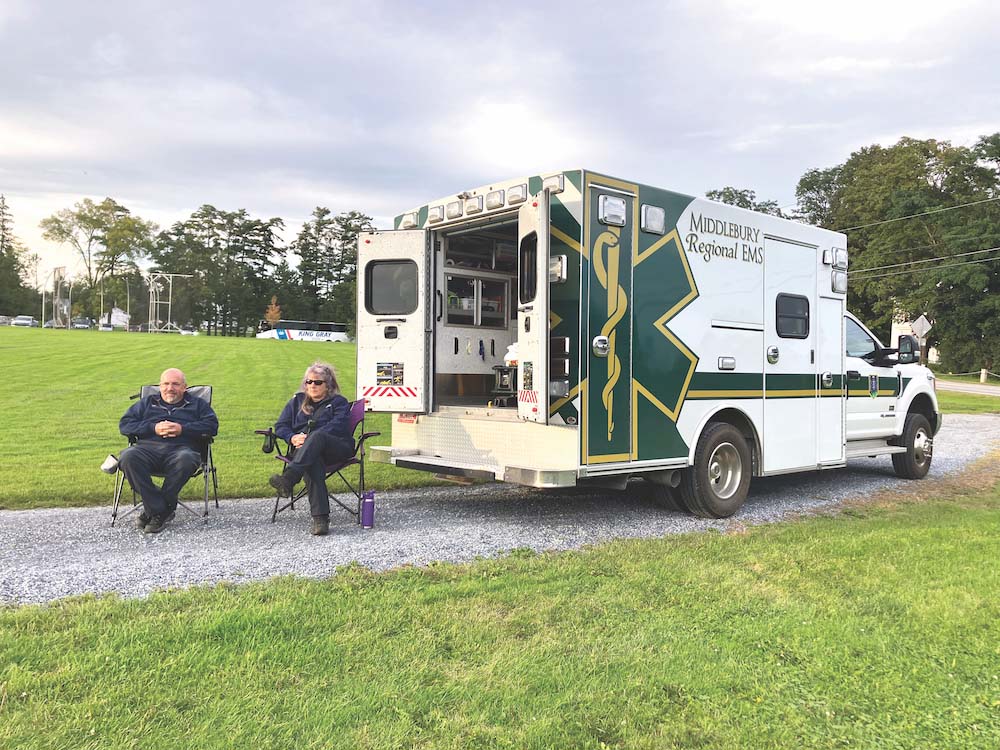 Middlebury Regional Emergency Medical Services wants to eliminate its annual Town Meeting … (read more)
Middlebury police are investigating the death of a Middlebury College junior and say the p … (read more)
Vergennes resident Margaret Clifford offers nearly a century of recollections, from losing … (read more)