Matt Dickerson: Where taking second is winning
It began as just some light-hearted Sunday afternoon relaxation and enjoyment. It ended in the painful crush of defeat.
OK, actually the defeat wasn't that painful or crushing. In fact, it was about as relaxing and light-hearted as the rest of the afternoon. And I'm tempted to say it wasn't even a defeat. I came in second place. When I pointed that out at the dinner table, my son Mark replied that coming in second is just another way of losing; "The second place finish is just the first loser," he said. I think he only holds that view because he is a baseball player.
The activity was the annual New Haven River Anglers Association picnic. We met at the Rivers Bend Campground by the shore of our namesake river where it ends at its confluence with Otter Creek. I hadn't been there more than a minute before I saw fish rising out on Otter Creek, both upstream and down. And for some time, the gathering consisted of quiet riverside conversation as we all watched the fish rise and told each other about our summers. Since most of our summers involved some sort of angling adventures (it is an angler's association, after all) the conversations mostly involved telling our fish stories, which is to say: concocting tales. 
We also talked about the myriad rising fish. They were probably fallfish, a native species sometimes known as chubs, that can grow up to 15 inches. But I imagined some might be more glamorous species like smallmouth or brown trout. Maybe a few big pike sat out there gobbling up the fallfish while they gobbled up rising insects. Numerous kingfishers were also diving for the fish in the frenzy of an abundant afternoon hatch.
Hamburgers, hot dogs and sausage coming fresh and hot off the grill distracted our attention from the rising fish, and brought our telling of fish stories around the picnic table for a little while. Attention eventually turned to fall club activities, and we planned the official meeting for October: a cleanup of the New Haven River (alternately described as a chance to put the river to bed for the winter).
Conservation and education are both important part of the group's charter, and in addition to sponsoring activities like "trout in the classroom," and tree planting, the group also organizes annual (or more-than-annual) river cleanups. We agreed on a 4 p.m. meeting at Sycamore Park in Bristol, on Tuesday, Oct. 8. (As with all NHRAA events, the public is welcome. It's a good time to be outside by a river, getting to know some new folks, and joining others in meaningful work that benefits the whole community. And you might even pick up an angling tip or two.)
And then came the competition: a fly-casting tournament to win a brand new TFO 3-weight fly rod (thanks in part to the generosity of Middlebury Mountaineer and Green Mountain Adventures.) Brian Cadoret, fresh off his double-duty running the grill, organized the competition, following the idea of a competition he'd participated in that had been run by Orvis. With a cotton ball tied on the end of a fly end — which is much more difficult to cast than a real fly — the goal was to land the cotton-ball-fly in any of several hula-hoop rings spread out on the lawn some distance away. Each participant had 15 casts divided into three rounds of five. In the first round, any cast landing the cotton ball in a ring was worth five points; in the second round, three points; and in the final round, one point.
I was about the seventh competitor. I managed only two successful casts in my first round, but warmed up and landed three of five in the second round, and five of five in the third round. Ten of 15 casts was good for 24 points and first place. Or at least first place so far. It didn't last long.
Steve Dokus followed me, and calmly landed four of his five first casts for 20 points. Landing three more in the second round, he didn't even need the third round to pass me. Overall, he landed nine of 15 casts, but did it when it mattered and ended with 31 points for first place and the privilege of taking home a new fly rod, leaving me and Davis Lawton as the first and second losers who got the consolation prizes of (respectively) leftover hot dogs and apples. 
My additional consolation was carrying my Wenonah Heron canoe down to Otter Creek where I ended the afternoon paddling with my wife downriver to the Rattlin' Bridge and back. We paused on the way long enough to watch a great blue heron on the riverbank successfully stalk a big frog after several stealthy steps through the marshy grass. And that was the winning moment of the day for my wife and me. 
Also for the heron. 
More News
Tiger boys' cross-country team held off runners from Burr & Burton, VUHS and Mount Abe in … (read more)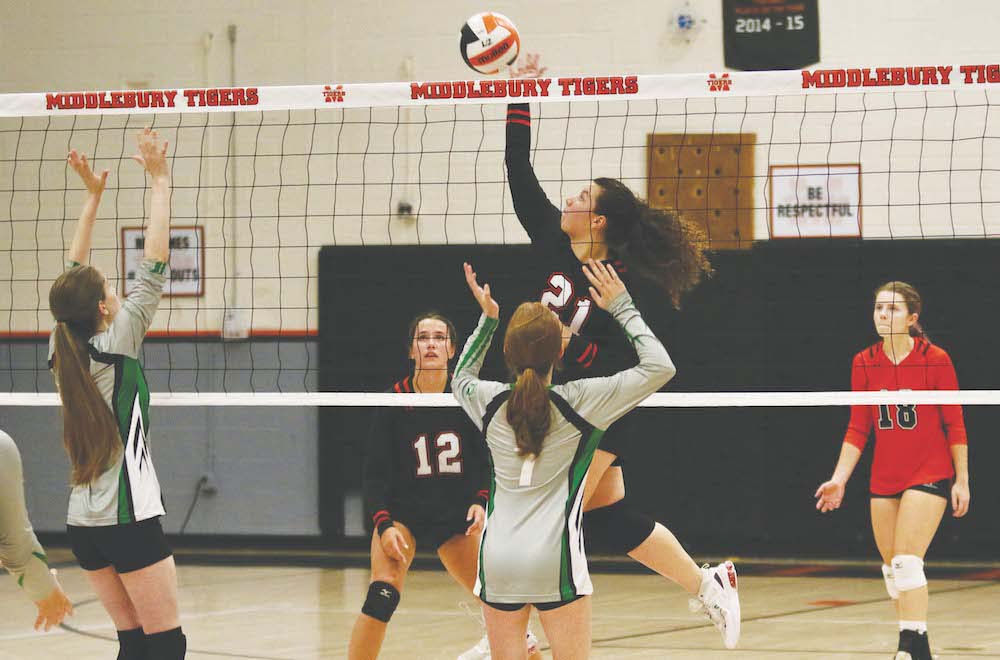 The first-year Middlebury Union High School girls' varsity volleyball team continued its r … (read more)
I gave Bill Lee a call last week, hoping he was at his home in Craftsbury and we might arr … (read more)