Middlebury seeks input for $2M reserve
MIDDLEBURY — Middlebury residents will be asked at an Oct. 29 meeting to advise town leaders on what to do with the more than $2 million in local option tax surplus that has accrued since the special 1-percent assessment on sales, rooms, meals and alcohol took effect around 11 years ago.
Residents approved the local option taxes in 2008 as a means of covering the town's annual share of $600,000 in debt service (over 30 years) for the $16 million Cross Street Bridge project. Middlebury College agreed to cover an equal share of the debt load for the span, which opened Oct. 30, 2010.
But the local option taxes have been yielding more than needed each year to pay off the bond and maintain the bridge. According to town records, the taxes brought in $457,000 more than was needed during fiscal year 2019 and will generate an estimated $478,000 surplus for the current fiscal year.
Selectboard members want to use those funds for the benefit of townspeople, whether that means spending more on deferred maintenance, large capital improvement projects and/or tax stabilization. Townspeople agreed to allow $57,484 and $400,000 of the surplus to be used for capital improvements in fiscal years 2019 and 2020, respectively.
Towns that implement local option taxes receive 70 percent of the revenues generated; the remaining 30 percent are kept by the state to disburse as part of its payment-in-lieu-of-taxes program. By statute, surplus local option tax funds are limited to municipal, and not school, use.
At a June 17 retreat the selectboard drew up a list of potential projects to which at least some of the local option tax surplus could be put toward. They include:
• $125,000 in a new passenger rail platform off Seymour Street.
• $150,000 for downtown improvements, including lighting, park fixtures and historical way-finding signs.
• $100,000 to help replace the Ilsley Library boiler and replace some of its windows.
The selectboard has other projects on its wish list, such as an Exchange Street roundabout intersection, buttressing the Middlebury River to prevent future flood damage to East Middlebury village, and three expensive water main repair jobs in the Court Square/Washington Street, Exchange Street/Pond Lane and Route 7/Cady Road/Court Street areas.
But officials acknowledged for those projects the town will have to rely also on bonds and grants, and in the case of water projects factor expenses into the municipal water rate.
"Given the results of a recent review and analysis of the current condition of the town's water system, it is estimated that the capital improvement budget for water line replacement is currently underfunded by approximately $549,000 per year … assuming a typical service life of 80 years, 54 miles of water line and a $220/per-linear-foot replacement cost for water line," reads a June 17 overview of the town's infrastructure needs.
Townspeople will have the final say on how any local option tax surplus funds are used. The selectboard wants to begin that dialogue at its Oct. 29 meeting.
One citizen has already weighed in. Resident Victoria DeWind suggested in a recent email to Town Manager Kathleen Ramsay that some of the money be used for tax stabilization. Ramsay recently reported anticipated increases in wages and various insurance policies are expected to add $245,800 to the fiscal year 2021 Middlebury municipal budget. That alone would amount to a 2.6-cent increase to the tax rate.
"That said, depending on how much surplus there is to use, paying for equipment outright means less borrowing and added interest expense which ultimately reduces taxes, perhaps even more effectively and over longer time," DeWind acknowledged.
"I do not think the extra money should be seen as an excuse to go looking for new, non-essential capital improvements," she added.
In other recent action, the Middlebury selectboard approved a first- and third-class liquor license and an outdoor consumption permit for The Mad Taco restaurant that will occupy the lower level of the Stone Mill building at 3 Mill St. Since renovations of the Stone Mill are ongoing, the license approvals are pending a public safety inspection of the premises when the work is done.
As previously reported by the Independent, the operation will include a 40-foot-by-40-foot outdoor deck that will host six picnic tables. The restaurant is slated to open later this fall.
Reporter John Flowers is at [email protected].
More News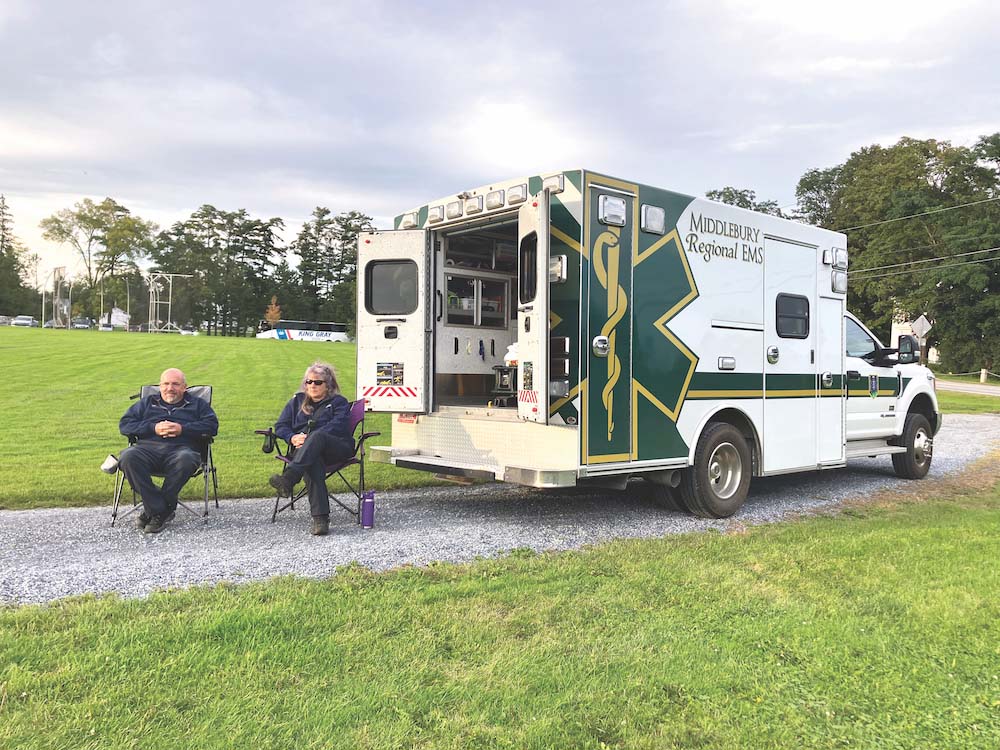 Middlebury Regional Emergency Medical Services wants to eliminate its annual Town Meeting … (read more)
Middlebury police are investigating the death of a Middlebury College junior and say the p … (read more)
Vergennes resident Margaret Clifford offers nearly a century of recollections, from losing … (read more)