Matt Dickerson: Bears, trout and Vermonters in Alaska
My son Mark and his wife, Ellie, both Middlebury residents and Middlebury College alumni, walked alongside me up the gravelly river shoreline in Katmai National Park and Preserve in Alaska's Bristol Bay watershed. Our guide and pilot, Glen Alsworth Jr. of the Farm Lodge, walked with us or a few steps ahead. Glen was the one familiar with the small river we were following. More importantly, he was the one most familiar with brown bears.
Though I had been to the same spot a year earlier with my wife, Deborah, it was Mark's first trip to the park and Ellie's first trip to Alaska. I had enticed them into joining me with the promise of seeing big brown bears in the wild. This was our best chance.
Earlier in the day, after a hearty lodge breakfast, we made our way to Glen's Cessna float plane on the bay in front of our cabin at the lodge. We waved to Joseph Connor, another Vermonter from Orwell, who'd managed along with his sister Monica to get a job at the lodge that summer, and was helping to load and prep the planes. With Glen at the control wheel and Mark in the co-pilot's seat (but with no actual flying responsibilities) we'd flown an hour south over Lake Iliamna to land on a small lake in the preserve, a short walk from the river, about 90 miles upriver of Bristol Bay and 1,600 feet above sea level. On the flight we had seen two volcanoes, several patches of snow, some rugged mountainous tundra landscape lined with lichen and wild blueberries, and smoke from a couple of the wildfires burning in the record-setting heat Alaska has experienced this summer.
As we crossed the mossy, blueberry-strewn tundra toward the river, we saw a flock of eight beautiful willow ptarmigan — Alaska's state bird — with speckled plumage of black and golden brown, white underbellies and bright red eyelids. They didn't appear afraid in the least, and let us approach to within a dozen yards before waddling off. Along the river, we saw bright red sockeye salmon, with dark green heads. Not dozens or even hundreds, but thousands of them stacked up in schools at nearly every deep pool we passed. Rotting dead salmon, many half-eaten by the myriad seagulls that circled everywhere, lay scattered about the gravel shore and river bottom, or snagged on underwater branches and logs.
All five species of Pacific salmon die when they spawn. Born in freshwater, they swim out to the ocean — the amount of time they spend in saltwater depending on the species — then return fattened by marine protein for an oft-long upriver journey back to freshwater to lay the eggs of a new generation, giving their lives in the process. Many never get to spawn, finding themselves in the jaws of a bear or talons of a bald eagle before they ever reach their spawning grounds. Their once-in-a-lifetime spawning journey is a gauntlet of teeth and claws as they must navigate a long line of creatures hoping to eat them.
A mile walk up the river, however, and we still hadn't seen one of those big brown furred creatures despite numerous signs of their presence. I was just wondering how much farther we would have to go when a big brown furry head appeared from behind the brush at the river bend just 25 yards ahead of us. First sighting. We stopped walking, and under Glen's direction we continued to talk in normal voices as we moved a few steps to our left away from the river in case the bear wanted to continue on downstream.
Then we watched, mesmerized. Within moments, a second bear appeared: a three-year-old cub of the first. Shortly after that, a third appeared, though only briefly, and we heard the sound of a fourth splashing in the river just around the bend. The first two bears went fishing in the pool just above us, until one of them succeeded in grabbing a salmon, which it proceeded to rip apart. Then the pair waded right past us, no more than a dozen yards from where we stood.
It would have been worth the trip had we not seen another bear. But we did see another bear. We hadn't gone more than 50 yards back downriver when another sow appeared. This one had three cubs following behind — not three-year-old cubs almost as big as their mom, but soft, fuzzy yearlings that looked more like Teddy bears you would want to pick up; although attempting to pick up one of these would have ended badly. The foursome made their way right past us, wandering up the opposite shoreline. Before we reached the plane, we had seen three different sows with yearling triplets, plus six adult bears for a total of 18. And the day wasn't done.
We climbed in the airplane and flew just a half-dozen miles upriver to another location — one where I could pull out my fly road. As Glen and I sight-fished our way down another mile of river and through the start of a gorge, Mark and Ellie followed behind us taking photos of yet another pair of bears bringing the day's count to 20 — a pair of big bruins that began by wrestling over a salmon and ended by climbing up on a big boulder for an afternoon nap in the sunshine. Glen and I were looking for big rainbow and Dolly Varden trout hanging in the river below the spawning sockeye gorging on the buffet of salmon eggs that came loose in the current as well as big hunks of rotting flesh.
Between the shallow water, bright sunshine and traveling bears, the trout were skittish. I hooked a few of those rainbows, landed a couple, had my line broken by a couple more. Glen hooked and landed even more, including some Dolly Varden. None of the fish we caught was under 20 inches.
And they weren't the biggest of the trip. Two days earlier, I spent the day on a different river with Starksboro resident Rich Warren, who had also joined me on the trip to Alaska. Although it was his first trip to Alaska in many years, Rich had once been stationed with the Coast Guard in Alaska. We had gone on many fishing trips together in Maine as well as Oregon. Glen Alsworth was my guide on that day also. With no bears to watch, we'd fished hard all day. In one deep hole against a bluff just downstream of large group of spawning sockeye, Rich and I had caught and released five rainbow trout over 20 inches, and I'd also landed the largest freshwater Dolly Varden of my life: a 27.5-inch behemoth of the deep — or at least the deepest part of the hole, where I'd drifted a little egg-sucking worm after the rainbow trout had lost interest in my bigger fly.
Both days eventually had to end. On the river with Mark and Ellie, we climbed back out of the gorge and started the mile-long walk back to the float plane. One of the big bears was still napping on the rock, but the other was back in the river fishing one of the same holes Glen and I had landed a trout in earlier. We decided not to stop and fish it any more, and continued on toward the plane. On the walk back, I pondered if and when I'd be able to get back there again, and what other Vermonters I might entice into joining me.
More News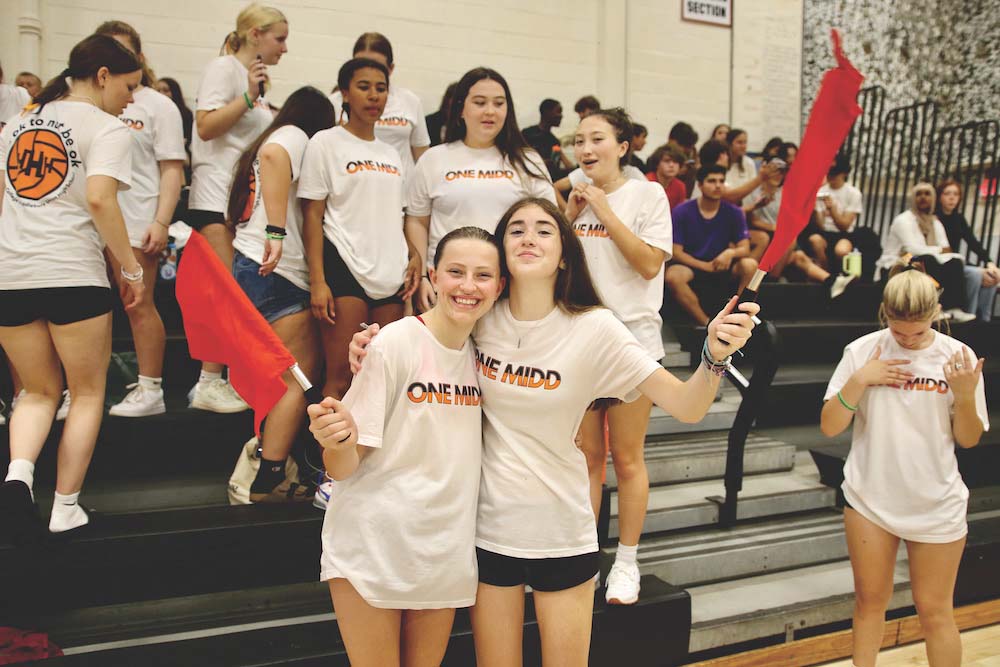 Considering the Middlebury Union High School volleyball team's decidedly successful record … (read more)
In a hard-fought girls' soccer match on this past Saturday, Middlebury outlasted Vergennes … (read more)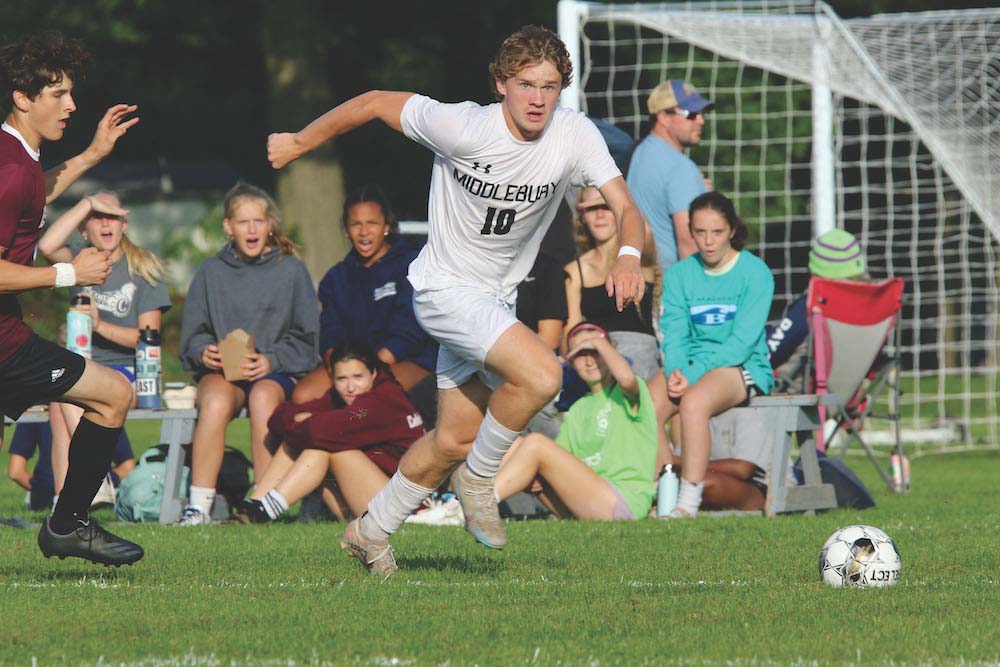 The Middlebury Union High School boys' soccer team survived a scoreless first half in whic … (read more)