Manure-to-energy project breaks ground at Goodrich
This project, for us, is so much more than just an energy source.
— Middlebury College Executive Vice President David Provost
SALISBURY — Founders of Salisbury's Goodrich Family Farm could never have imagined years ago that the financial salvation of their enterprise would be found in the manure of their dairy cows and in food waste.
But those unlikely ingredients — with a large measure of technology — will write a new chapter for the farm and potentially others like it throughout the Northeast.
Goodrich family members on Tuesday joined Vermont Agriculture Secretary Anson Tebbetts and leaders of Middlebury College, Vermont Gas and Wellesley, Mass.-based Vanguard Renewables in a ceremonial groundbreaking for a massive anaerobic digester project at the farm.
That project will convert that aforementioned waste into renewable natural gas and pipe a large portion of that gas to the Middlebury College campus.
The gas will satisfy 40 percent of the college campus's thermal heating needs and will help the institution achieve its goal of 100-percent renewable energy by 2028, according to David Provost, Middlebury's executive vice president for finance and administration.
"This project, for us, is so much more than just an energy source," Provost told a crowd that had gathered under a warm, sunny sky for Tuesday's ceremony.
The digester will take the Goodrich Farm's cow manure, combined it with food waste supplied by area businesses and industries, and then "cook it in what might be the world's largest stew pots," Vanguard CEO John Hanselman quipped, referring to two, 925,000-gallon anaerobic digester tanks.
Workers will extract and clean the methane gas from the manure/food waste once it has cooked for around 30 days. The gas will then be funneled into a pipeline (some of it Vermont Gas infrastructure) that will culminate at the Middlebury College campus, Hanselman said.
A portion of the methane gas will also be available to Vermont Gas customers at a premium price.
It will be the largest anaerobic digester facility east of the Mississippi River, officials said.
Along with the two enormous digesters, the project will include a 250,000-gallon pre-treatment center at which the waste will initially be deposited for it to homogenize.
Onsite equipment will remove phosphorous from the fertilizer, which will be stored in two large tanks and eventually spread on the Goodrich Farm fields, thereby reducing dependence on synthetic fertilizer. Located on more than 2,400 acres, the Goodrich Family Farm has 900 milking cows and is a member of the Agri-Mark Cabot Creamery Cooperative.
"This is something where Goodrich Farm is literally leading the nation," Hanselman said of the resulting 17 million gallons per year of natural, phosphorous-free fertilizer.
Hanselman doesn't foresee problems in sourcing food waste for the digester.
"The exciting result will be a sustainable source of energy that didn't previously exist and the recycling of tons of organic waste that was once sent to landfills," he said. "The project will also enable food producers and users in Vermont to comply with Act 148, Vermont's Universal Recycling law, that bans all food waste from landfills and goes into effect in 2020."
Hanselman anticipates the digester will be completed by next summer, with a construction interruption during this winter.
Middlebury College President Laurie Patton said the project will have several benefits for the institution.
"We are also eagerly anticipating the ways that this project will create new educational and research opportunities across our schools and programs," she said through a written statement.
Patton is hopeful for wider applications of the technology, which is commonplace in Europe but still scarce in the U.S.
"We are through our common work addressing some of the world's most challenging problems right here in our state: sustainable models for renewable energy, food waste, and phosphorous run off," she said.
Provost echoed those sentiments.
"This is a big deal for the college, for the ag industry and the state of Vermont," he said. "To create and develop a project that will produce energy for a project down the road on a Vermont farm and prevent phosphorous runoff into Lake Champlain and take food and cow waste and process it here on one of our four-generation Vermont farms, is truly remarkable."
Vermont Gas CEO Don Rendall called the project "an amazing milestone on our path to a renewable energy future."
"We're striving to bring our customers the tools they need to achieve their energy goals, to cut their carbon, to reduce their energy consumption — all toward achieving impact for the climate, and more sustainability for our Vermont communities for the customers we serve," he said.
Among those at Tuesday's ceremony was Rep. Peter Conlon, D-Cornwall, whose district includes Salisbury. Conlon previously worked for 10 years as a dairy labor management specialist.
"It is such a win-win for everyone," he said of the digester facility. "It's important that we see more of this. The state needs to be as involved as it can economically to encourage digester construction. It has benefits for water quality, air quality, soil quality and economic benefits for everybody else."
Reporter John Flowers is at [email protected].
More News
Blasting ledge could begin on Monday in Vergennes as work on the $25 million Vergennes Gra … (read more)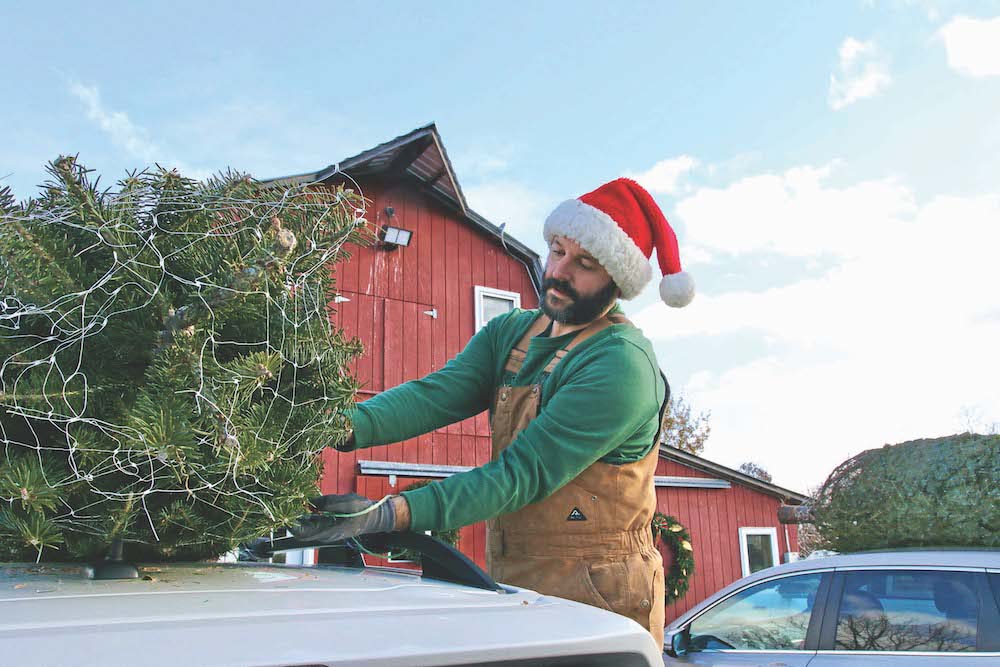 With the holiday season underway, county Christmas tree farms have begun welcoming visitor … (read more)
As the Middlebury Snowbowl prepares for opening day this Saturday, Dec. 9, loyal skiers an … (read more)