Brandon teen builds character on the track
Racing takes a lot of focus, and I've been working on that. The more I race, the easier it is to push it and I've been scared a couple of times.
— Alyza McKeighan
BRANDON — For most teenagers, the summer before their senior year of high school is a time for hanging out with friends, enjoying time without worrying about their studies and relaxing in the warm weather. For Alyza McKeighan, a rising senior at Otter Valley Union High School, relaxing has been the furthest thing from her mind this summer.
McKeighan is a rookie driver in the 500cc Mini Sprint division at Devil's Bowl Speedway in West Haven. Racing is not only a family affair for the 17-year-old, but also a way of building confidence in her skills behind the wheel and as a person.
"It started as a theoretical discussion at dinner," McKeighan said. "My mom asked me if I would want to drive a racecar if they found one for me."
McKeighan said she would, and that theoretical discussion quickly turned into a reality.
"I had never really thought about driving before that conversation," she said. "But we were at the track all the time and I really enjoyed being there."
Alyza's stepfather, Dave Snow, is also a racer. He drives in the Limited Sportsman series at Devil's Bowl and for years the family has been trackside to support him.
Once Alyza showed interest in racing, Snow went out and found her a car for the 500cc Mini Sprint races. The racecars are open-wheel with a 500cc engine and a wing on the top to create a down-force draft to keep the car on the track. They typically cost around $4,500.
"He's really taken her and mentored her in her racing journey," McKeighan's mother, Jody Snow, said. "It's something that has built a great bond between them."
Alyza's car is painted black with a big number "31" on the wing next to one of her sponsors, Naylor and Breen. She takes the car out to the track every weekend and pushes herself to be the best.
McKeighan's first race of her career May 26 saw her finish 8th in a 13-car field, but it only added fuel to the competitive fire.
"The first time was kind of scary," the rookie driver said. "It was faster than I thought it would be."
Since that first race, her highest finish has been sixth place, but she is consistently in the top 10. She has been working out just how far she can push her car and herself.
"Racing takes a lot of focus, and I've been working on that," Alyza said. "The more I race, the easier it is to push it and I've been scared a couple of times."
One of those times was on July 3, when Alyza drover her car from her 13th-place starting position to near the front. Trouble in a turn sent her and the car rolling, making several revolutions before coming to a stop.
"People were yelling at me in my ear (through an in-car track radio) and it wasn't completely my fault so I was frustrated afterwards," the young racer said. "That's the hardest part is staying in your lane and making sure you don't wreck. You have to know your limits."
Racing is a sport that is heavily male-dominated. Not that female drivers don't exist or excel in the sport, they are just outnumbered by the male drivers. That fact doesn't intimidate Alyza, though.
"It's very open; no one treats me different because I'm a woman," she said. "If anything, they're more wary because I'm younger, less experienced."
She's not the only youngster in her division. The age ranges of that division go from as young as 13, to up into their 50s. Snow estimates that it's about a 60/40 split of younger and older drivers.
"Racing is very open to everyone," Snow said. "Age or gender is nothing to discourage yourself about. There are lots of females who have raced to the top level."
EVERYDAY LIFE
Alyza says she's becoming more competitive with every race, and that has led her to be more confident in her everyday life, she's found.
"It does translate into your life off the track," she said. "You take more risks and don't feel so shuttered down."
Between work and racing, there can't be time for much else, but Alyza tries to help out working on the car when she can. She has Dave and her mother for support.
"I knew she was either going to love it or hate it with nothing in between at the beginning of this journey, and she's in love with it!" Jody Snow said. "We are fortunate to be able to offer her the opportunity to drive a race car and in doing that she has found something she's passionate about. She's an inspiration to people who feel like they can't find something like that and I hope to see more young teenagers find that."
As the season at Devil's Bowl is more than halfway over and will start winding down soon, Alyza is excited to start her final year of high school. She plans to continue to race in the 500cc division for a while, at least until she feels confident in her experience to move up in divisions.
"For any kid, they could be doing lots of things that are not as productive as racing," Dave Snow said. "And she's developing a fan base; people are interested in how she's growing and improving as a driver, and that's exciting."
That was really driven home at a recent race.
"We had an autograph session before the race," Alyza said. "The fans, especially the younger ones, seemed really excited to see a female driver there and they all had big smiles when they came up" to get her autograph.
More News
The Middlebury College football team scored first the outlasted visiting Bowdoin on Saturd … (read more)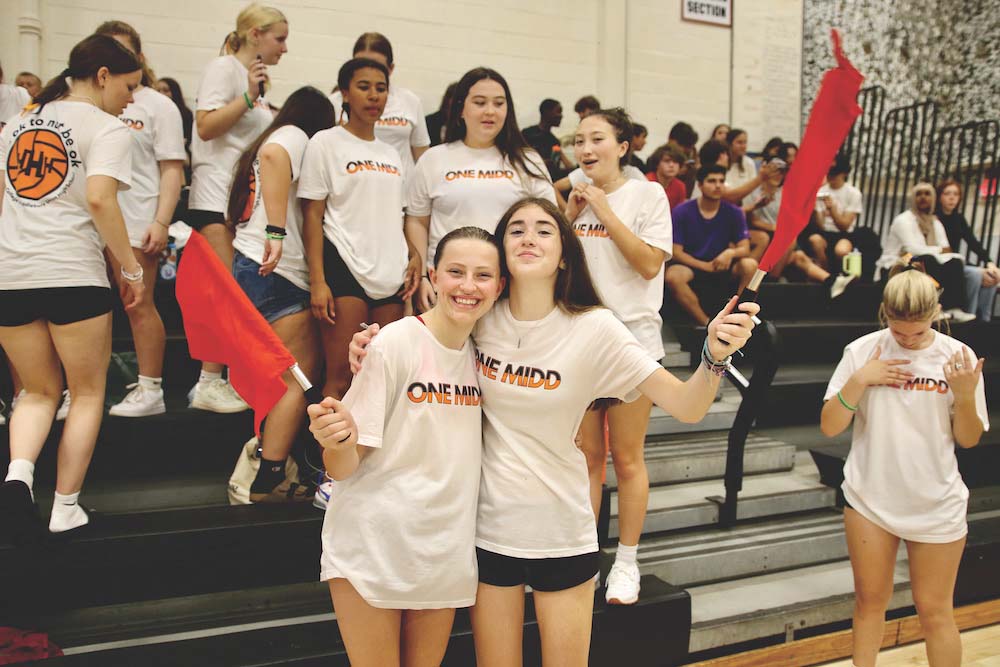 Considering the Middlebury Union High School volleyball team's decidedly successful record … (read more)
In a hard-fought girls' soccer match on this past Saturday, Middlebury outlasted Vergennes … (read more)