Addison man paddled 740 miles on the Northern Forest Canoe Trail — and back
This is Part One of a story that first appeared in Vermont Sports magazine.
ADDISON — Peter Macfarlane is not someone who does things the easy way.
Stepping into his Addison barn workshop, where two chairs and a book of fiddle tunes sit out, left over from the Scottish fiddle lesson Macfarlane taught the night before, you see this right away.
In the workshop center, Macfarlane, 56, bends over a 16-foot custom cedar-strip canoe, polishing its exterior to be impossibly smooth. It has cherry gunnels, and the boat builder's insignia and company name, Otter Creek Smallcraft, is imprinted under a rail.
"It's a funny thing to feel for an inanimate object, but by the time you spend 200 hours creating a boat, you have an intimate relationship with it," said Macfarlane.
Macfarlane is wiry, with white hair and an impish grin. He speaks with a gentle lilt — his English accent hasn't faded in his 16 years in Vermont. When he talks about paddling, his blue eyes light up and he moves like a dancer — something that reflects both his years of Scottish folk dancing and marathon whitewater kayak racing.
He's been restoring and building cedar strip canoes since 1996 and is largely a self-taught craftsman. His first project was salvaging a vessel from a woodpile. He and his wife, Viveka Fox, restored it, and they still paddle it.
In Macfarlane's native England he took on many padding marathons, including the 125-mile Devizes-to-Westminster (London) kayak race. He's a former slalom kayak racer who has been paddling competitively since he was 12.
Years on the water have given him a keen sense for how small adjustments to the shape or the width of a boat's hull will change its capacity to track in open water or navigate a rapid. Order a custom boat from Macfarlane and he will ask for your height and weight to optimize everything from the angle at which your paddle strikes the water, to the balance between the bow and stern as the boat sits on your shoulders during a carry.
In 2007 Macfarlane built the first boat of his own design, a 15-foot, flat-bottomed, 44-pound canoe. In 2012, he built an even lighter touring canoe. He called that product, an asymmetric 14-foot solo rig, Sylva. The original Sylva canoe was designed, shaped and finished specifically for the rugged rivers and streams of the Northeaster United States.
"By the time I got the lines just right, it weighed just 35 pounds. I just knew that this would be the boat, and that paddling in my own boat would be a much more intensely personal experience," said Macfarlane.
He had a plan for that first Sylva canoe: To celebrate his 50th birthday in 2013 he would paddle the length of the Northern Forest Canoe Trail, a 740-mile trip from Old Forge, N.Y., to Fort Kent in northern Maine.
Over 28 days from May 19 to June 15, 2013, Macfarlane covered the length of the trail. Then, not satisfied with having completed the trail once in the conventional manner, in 2018 he decided to do it again.
But this time, Macfarlane suspected that he and his boat had it in them to do the canoe trail in a way no one had ever done before: by paddling upstream, from east to west.
THE ULTIMATE TEST
The Northern Forest Canoe Trail, or NFCT, is the longest canoe trail in the U.S. It's a network of 23 streams and rivers and 59 lakes and ponds that spiders across the Adirondacks and northern Vermont, pops into Quebec, crosses New Hampshire and heads deep into Maine's North Woods.
Along the way the trail features 65 portages over everything from farm roads to remote wilderness trails. The longest haul is more than five miles and the most infamous is the Mud Pond Carry, a 1.7-mile slog through Maine forest in what can be thigh-deep mud.
The trail offers rare views of some the Northeast's most scenic landscape, including a section of the Missisquoi River between Enosburg Falls and Richford that is one of two Vermont designated Wild and Scenic river sections. Other rivers include the Saranac in the Adirondacks, Vermont's Clyde and Nulhegan, the Androscoggin in New Hampshire, and Maine's Allagash Wilderness Waterway.
Established in 2006, the trail follows traditional travel routes used by Native Americans, settlers and guides. Though much of it can be kayaked, it's called a canoe trail to honor that traditional mode of transport. It spans private and public land and is overseen by a nonprofit, the Northern Forest Canoe Trail. The NFCT organization maintains campsites, creates trail maps and coordinates access for paddlers. An estimated 113 people have through-paddled the trail from west to east.
28 DAYS, NEW YORK TO MAINE
In 2013, Macfarlane gave himself 28 days to paddle downstream, from west to east. He left on May 19 from Old Forge, N.Y., hoping for high water, long daylight hours and bearable black flies. Rather than carry a heavy tent, Macfarlane packed a hammock and tarp for sleeping and a small woodstove for cooking.
The trail's first section takes paddlers through the eight lakes that comprise the Fulton Chain. Many of the lakes are dotted with historic camps and homes, plus the occasional lean-to or campsite, with camping on the chain's rocky, fir-covered islands.
The first five days took McFarlane through the Adirondacks, touching Fourth, Raquette and Long lakes before arriving in the Saranac Lakes region. On day three Macfarlane encountered his first Class II rapid on the Saranac River, Permanent Rapids.
In a gorge there his boat was shunted sideways into a rock, creating a 10-inch crack in his boat's interior fiberglass. It was a warning Macfarlane heeded all the way to Chase Rapids on Maine's Allagash River, which at class II is the biggest cascade on the trip.
"The audible crack is deflating," he wrote in his journal that day.
After five days and several portages, the Saranac River spilled Peter out into Lake Champlain at Plattsburgh. There, he embarked on a 32-mile island-hopping crossing, paddling along the western shore of South Hero and the eastern shore of North Hero before reaching the Missisquoi River, north of Swanton.
TOUGH CONDITIONS
Most nights Macfarlane would sleep suspended in his hammock at campsites along rivers and lakes or on an occasional island. Because the NFCT also runs through towns and farmland, on nine nights Macfarlane took shelter from rain in motels and inns and even homes after invitations from strangers he encountered.
His trip had coincided with one of the wettest springs on record. He acknowledged being tempted at times to bail on the journey due to the torrential rain. Macfarlane also chose to carry all of the food he would need for the first half of the trip, with a single planned resupply in the Connecticut River Valley. On portages he estimated he hauled 90 pounds, and he was still hungry most days.
But he stayed the course.
"Parts of that trip were sublime, with beautiful paddling," said Macfarlane.
On day 10, he paddled down Lake Memphremagog and on to Clyde Pond. The Clyde River then greeted him with a varied menu: rapids, placid waters and flooded woodlands. At times, the river was a pristine stream channeling through bog-lined northern forest. At others, it ran deep and wide through towns like East Charleston.
Three days later, Macfarlane was paddling under covered bridges and past paper mills on the upper Ammonoosuc in New Hampshire, headed for the more rugged Maine waters.
Through headwinds, early morning mist and rain, he paddled onward, never failing to find beauty in the north country landscape.
"Even in dark times and struggles, there is a perverse sense of enjoyment I get out of overcoming difficulties and seeing where I can push myself," he said. "Once I was confident in my boat's ability to complete the trail, the question became: what magnitude of difficulty can I overcome?"
The scenery helped. One day in Maine, he arrived at a sandy campsite on the West Branch of the Penobscot, a great, wide, meandering river.
"The next morning, after falling asleep in a torrential downpour, I awoke to radiant sunshine. The fragrance of balsam fir was everywhere as I slid my boat into the water to start the day's paddle downstream, and it stayed. I saw moose grazing and birds of prey, far from any road that led anywhere. It was pure paddling pleasure," he said.
Once he completed the trail in 2013, MacFarlane returned to work but, as he said, "My mind remained on the water."
Over the following five years, the allure of the Northern Forest gnawed at him. In spite of the nearly relentless rain, he had found a sense of calm and peace traveling by canoe. Macfarlane had also learned he was capable of tackling long days and many miles.
"On a river trip, the rhythm of paddling gives you permission not to think," he said. "You have purpose and calm, and I knew the day I finished, it was a case of 'when,' and not 'if,' I would get back on the trail."
In the second part of the story, to be published in the Independent on July 29, Macfarlane returns to the NFCT in 2018, but attempts it "backwards" — he paddles it upstream.
More News
Tiger boys' cross-country team held off runners from Burr & Burton, VUHS and Mount Abe in … (read more)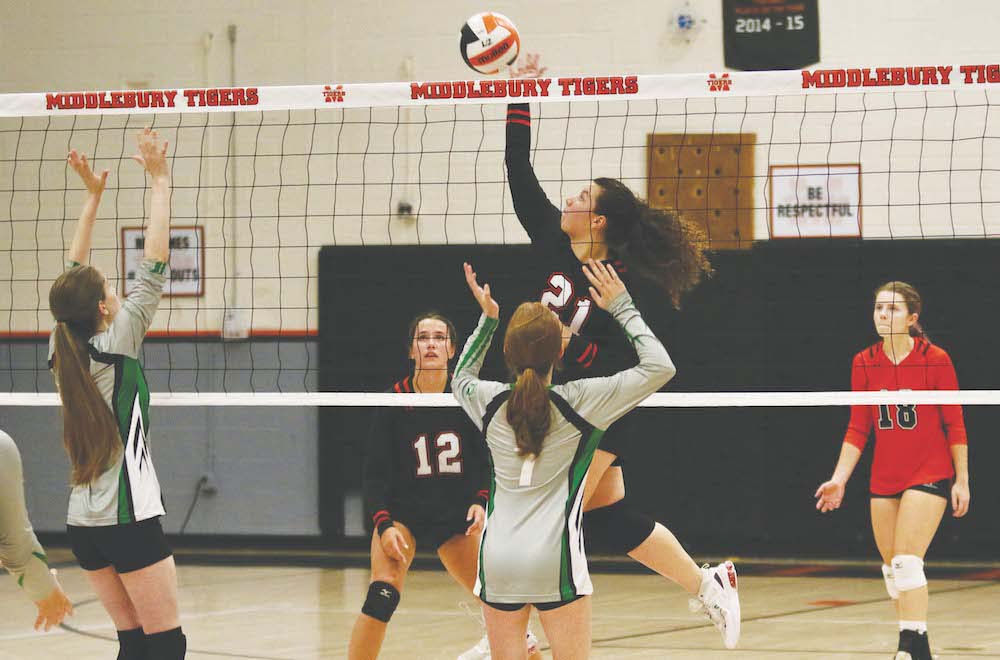 The first-year Middlebury Union High School girls' varsity volleyball team continued its r … (read more)
I gave Bill Lee a call last week, hoping he was at his home in Craftsbury and we might arr … (read more)