Battell Block owners get $532K in VTrans easements
MIDDLEBURY — The Vermont Agency of Transportation (VTrans) has agreed to pay a combined total of $5 million for easements on 27 separate downtown Middlebury properties within the footprint of the massive railroad bridges replacement project that will last into 2021.
Some of those payments range into the six figures — including a recent $532,000 settlement with owners of the Battell Block, the downtown's anchor retail/office/apartment building at the intersection of Main Street and Merchants Row.
That historic property will be among the most affected by construction disruption that will resume Aug. 1 and reach its peak next summer, when the Main Street and Merchants Row bridges will be replaced by a 360-foot concrete tunnel. It's a job that will shut down the two streets and underlying rail traffic for around 10 weeks.
Meanwhile, general contractor Kubricky Construction Corp. and VTrans have been laying the groundwork for the $72 million project.
That groundwork has included negotiating deals for temporary rights of way and easements needed to grant access to workers and construction equipment to the the project area and to ensure relocated utilities — such as water and sewer mains — can be installed and accessed in the future.
VTrans has an entire division responsible for right-of-way acquisitions, property management and relocation of utilities. Robert White heads up that division, and he offered insights into the negotiations process in general, and the Battell Block case in particular.
Any time the Vermont Agency of Transportation designs a project that affects land outside the state's control, it begins the process of calculating "just compensation" for those whose property will be affected by the work, according to White.
"We'll get those plans, and we have staff here that will figure out what we need to acquire," White said. "A lot of it is temporary rights we might need. We do buy permanent rights and actual land … but a lot of the time it's a permanent easement or a temporary easement."
BACK AND FORTH
Once VTrans officials identify the easements needed during a project, they seek to have them valued. There are two ways to value an easement, according to White: with an appraisal, or a waiver valuation estimate.
"We have our appraisers who go out and determine the type and value of rights (that need to be acquired)," White said. "In the case of 'temporary rights,' it's almost like a rental fee; it's a percentage of the value of the land in and of itself. They'll calculate those up to 'market value.' It then goes to a second appraiser, who looks through (the appraisal) and determines 'just compensation.' That's the starting point."
Once completed, VTrans presents the valuation offer to the affected property owner, who can accept it or pitch a counter-offer that could lead to a negotiation. If the property owner isn't happy with the state's final offer, he or she can pursue their grievance through Vermont's Superior Court.
Property owners have leverage in negotiations — especially when it comes to major, complex projects like Middlebury's rail bridges tunnel, White conceded.
"If we can't get a property owner to sign up, we have to go through the condemnation process," he said. "There's a cost to that and a risk to that. The risk is, no matter what the outcome is, there could be an appeal or multiple appeals to different courts."
And time is money, especially when it comes to annual rises in construction costs.
"We always try to get some sort of agreement with the property owner because it really gets rid of all that risk and the potential for greater cost and a delay in the project," White said. "The big driver on cost, at least for this project, is the time. It's literally for three years. In some case it's more than that."
BATTELL BLOCK
The owners of Battell Block LLC had leverage during talks, considering their property's proximity to the Merchants Row rail bridge. VTrans needed what White described as a series of easements. Only two of them will be permanent, each 3,000 square feet needed for relocation of town water and sewer lines, according to White.
All the other easements will expire when the project is completed, White said. Among them are rights for a driveway and for space to move construction equipment. The largest of those temporary easements will allow access to land at the base of the Battell Block, where workers will install tieback infrastructure to maintain slopes of the rail corridor during construction.
Work to date has already resulted in loss of some parking on Merchants Row, which was limited to one-way traffic in 2017. Battell Block's owners, according to White, were most concerned about loss of parking and the potential long-term loss of tenants during the three-year project.
"There was some question from the Battell Block owners in this instance where they were concerned about business loss," White said. "Although we didn't find there was business loss under the state law, we at least agreed that it was a possibility and that was one of the places where we increased the value, sort of mitigating that risk of a potential legal battle down the road."
Battell Block LLC principal Doug Nedde was not immediately available for comment earlier this week but was able to weigh in minutes before deadline with the following emailed comment: "This easement process with the state was fair, unlike the property taxes that the town has levied on downtown businesses during this construction period."
White confirmed VTrans originally offered around half the $532,000 settlement ultimately OK'd for Battell Block LLC.
OTHER PROPERTIES
Other landowners with property within the construction zone include St. Stephen's Episcopal Church, the Marble Works Partnership and National Bank of Middlebury. The town of Middlebury has received no easement compensation, according to Town Manager Kathleen Ramsay. The Battell Block LLC easement settlement was the only substantial rail bridges project-related transaction reflected in the 2019 Middlebury property transfer book as of last week.
"Most of our acquisitions are very small; we don't go outside of the ROW very often," White said. "But whenever we get into downtown areas and large complex projects like this, this amount of money (such as was paid to Battell Bock LLC) is not uncommon."
Downtown Middlebury merchants not located within the rail bridges project footprint have long lamented the lack of direct state or federal reimbursement for business losses attributable to the rail bridges project.
"In this state, we don't pay business loss, except if there's a direct and proximate impact to the property," White said.
He used the example of a filling station that might have to have one of its underground gas tanks drained due to being close to a VTrans project excavation site. The station owner would be entitled to compensation for lost gasoline revenue in such a case, White noted.
"We know businesses on almost every project that we do, there is an impact to their business," he said. "But unfortunately in this state, it's not a compensable impact."
Nancie Dunn, owner of the Sweet Cecily store at 42 Main St., said she doesn't begrudge the Battell Block owners for seeking as much state compensation as possible. But she said she's frustrated aid isn't being more widely distributed to those affected by the project.
"There are a lot of other businesses that will be impacted," she said.
In addition to losing customers, Dunn said there'll likely be a period of time during construction when she'll only be able to access her business through a back door. Other nearby businesses are at times likely to have trouble receiving inventory deliveries when the tunnel is being installed, she said.
Providing compensation to businesses outside of a project footprint could open the door to a lot of claims, some more credible than others, state officials said.
"If you think about it, where do you draw the line?" White said. "Everybody is talking about how bad our roads are after these severe winters. The more money we pay out to these types of things like impacts to businesses, the less we put into infrastructure. There has to be a line and a balance there."
That said, VTrans has awarded the town of Middlebury a total of $228,750 in grants to promote affected businesses during disruption from 2019 to 2021.
The citizens group Neighbors, Together played a pivotal role in securing that money, which in part will be used to beef up the ExperienceMiddlebury.com website, hold special downtown events, pay rent for the funding for the new "Bundle" pop-up event space at 60 Main St., and launch a regional marketing campaign touting Middlebury's allure as a tourism destination.
Nancy Malcolm is a leader of Neighbors, Together. She said the group has been meeting with downtown merchants and forming committees to organize activities and amenities designed to draw in shoppers. Amenities are to include a visitors' center, a "tasting trail," downtown block parties, a regular "deal of the week" offering, and scavenger hunts with prizes.
"We're trying to look at 2019 as a dress rehearsal for getting things in place for 2020," Malcolm said. "We want to establish some (programs) that are long-lasting."
Reporter John Flowers is at [email protected].
More News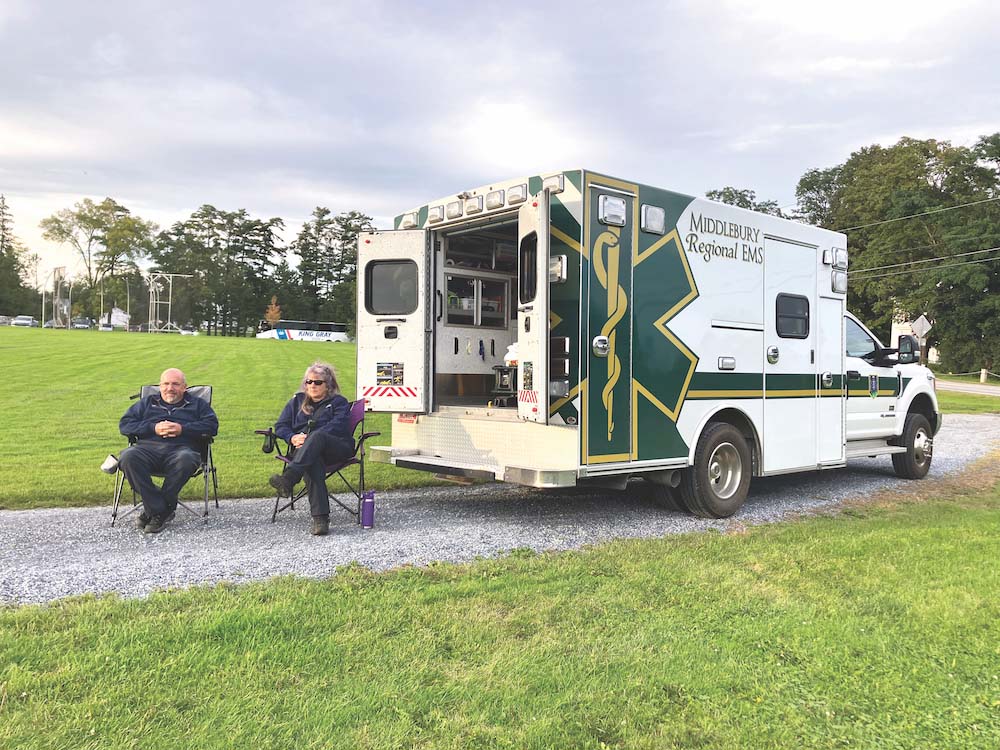 Middlebury Regional Emergency Medical Services wants to eliminate its annual Town Meeting … (read more)
Middlebury police are investigating the death of a Middlebury College junior and say the p … (read more)
Vergennes resident Margaret Clifford offers nearly a century of recollections, from losing … (read more)