MUHS football loses 3-point game to No. 1 Hartford
HARTFORD — The Middlebury Union High School football team's dreams of a second straight trip to the Division I championship game were dashed on Friday.
The undefeated and top-seeded Hartford Union High School football team that night hung on for a 20-17 victory over visiting No. 5 Tigers in a Division I semifinal.
It was easily the tightest game of the season for the 10-0 Hurricanes. Their next closest contest came on Oct. 6 against Middlebury, a 35-21 victory on Doc Collins Field. The Tigers finished at 6-4.
The Hurricanes will face No. 2 Burr & Burton for the title on this Saturday at Rutland High School. On this past Saturday the Bulldogs prevailed over No. 3 Champlain Valley, 34-27, in the other D-I semifinal. Hartford easily handled the Bulldogs in Hartford during the regular season.
In their semifinal battle in Hartford, the Tigers took the early lead, 3-0, on a 27-yard Tucker Morter field goal. Hartford quarterback Brayden Trombly, who rushed 14 times for 76 yards, gave the Hurricanes a 6-3 lead with a 13-yard scoring run  later in the first quarter.
The Tigers next went up, 10-6, when Avery Carl capped a Tiger drive with a 1-yard run early in the second quarter. Hartford back Nick Daniels, who paced the Hurricanes with 10 carries for 115 yards, answered with a 45-yrd touchdown midway through the second period, and his team led at the half, 13-10.
Hartford pinned the Tigers deep in their own end late in the third quarter and then took over on the MUHS 23 after a short punt. Three plays later Daniels scored to make it 20-10 entering the final period.
Middlebury drove deep into Hartford territory midway through the fourth period with Gavin McNulty (14 rushes for 76 yards) gaining yardage. But the drive stalled, and the Tigers came up empty after a missed field goal.
But MUHS forced a punt, and this time found the end zone with a drive sparked by two big passing plays. Halfback Tassilo Luksch hit quarterback Jacob Kemp to convert a critical fourth down, and Kemp followed with a 19-yard touchdown to Cooke Riney with 4:02 to go. Morter's point-after made it 20-17.
The Tigers went for the onsides kick, but the Hurricanes recovered. A roughing-the-kicker penalty on a Hartford punt with a minute to go then effectively ended the Tigers' chances.
More News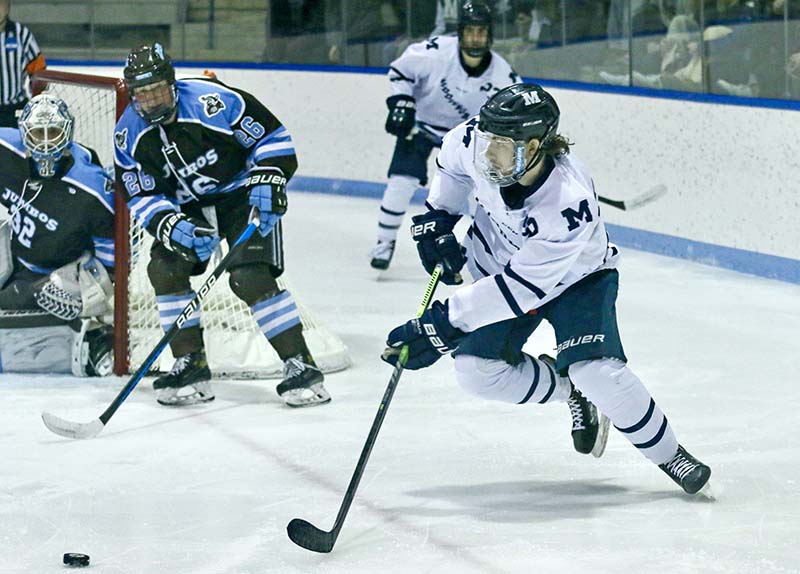 Middlebury College men's hockey surged passed Conn College before falling to Tufts this pa … (read more)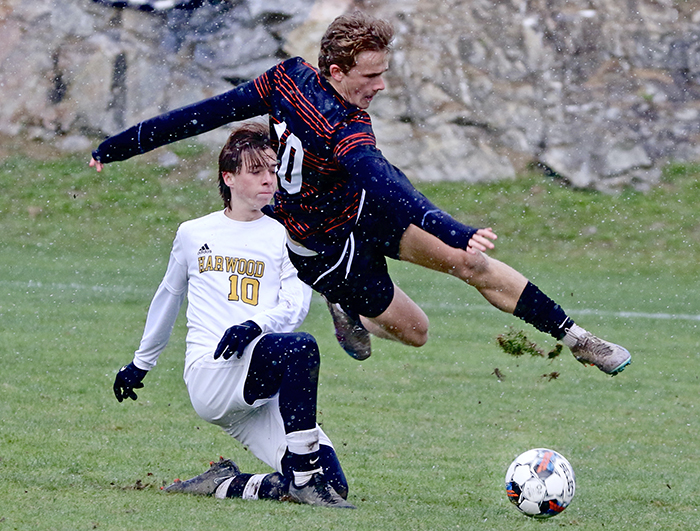 Seven local high school boys' soccer players were named to the Division II or III All-Stat … (read more)
Five area high school girls' soccer players were named either Division I or D-II All-State … (read more)