Eagle field hockey advances
BRISTOL — Maybe it was harder than it could have been given the Mount Abraham field hockey team's dominance in possession and 19-2 advantage in penalty corners, but the 8th-seeded Eagles were all smiles after their 1-0 victory over visiting No. 9 Brattleboro in Tuesday's first-round Division II home playoff game. 
The young Eagles — they start four seniors — had taken their lumps playing the state's top Division I teams this fall in the Metro Conference, and entered Tuesday's game with a 2-11-1 record. Their two wins and a tie had come against the only other D-II teams on their schedule, U-32 and Middlebury. 
They were happy to again have a chance to fight in their own weight class, and approached Tuesday's game with a confident mindset.
"That's what we've been talking about," said senior co-captain Morgan Barnard, who assisted junior Hailee Allen's game-winner on Tuesday. "It's a whole new season. Anything can happen. Record doesn't matter now."
The Eagles also felt, Barnard said, their schedule prepared them to play the tougher D-II teams that lie ahead, including top-seeded Hartford (12-2) on Friday at 3:30 p.m. That game will be a rematch of a 2022 quarterfinal won by Hartford, 4-1.
"We know going in there's nobody we're going to play that's better than South Burlington or Rice," Barnard said. "We've played all those teams multiple times this season, and we've been getting better, too. It feels good knowing that anything we see in the D-II playoffs won't be any better than we've already seen this season."
Certainly, the Eagles attacked from the outset against the Bears, who finished at 4-10. Mount Abe didn't allow a shot on senior goalie Greta Jennison in the first half, though midway through the second quarter she did kick the ball out of the Eagle circle to blunt a rare Bear foray.
In the meantime, the Eagle forwards buzzed around the Brattleboro circle and forced 14 first-half penalty corners, nine in the second period. Barnard, fellow senior Sarah Heath and sophomore Maris Laperle controlled midfield, and Allen and juniors Lily Case and Paden Lathrop all created chances up front. Bear goalie Ericka Fletcher twice denied LaPerle in the first period, and stopped Barnard and Lathrop on a late corner. 
But Fletcher could do nothing to stop Allen at 11:07 of the second period. On a penalty corner the ball went into Barnard, who stepped around the first Bear defender and rolled a pass to Allen at the right post. Allen controlled quickly and flicked the ball into the cage. 
The Eagles kept piling up corners as the quarter rolled along. Fletcher stopped Louisa Guillmette on the Eagles' 13th of the half to snuff the best chance.
The Bears came out of hibernation in the second half. In the fourth minute, Bear forward Erika Favreau made a 60-yard run into the Eagle box, but Barnard shadowed her the entire way and broke up the play without a shot fired. A couple minutes later, Jennison cleared the ball out of harm's way. 
The Eagles reasserted themselves. Fletcher stopped Allen on one corner, and LaPerle missed just wide on another before the quarter closed. 
Mount Abe took a hit, literally and figuratively, in the first minute of the fourth when a Bear stick accidentally whacked Heath in the face and she had to sit the rest of the game. 
The Bears began to threaten more often, and Case and defender Helen Kihm broke up Brattleboro rushes. Eagle defenders Grace Bolton-Orvis and Bella Hartwell remained solid in the circle. The Bears earned their first penalty corner with about five minutes to go, but Bear defender Emily LaClair's soft shot rolled wide.
After middie Isabella Anderson and LaPerle both made good defensive plays to defuse Bear attacks, Eagle Coach Jen Myers called for time with 3:24 to go to settle the Eagles down. 
LaPerle broke up one more Favreau rush, and the Bears earned a corner as time expired, but committed a foul before they could get a shot off.  And the Eagles celebrated their third win of the fall.
Myers was not surprised to see her team pull it off. 
"Conversation yesterday was just playoff hockey was for anybody, and just it can be anybody's day any day of the week," she said. "So we just had to go and play really strong hockey, like we can do, and we had to do it for 60 minutes. And I think overall we accomplished that today. And it makes us feel good heading into Friday. It will be tough, for sure, but our schedule does a good job prepping us for anything we're going to see postseason."
More News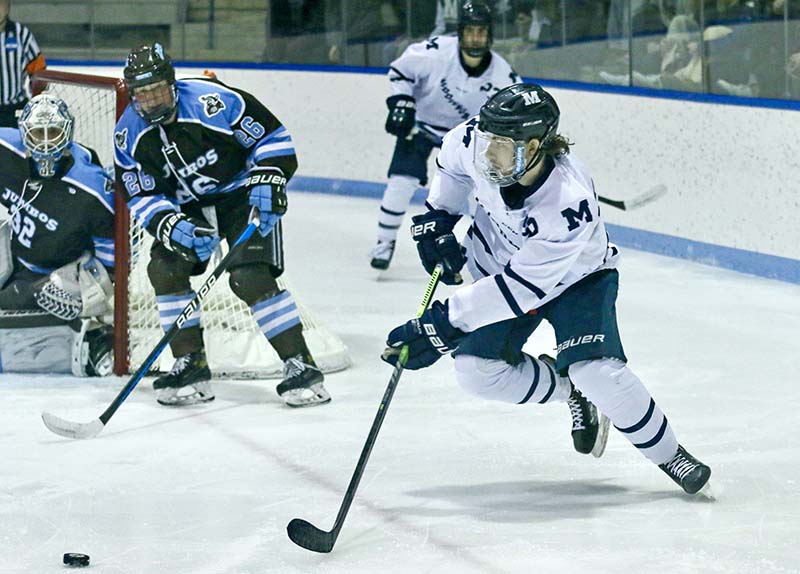 Middlebury College men's hockey surged passed Conn College before falling to Tufts this pa … (read more)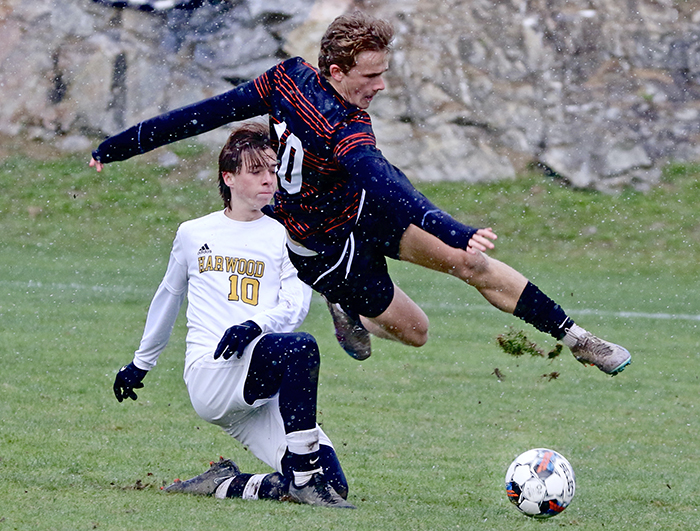 Seven local high school boys' soccer players were named to the Division II or III All-Stat … (read more)
Five area high school girls' soccer players were named either Division I or D-II All-State … (read more)