Tiger football can't contain Hurricanes, fall in Friday showdown
MIDDLEBURY — Ultimately, Friday night's high school football game between Hartford, which came in with a 5-0 record in Division I, and Middlebury, which entered at 4-1, boiled down to whether the Tigers could contain Hurricane senior quarterback Brayden Trombly.
At times the home team did.
But not often enough.
Trombly rushed for 195 yards and three touchdowns on 19 carries and threw for a fourth score in Hartford's 35-21 victory at Doc Collins Field.
Tiger Coach Jed Malcolm said after the game he was happy with the Tigers' effort.
"That's just what I was saying to these guys," Malcolm said. "I said, 'They don't want to be playing us again.' I know that. That's as much of a battle as they've had. We gave them everything they could handle."
But Malcolm also said a few things went wrong, and that the Hurricanes and their quarterback were a handful.
"It was a couple big plays, and some little mistakes. But, you know, you cannot give that kid space, 10 (Trombly). You can't give him space to throw, and you can't give him space to run. He's an awesome football player," Malcolm said. "You've got to just minimize the big plays, and we didn't do that, which was the difference. But we also played a pretty good football game other than a couple of moments."
Those moments included running plays for negative yardage that led to drives stalling and interceptions in Hartford territory. Malcolm said both the players and the coaches could learn from what happened and do better in a possible rematch.
"We made some coaching mistakes that I know we can correct, and we had just some scheme stuff that they matched very well. So I don't fault my guys for their effort at all, They played very hard. If anything I'm taking away a positive, that I want to play them again, that I'm not scared of them, and I don't think the guys are," Malcolm said. "Of course you want to win this game. It's a huge game. But by no means is it the end of the road."
The first big play came on Hartford's opening drive. The Hurricanes got to the Tiger 44. From there, Trombly ran right, and the Tigers lost containment. He cut to the sideline and outraced tacklers to the end zone at 8:00. The first of five Graham Thompson points-after made it 7-0.
The Tigers answered with a good Jackson Gillette kickoff return to the MUHS 40 and two first downs. But Evan Lynds picked off a Jacob Kemp pass at the Hartford 15 to kill the drive. Then Tiger safety George Devlin returned the favor, intercepting Trombly at the MUHS 30 late in the quarter.
The Tigers couldn't move, though, and Hartford marched from their own 10 to the Tiger 39. But Tim Whitney and Angus Blackwell teamed up to sack Trombly, forcing a punt.
The Tigers took over on their own 20 with about three minutes to go and marched to tie the game. The drive stalled after two first downs, but Gillett ran for three yards on a fake punt on fourth-and-two at the Tiger 40 to keep the drive alive.
Kemp then hit tight end Blackwell for 27 yards to the Hartford 31, and then ran for 19 yards wide left to the Hartford 12 behind two Gavin McNulty pancake blocks. From there, Kemp rolled right and hit McNulty in the back of the end zone at 0:17, and the Gillett kick tied the game at 7-7.
But things went south in the third quarter. The Tigers opened by moving to the Hartford 45, but lost seven yards on fourth and three. Hartford scored four plays later, when Trombly hit Ezra Mock in full stride at the left front corner of the end zone to make it 14-7.
On the next Tiger series, Mock picked off a pass to set up Hartford at its 30. Five plays later Trombly fooled the Tigers with a quarterback draw and bolted 49 yards virtually untouched into the end zone, and it was 21-7.
The Tigers stalled, and after a short punt Hartford took over late in the third quarter at the Tiger 40. At 9:05 of the fourth, Trombly waltzed in from the four-yard line.
Avery Carl returned the kickoff to the Tiger 40, and two running plays, including a 13-yard burst by Kemp, moved the ball to the Hartford 38. But Lynds made an acrobatic interception at the Hartford three.
That pick did not hurt too much. The Tiger defense forced a punt that only went to the Hartford 25, and MUHS cashed in on the short field with a TD pass from Kemp to McNulty, a six-yarer on a rollout to the left that made it 28-14 at 5:32.
The teams traded scoreless possessions, with the Tigers going for it on fourth down in their territory and coming up short. That set up a six-yard run by Hartford running back Brody Tyburski to make it 35-14 at 1:52. The Tigers answered with an 80-yard Carl kickoff return for the final score.
Hartford outgained MUHS, 337 yards-198 yards. Trombly completed five of nine passes for 67 yards, and Tyburski ran 17 times for 64 yards.
Kemp led the Tigers with 12 carries for 71 yards. Overall, the Hurricanes held MUHS to 123 yards on the ground in 35 attempts. Kemp completed six of 14 passes from 75 yards.
It appears Hartford, Burr & Burton, Champlain Valley and MUHS have separated themselves from the D-I pack, with only St. Johnsbury lurking as having a chance to knock off one of the top four.
"I would say that Division I is very top heavy at the moment. That's pretty evident," Malcolm said. "You've still got to show up and play every week, but yeah, everyone knows who those teams are, and we feel like we're one of them. So I'm excited to finish the regular season as strong as we can and go to the playoffs."
More News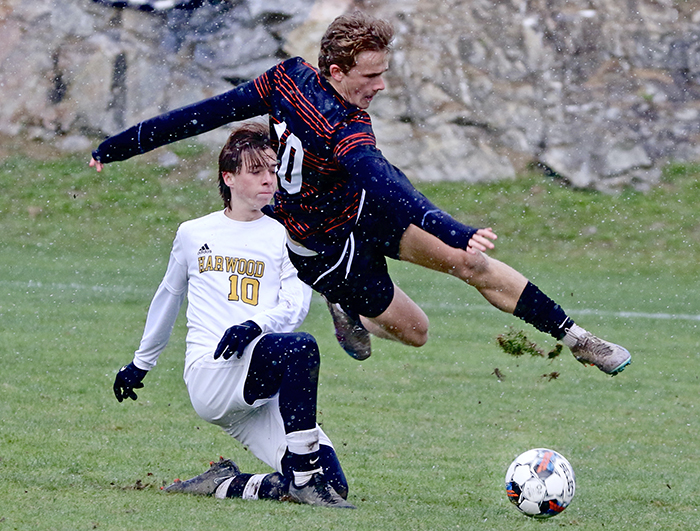 Seven local high school boys' soccer players were named to the Division II or III All-Stat … (read more)
Five area high school girls' soccer players were named either Division I or D-II All-State … (read more)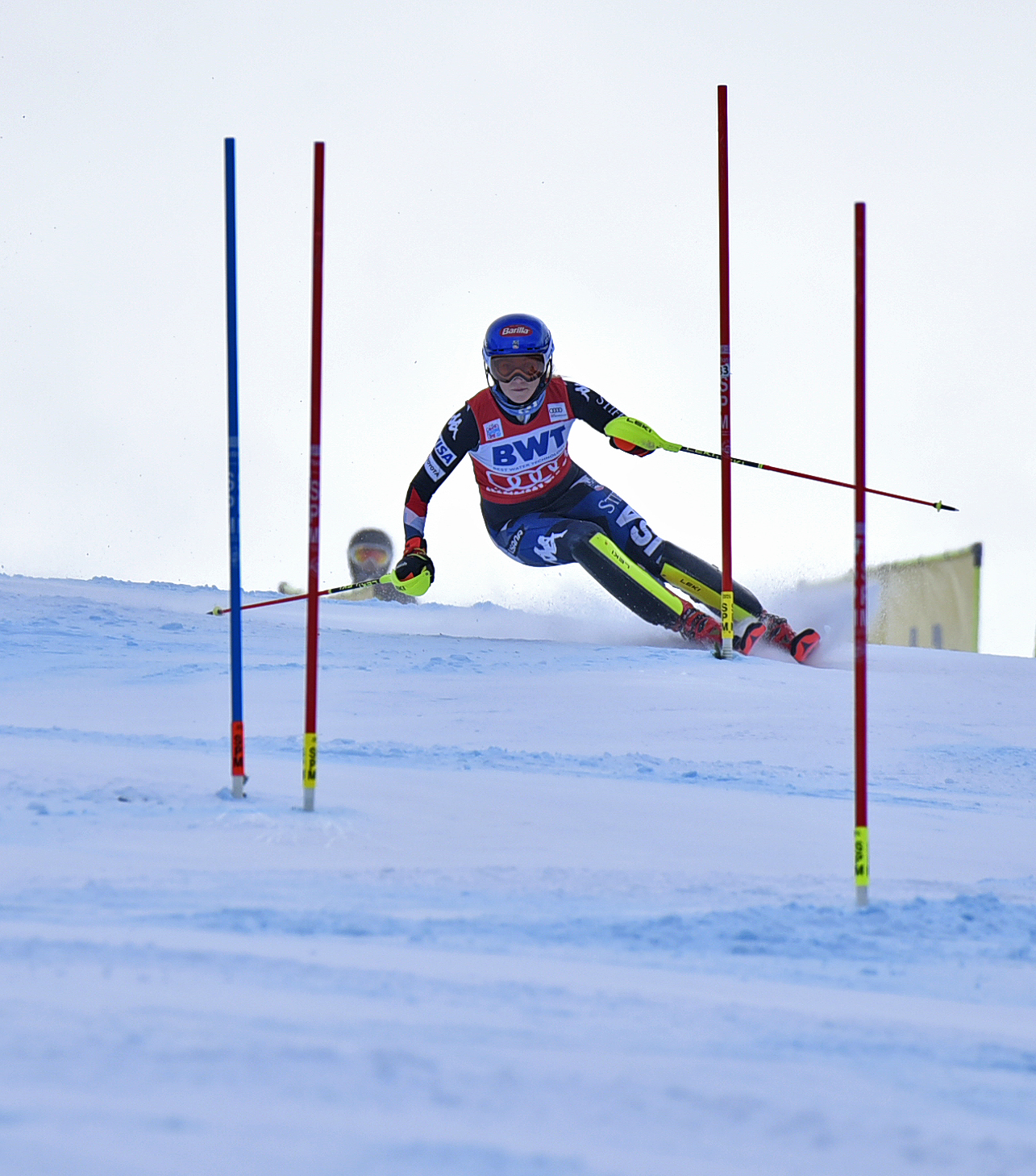 "To be perfectly frank, I'm not sure I'm in a position to win either of these races," Mika … (read more)