Castleton homicide victim Honoree Fleming had Middlebury ties
The woman who was shot to death on a rail trail in Castleton on Thursday was a retired dean at the nearby university, Vermont State Police and university officials said late Friday. She is a former Middlebury resident who maintained ties to Addison County even after she moved to Castleton.
Honoree Fleming, 77, of Castleton, died as a result of a gunshot wound to the head, and authorities are now calling her death a homicide, state police said in a press release.
In an email to the Vermont State University community late Friday, interim president Mike Smith called the shooting "an unbelievable tragedy for the Castleton campus and for all of Vermont State University. Honoree will be deeply missed."
Fleming was a former dean of education at the institution now known as Vermont State University's Castleton campus and "was beloved by faculty, staff, and students," he wrote.
State police Capt. Scott Dunlap also confirmed Fleming's former affiliation with the university.
Fleming was the wife of Pulitzer Prize-winning journalist Ron Powers. The couple and their two sons, Dean and Kevin, lived in Middlebury in the 1990s.
"There is an area-wide dragnet out for her killer," Powers wrote in a public post on his Facebook page Friday night. "Police believe that it was random, but all possibilities remain open."
The hunt for a person of interest in the shooting continued late Friday, Dunlap told VTDigger.
Authorities spent the day searching for clues after Fleming's body was found late Thursday afternoon on the Delaware & Hudson Rail Trail about a mile south from the Castleton campus of the Vermont State University.
At a press briefing early Friday afternoon, Maj. Dan Trudeau, head of the state police criminal division, said police had no suspects but were looking for a man who witnesses reported was seen carrying a black backpack and heading north toward the campus.
Fleming was found dead at about 4:30 p.m., around the time that witnesses reported hearing gunshots coming from the area.
The trail was closed for most of Friday as investigators used police search dogs to look for clues. Detectives also spent time Thursday night and Friday canvassing residences of South Street seeking information, including any video surveillance images, near the entrance of the rail trail on the university's campus, Trudeau said.
He said investigators reviewed some security camera footage from that area as part of the probe, adding, "It hasn't been much of a help."
Trudeau asked Castleton residents, business owners and hunters who may have game cameras in the area to check their video for anything that appears suspicious.
He later added, "We have no idea where this gentleman, suspect, took off, whether he exited the trail through the woods or just walked it all the way to its end." The trail comes out on Main Street in Castleton near the Amtrak train station.
Trudeau said there have been a "few names that have been provided to us," from people who think they know who was "responsible" for Fleming's death. Investigators, he said, are following up on all those tips.
Later in the press briefing, Trudeau advised people to be vigilant — locking doors and not leaving keys in vehicles — and to report anything suspicious to authorities.
"The suspect was, in all likelihood, armed and dangerous and so should be treated as such," he said.
"I don't want to come off as trying to scare people but this is legitimate," he added. "We're relying on the public to really help us here, we really need a good first clue."
Later in the press briefing, Trudeau stopped short of calling the man authorities are seeking a suspect.
"When I say a suspect, we don't have a name, we have a description of somebody, we don't know who that person is, so that person is of interest very much so."
In his email to the school community, Smith said that "scores of students at Castleton benefited from Dr. Fleming's teachings and research. Before she joined Castleton, she was also a faculty member at Trinity College, Middlebury College, and the Icahn School of Medicine at Mount Sinai."
Fleming's husband said he was in shock that his wife had been attacked while walking her favorite trail near the college.
"There are moments when I wish to god I could cry," Powers wrote on Facebook. "I will."
People who knew Honoree "know that she was beautifully named," he added. "I have never known a more sterling heart and soul than hers. She has taken far more than half my own heart and soul with her."
Vermont State University closed its Castleton campus Friday "for the safety of the campus community," according to a Facebook post.
"All events have been cancelled," the post stated. "A shelter-in-place order continues for anyone who is on campus."
Few people were seen on the campus Friday, and parking lots were mostly empty. Police cruisers traveled around campus throughout the day, with a Castleton police cruiser parked at the South Street entrance of the rail trail. Yellow crime scene tape also blocked off the entrance to the trail.
Reported sightings of a person matching a description of the man described by witnesses came in from other western Rutland County towns, and Trudeau said police followed up on all of those tips, but as of early Friday afternoon had not yielded any clues.
All Slate Valley Unified School District schools, including Fair Haven Unigh High School, canceled all home and away athletic events "due to the concerns in our community," a notice posted on the district's website stated. Schools had already been planned to be closed Friday for a teachers in-service training day.
More News
Blasting ledge could begin on Monday in Vergennes as work on the $25 million Vergennes Gra … (read more)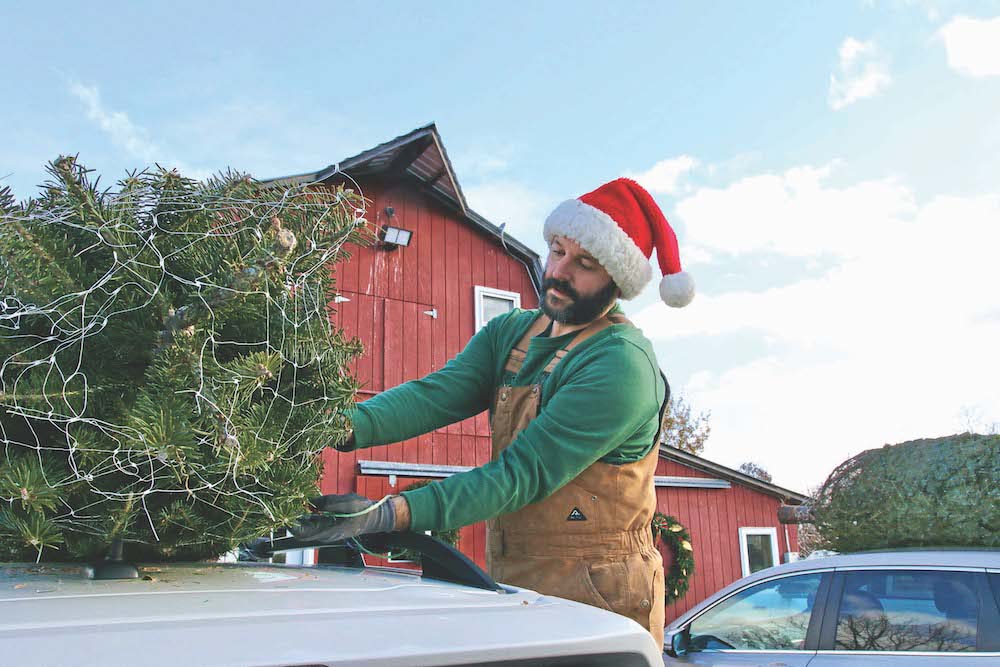 With the holiday season underway, county Christmas tree farms have begun welcoming visitor … (read more)
As the Middlebury Snowbowl prepares for opening day this Saturday, Dec. 9, loyal skiers an … (read more)