Fall fun unfolding at county orchards
Though many Addison County apple growers saw their crops damaged by a late spring frost in May, local orchards still have plenty to offer visitors this fall. 
County orchardists say they'll continue to offer pick-your-own opportunities this season, even if operating with a depleted crop. They also plan to enhance this year's apple picking experience with homemade baked goods, live music events and other offerings. Plus most are bringing in apples from other Vermont orchards to sell, as well. 
Here is a sampling from a few of the orchards about what they have planned.
CHAMPLAIN ORCHARDS
Many trees are prime for picking at Shoreham's Champlain Orchards, which grows around 300 acres of tree fruit, including more than 115 varieties of apples — from Akane to Zestar. 
Ben Rule, Champlain Orchards' director of sales and marketing, said much of the orchard's crop has fared well this season, despite the mid-May freeze. 
"We were fortunate among all the orchards in the Northeast, some were completely wiped out. We did lose all of our stone fruit and probably 30 to 40 % of our apple crop but the pick-your-own area itself is in very good shape," he told the Independent. "We have around 20 varieties available (in mid-September) and more will become available throughout the season." 
Champlain Orchards will also offer some newer, apple-related activities for visitors to enjoy this fall. The orchard's Cider Garden will remain open throughout the season, featuring hard cider and other drinks, light food offerings and lawn and board games. Customers that come by the cider garden can purchase a s'mores kit to enjoy over the fire pit, take a stroll along the orchard's walking path or poke around the various local cheeses, cured meats and other fare for sale in the farm market. 
"(The Cider Garden) has been a big hit so far; that opened this summer and we've expanded the hours to be open Friday, Saturday and Sunday," Rule said. 
Through mid-October, the orchard will also host Cider Garden Cinema on Friday evenings. The free, family-friendly movie night features a '90s classic projected onto the orchard's 20-foot screen. Community members can bring sleeping bags, chairs and blankets to view the film from the lawn. As for movie snacks, regular cider garden offerings will be available, along with popcorn and caramel dipped apples. 
HAPPY VALLEY & STINE ORCHARDS
Other Addison County orchards will also offer events for community members this fall. At Middlebury's Happy Valley Orchard, owner Conor McManus is looking to expand the orchard's offerings to include hayrides, homemade apple products, kids' events and live entertainment. Events in the works at the Quarry Road orchard include a Harvest Festival, summer and winter solstice parties and a Halloween party.
In Monkton, Stine Orchard owners Aaron and Kathleen Stine are bringing back the "pickin' parties" hosted by the orchard last fall.  The weekly events feature live music, as well as local food and beverages on most Thursdays and Saturdays at the orchard at 1823 Monkton Road. 
Aaron said the orchard is looking forward to hosting the pickin' parties again this season. 
"We always enjoy the music nights. It's very popular and the community seems to be enjoying it and has a need for it in the area," he told the Independent. "We're really excited about offering food and music."
Stine Orchard will also offer pick-your-own apples this year, though Aaron said the orchard lost around 60% to 70% of its crop during the mid-May cold snap. The orchard grows around 10 acres of fruit trees, including 20 apple varieties. 
"We're not sure how far we'll get with the apples that we have but we're just going to see how far we go with what we've got left," he said. "We would like to get as far through October as we can." 
MONKTON RIDGE ORCHARD
In North Ferrisburgh, Monkton Ridge Orchard owners Christine and Charles LaFreniere are also ready to welcome customers back to pick apples this season. The property is at 79 Rotax Road.
The couple grows nine different apple varieties on around three acres, about 90% of which was spared by the late spring freeze.
"We were one of the fortunate ones, and we are very grateful for that," Christine said. 
The orchard offers pick-your-own and pre-picked apples, as well as apple cider and cider doughnuts made on site. Monkton Ridge Orchard also sells apple and blueberry pies made by Christine. This year, they'll add gluten-free and regular chocolate-chip cookies to list of available baked goods, as well as warm beverages like coffee, hot chocolate and mulled cider for visitors to enjoy. 
In addition to edible offerings, the orchard also has a variety of barn quilts and other goods made by local artisans that are available to purchase. 
Christine said the couple is looking forward to this season and to welcoming the new and familiar faces that make their way to the orchard. 
"A lot of what we enjoy is meeting the people, we have people that come back year after year and people from out of town. People are generally very friendly and happy to be out at the orchard and out in Vermont in the fall. It's a very fun time of year," she said. 
More News
Blasting ledge could begin on Monday in Vergennes as work on the $25 million Vergennes Gra … (read more)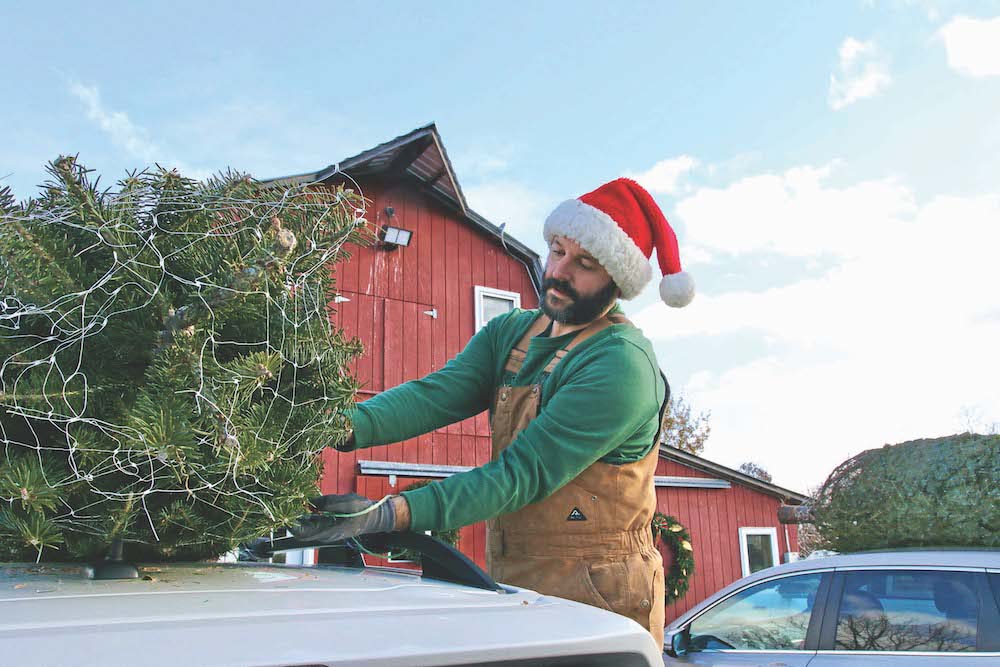 With the holiday season underway, county Christmas tree farms have begun welcoming visitor … (read more)
As the Middlebury Snowbowl prepares for opening day this Saturday, Dec. 9, loyal skiers an … (read more)