Mt. Abe teams looking for a step forward this fall
BRISTOL — Across the board, it should be an entertaining and interesting fall for sports teams at Mount Abraham. 
Field hockey will look to return to its winning ways, the school's cooperative football program is bumping up a division, both soccer teams are looking to take steps forward, cross-country has a new coaching staff, interest in golf has spiked, and there's an all-new crew for the Eagle team that came closest to a championship a year ago — bass fishing. 
FIELD HOCKEY
Last season saw an end to the Mount Abe field hockey team's remarkable three-year reign atop Division II. The Eagles remained competitive in the heavily D-I Metro Division, but a series of close losses left them with four wins, and they bowed out in the D-II quarterfinals. 
Second-year Coach Jen Myers expects progress this fall, as there will be many contributors from a year ago, including starters in goal and at all three levels on the field: defense, midfield and attack. 
"We are excited to start this 2023 season with a solid group returning to the program," Stetson said in remarks forward by Athletic Director Devin Wendel. "Gaining experience last year as a young group playing a tough league schedule has provided some team chemistry."
Graduation did leave holes to fill, but Myers expects those asked to step into those positions to be up to the task.
"All players seem excited and accepting of their roles," she said.
Myers expects the team's preseason work will pay dividends during the season.
"I am excited to watch the team continue to grow and gel as the season progresses," she said. "The goal as a group is to continue to get better."
FOOTBALL
As Head Coach Jeff Stein enters his fifth season leading the Mount Abe-Vergennes Cooperative football team, he once again finds the program bumped up to D-II. That comes after 2022's strong finish in D-III — 5-5 including a road playoff win.
Bring them on, Stein said in comments supplied by Wendel. 
"Although the move puts us in D-II, we still have several D-III opponents both in our league (other D-III teams moved up) as well as non-league games," he said. "I feel we will be very competitive."
Any discussion of MAV football should include offensive weapons Jamison Couture and Ian Funke, both seniors. Couture rushed for more than 1,200 yards last year, while the six-five Funke amassed more than 800 yards receiving, despite missing two games.  
Stein added there are another five starters back on each side of the ball, and "we have added a couple talented freshmen and sophomores."
MAV appeared to have chemistry entering the season.
"The team seems to be bonding well together and had a great preseason," Stein said. "We are looking forward to a great year."  
GIRLS' SOCCER
In 2022, the Eagle girls' soccer team finished at 6-9-1, a misleading record: Four of their losses came to top-seven D-I teams. And for the second straight season, the Eagles reached the D-II semifinals, a better indicator of their quality. 
This fall, Coach Dustin Corrigan and assistant Denny Cota see a dozen athletes return with previous varsity experience, and they play up and down the field from goalie to striker. That number includes six seniors, five juniors and one sophomore veteran.
Newcomers on Eagle girls' soccer this year include one senior and what Corrigan called "a strong class" of six juniors.
And unlike past seasons, the Eagles' early schedule doesn't include four or five games against the D-I iron, so they have a better chance of a stronger start this fall. 
 Wendel summed up: "This group of Eagles aims to fly high this fall."
CROSS COUNTRY
Co-Coaches Katie Burdett and Lisa Grzyb, both veteran Mount Abe educators, take over a Mount Abe cross-country program that has seen a drop in numbers: The team includes one senior, two juniors and five freshmen. The coaches could field enough male and female runners for varsity teams, or choose to compete at the JV level in some meets. 
"We have only a few upper-class athletes, and we will be relying on them to step into leadership roles and mentor … our newer athletes," Wendel said. "This year, the XC runners are focusing on developing both process and outcomes-based goals and growing in their mental, emotional and physical fitness. We are excited to watch each runner grow and push themselves this season."
BOYS' SOCCER
Wendel turned to remarks from boys' soccer coach Rider MacCrellish for an assessment of a program that has been competitive over the past two years, but hasn't crested .500. The team entered the 2022  playoffs as a No. 7 seed with a 5-7-2 record, but suffered a first-round upset by Otter Valley despite a large advantage in the action.
MacCrellish sounded an optimistic note heading into the 2023 season. 
"We have a young and solid team," he said. "We have started the season looking very technically sound with a solid group of returning seniors, a few very athletic juniors, and a robust sophomore group on the varsity. Despite the age spread, this is a very unified group."
 He described the team as "fortunate to have a lot of strength in the attack" while also possessing a "veteran defensive group," several talented midfielders and "a strong and technical keeper."
"I'm looking forward to our growth throughout the season," MacCrellish said. "No doubt this will be an entertaining team to watch."
BASS FISHING
The Mount Abe bass fishing team is coming off a great first varsity season last year — at the state tourney off Grand Isle (also the site for this year's final) the team missed winning the state tournament when its catch was just a few ounces short of local rival Middlebury's.  
Wendel said he and new Coach Carroll Isham are looking forward to getting the four student-athletes — all freshmen and sophomores — back on the water. 
Isham said the weather in recent months has posed challenges for anglers as well as almost all other Vermonters. 
"With an extremely wet summer and continuously high water levels coupled with low visibility, the team may need to change their tactics and think creatively on the lake to gain the competitive edge," he said. 
GOLF
The varsity sport showing the most growth this fall at Mount Abe is golf. After two seasons of having a lone golfer competing as an independent, Mount Abe will field a full crew of six boys this fall, with four required to score in competitions. 
Shawn Oxford returns to coach, with Emily Ringquist assisting.
Wendel said he's happy to see another healthy activity gain traction at Mount Abe, especially a sport that students can play throughout their lives. 
"We are excited to watch this program grow," he said. "We are thankful for the support of our coach, Shawn Oxford, in addition to the staff at Basin Harbor, for allowing our student-athletes the opportunity to learn this amazing lifelong sport."
More News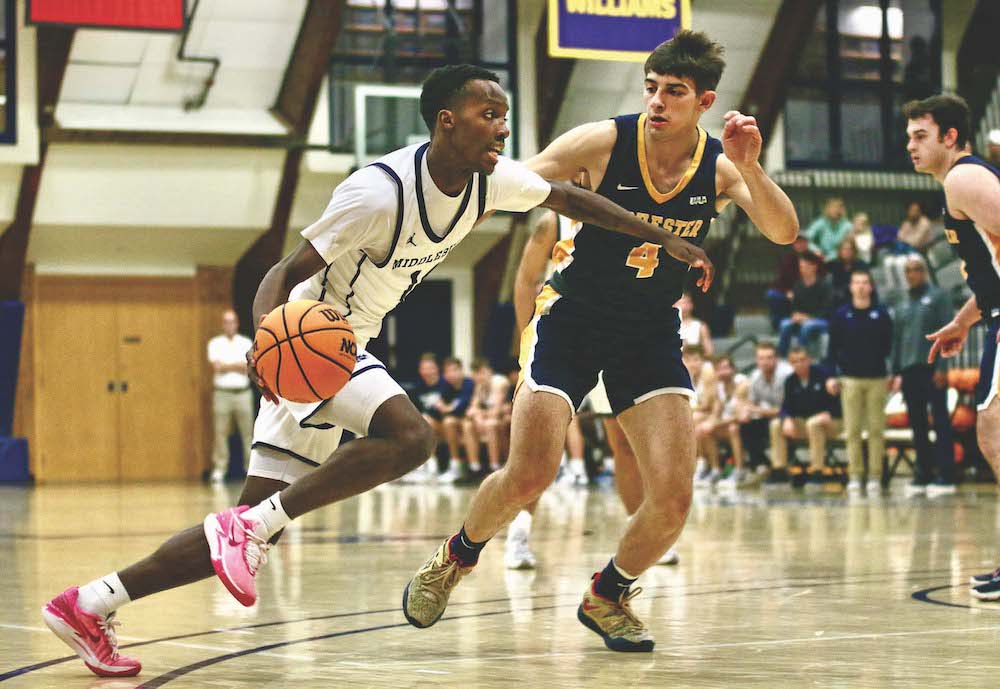 The Middlebury College men's basketball team dropped a pair of home games to teams in the … (read more)
The Middlebury College women's basketball team split a pair of games this past weekend at … (read more)
The Middlebury College women's hockey team lost one game and settled for a tie in another … (read more)