Town to honor Black leaders from the 1800s
MIDDLEBURY — Not enough people know that famed abolitionist, orator, journalist and founder of the U.S. Civil Rights movement Frederick Douglass brought his anti-slavery message to Middlebury during the summer of 1843.
It was the first stop in the New England Anti-Slavery Society's "100 Conventions" tour, a multi-state odyssey aimed at sowing abolitionist leanings within communities deemed receptive to such a message.
"They chose Middlebury as the inaugural site because (future Vermont Gov. William) Slade and other Middlebury residents harbored anti-slavery sentiments," noted Middlebury College Professor Emeritus of History William B. Hart.
But the Addison County shire town's abolitionist reputation sadly didn't match the reception that Douglass initially received for his July visit, Hart noted.
"Douglass described his reception in Middlebury as 'intensely bitter and violent,'" Hart said. "The Vermont Observer reported that some boys threw gravel and eggs at some of the speakers."
Nevertheless, when Douglass began to relate his personal story of enslavement, the crowd became silent and mesmerized by his account of escaping bondage in Maryland, learning to read and write, and persevering through forced servitude and discrimination to become a powerful symbol of freedom, Hart noted.
Douglass will return to Middlebury in two weeks, if only in spirit, for a posthumous honor — and a reception that should be glowing from the get-go. On Sept. 22, state, local and Middlebury College officials will unveil a plaque in Court Square commemorating Douglass's Middlebury visit of 180 years ago, while celebrating the achievements — and recognizing the work yet to be done — on matters relating to equality and racial harmony.
And Douglass isn't the only groundbreaking historical figure who'll be honored in Middlebury this month. The plaque unveiling will coincide with Middlebury College's "Clifford/Twilight Symposium," slated for Sept. 21-23. The symposium will among other things commemorate the 200th anniversary of Alexander Twilight's graduation from Middlebury College in 1823. Twilight (1795-1857) is credited with being the first person of color to graduate from an American college. He then went on to become an ordained minister, a longtime educator and a member of the Vermont House of Representatives — the only African American ever elected to a state legislature before the Civil War.
"These are two important, towering figures," Hart said of Douglass and Twilight.
Hart made his plaque pitch to the Middlebury selectboard late last year.
"I urge the town of Middlebury and the state of Vermont to acknowledge officially this critically important moment in our history," he told the board at the time. "The Liberator, the leading anti-slavery journal of its day, did not mention Middlebury as the inaugural site in its reporting on the 100 Conventions. However, Frederick Douglass devoted a page and a half in his memoir, 'Life and Times of Frederick Douglass,' to his visit here."
The selectboard unanimously endorsed the Douglass plaque, which is ready to take its place among the community's collection of symbolic tributes to revered, influential people.
Posthumous, local recognition of Douglass and Twilight have been on Hart's wish list for a long time. He joined Middlebury College's History Department in 1993, and spent almost three decades teaching a broad range of American and Atlantic-World history courses. In 2019, Hart was named the first director of the college's newly launched Black Studies Program major.
He's lectured and published widely on Black Americans and Native Americans during the Colonial and Early Republic eras, and Hart has come to know Twilight through intensive research that'll soon culminate in a biography of the man who — without much fanfare — broke a scholastic color barrier two centuries ago. 
It's a barrier that was perhaps rendered more amorphous by the fact that, as Hart noted, Twilight was one-quarter Black.
"He never identified as Black," Hart said of Twilight. "Nor, did the people who knew him, identify him as Black."
Given those circumstances, Hart has sought to find answers to such questions as "Who was Alexander Twilight?", "How did he identify during his lifetime?" and "How and why are we identifying him the way we do today?"
The 200th anniversary of Twilight's graduation from Middlebury College seemed a perfect time to pose those questions, according to Hart, who successfully lobbied for Twilight to share the bill for what has been an annual "Clifford Symposium." That symposium is named for the late Prof. Nicholas R. Clifford, who taught history at the institution from 1966 to 1993.
Being of mixed-race is a trait that Douglass also shared, Hart noted. Douglass's father is believed to have been a slave owner of European descent.
HISTORY SYMPOSIUM
Hart hopes the tributes to both men can also promote a deeper understanding of the myriad issues that multiracial individuals faced through history, and still do today. 
"I want those at the symposium to not only learn more about Twilight and his accomplishments, but also to think about race more creatively and more critically," Hart said. "And I hope in thinking about race in more complex ways, we as a society move away from viewing 'Whiteness' as the norm — as the standard — by which we assign racial identity to others, especially biracial individuals."
Those slated to participate in the Sept. 22 ceremony — including Middlebury College President Laurie Patton — will undoubtedly ask onlookers to imagine the social and political dynamics that were at play in 1843, when Douglass brought his anti-slavery message to Addison County.
Vermont was somewhat of an outlier, in terms of its objection to slavery, compared to other states. Its opposition could be seen on several fronts, according to Hart:
• Vermont joined the union in 1791 as the first to begin — and remain — an anti-slavery state. Its constitution outlawed adult enslavement, though it permitted the bondage of minors and regarded debt peonage as lawful — practices accepted as common during this era.
• William Slade — a Cornwall native, an 1807 graduate of Middlebury College and then the impending governor of the state (1844-46) — was seen as a strong, dependable anti-slavery ally. Slade served as Vermont's lone Congressman from 1831 to March 3, 1843. He was a Middlebury lawyer during the time of Douglass's visit, and the following year began the first of two one-year terms as governor.
Slade's abhorrence of slavery was apparent during his run for the U.S. House, and he did so at his own peril, Hart said.
"Slade writes to his wife Abigail, 'I was just warned to get out of Washington, D.C., by Dec. 1 (1841), otherwise I was going to be tarred and feathered. I will stand my ground. I will speak against slavery in the House at whatever cost to me. I don't care,'" Hart recounted.
He explained he then-Democrat-controlled House had instituted a "gag rule" that precluded long speeches railing against slavery. He said Rep. Slade was routinely cut off during his speeches, some of which were designed to last more than two hours.
• Middlebury was the birthplace (in 1834) of the Vermont Anti-Slavery Society, as well as the site of an important and symbolic court ruling on that subject. It was in 1807 that Vermont Supreme Court Judge Theophilus Harrington, while in session in Middlebury, told a New York enslaver that the court required proof "from the Almighty" that the enslaver was entitled to hold another human being in bondage. 
Hart was asked to speculate how Douglass and Twilight might feel about the posthumous honor they'll be receiving this month.
He believes Douglass would have hailed the expansion of voting rights for women, celebrated the modern civil rights movement, and praised the Green Mountain State's more recent endorsement of civil unions, same-sex marriage, the election of progressive lawmakers and its widespread support of the Black Lives Matter movement.
"I think if Douglass could have been alive these last 20 years, he would have thought, 'This is the Vermont I know,'" Hart said. "I think Douglass would have felt affirmed in his original understanding and belief of what Vermont and Vermonters stood for."
As for Twilight, who Hart noted was not a fierce abolitionist and was able to pursue his career and personal goals in relative anonymity: "I think he would have said (of the symposium in his honor), 'Well that's interesting; I'm not sure I would agree with you, but hey, if this commemoration highlights my achievement, that's great. Thanks very much, this is a wonderful tribute.'" 
Reporter John Flowers is at [email protected].
More News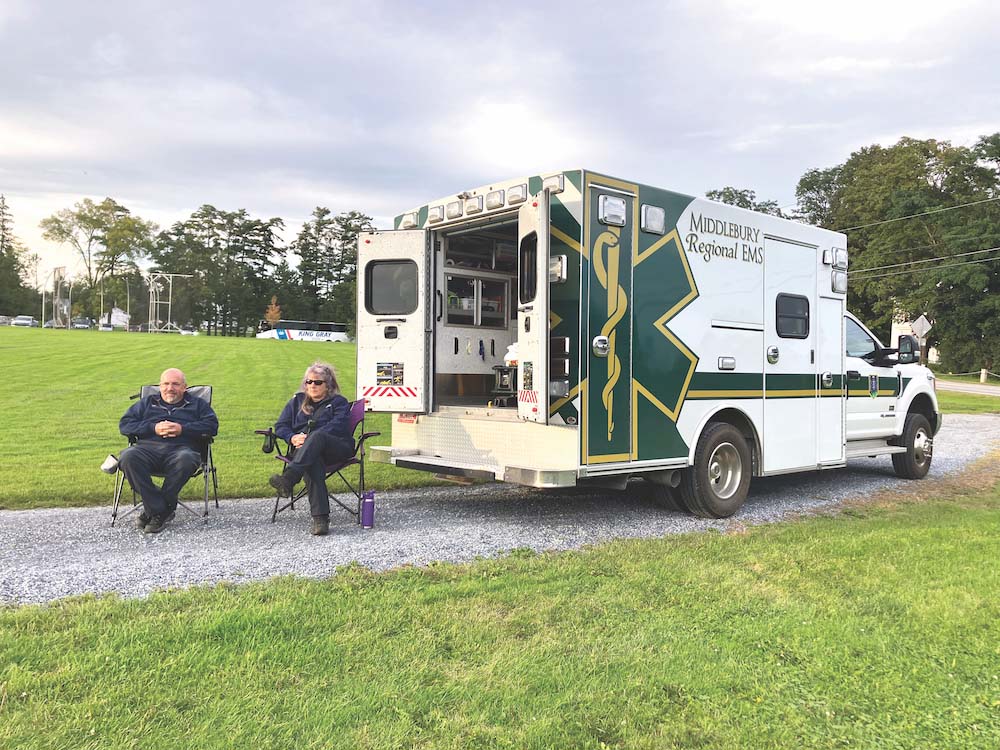 Middlebury Regional Emergency Medical Services wants to eliminate its annual Town Meeting … (read more)
Middlebury police are investigating the death of a Middlebury College junior and say the p … (read more)
Vergennes resident Margaret Clifford offers nearly a century of recollections, from losing … (read more)