Karl Lindholm: Mind over matter: Chris, Luke and Martin
Satchel Paige supposedly said, "Age is a case of mind over matter: if you don't mind, it don't matter" (actually it was likely Mark Twain who said it first — two American originals). 
The sentiment applies to Middlebury athlete Chris Hamilton, who has competed at masters track and field events throughout New England, and in other parts of the country in the past six months. 
Just this summer, Chris won the discus throw, a gold medal, at the National Senior Games in Pittsburgh in the 70-75 age group. He also won a silver in the shot put. Winning a gold and silver in Pittsburgh, Chris says, "was the high point of my life. I'm 70, but I felt like a teenager on my drive home."
"Two years ago, I weighed 253 pounds and was not very healthy. I thought competing in senior events would be an effective way to get healthy. I lost over 50 pounds and got in shape. Last November, I said 'I'm going all in.'" 
He spent the cold weather months in the Arizona desert with his partner of seven years, Kathy Brown, who also serves as his coach. "She's very involved, comes to my practices, and can effectively point out what I'm doing wrong."
Chris competed at the Texas Senior Games in late March, then the Connecticut Games in May, the Nationals in July, and in Maine and New Hampshire in August. His haul for the season was 12 Golds and one Silver. 
"I even have a sponsor!" he revealed. It's his 35-year-old daughter, E.V. Hamilton, whom he described as "an all-purpose entrepreneur." The front of the shirt he wears in competition reads "Elmore, VT Air BnB" and the back "Your Ad Here (Cheap)." Not exactly Nike or New Balance, but it'll do. 
Chris describes himself as a "10th generation Vermonter," born in Porter Hospital, raised in Middlebury and now living in Bridport. He played on the basketball team at MUHS and also competed in track and field. When he graduated in 1971, he held the high jump record at 6'1".
Chris has found the whole enterprise of senior sports satisfying. 
"I am not a particularly social person," he says. "In fact, I can be something of a misanthrope. But I love the camaraderie of senior sports. Everybody has had something, lots of cancer survivors. I've had two spinal fusions. I love to compete, but I love more the camaraderie."
He is especially proud of the silver medal in the shot put he won in the Nationals in Pittsburgh: "I popped a big one on my final throw! 
"I'm happy to be the second best over-70 shot-putter in Addison County!" 
Second best? Who then is the best shot-putter in Addison County?
Luke Hotte, of course!
Luke, 76, has been the throwing coach for the Middlebury College track and field team for the past 37 years. In 1985, track coach Gail Smith casually asked Butch Atkins, ice rink manager and famous local athlete, if he knew anyone who could coach the throwers in the field events. Indeed he did, remembering the exploits of Luke at MUHS.
And the rest is history! 
Martin Beatty succeeded Gail as head coach of track and field in 1988 and inherited Luke. He calls him "the unsung hero of our track and field program, a track and field program that has become a regional D3 power, the 2022 and 2023 NESCAC Women's Track and Field Champions and the 2018 and 2019 NESCAC Men's Track and Field Champions.
"Luke is the best throws coach in the Northeast," Martin asserts. "He has coached more NESCAC champions, New England champions, and All-Americans than I can count. Although he was a great shot put and discus thrower, Luke's knowledge of all the four throws is unequaled in this region. 
"Proof of that is that he also coached two javelin national champions in Bryan Black '01 and Khristoph Becker '06, as well as several women javelin All Americans, and Minhaj Rahman '19, an All American in the 35-pound weight throw and the hammer throw." 
Like Chris, Luke was a local boy. The oldest of nine children, he grew up on a farm in Bridport, attended MUHS, and played football on longtime coach Hubie Wagner's very first team. "I was coached in the shot put by Jimmy Sears," he said. "At first, I couldn't figure it out, but we worked hard in the summer, and I set the state record in the shot put as a senior."
Luke then attended Northeast Missouri State College (why there? "Jimmy Sears's daughter was the secretary to the athletic director!"). He was a top thrower, a conference champion in the shot put. He graduated with a degree in agriculture and education. 
Luke's lifetime work has been in the dairy industry. He was employed in Middlebury from 1975 to 2020 by Kraft and then Agri-Mark (to whom Kraft sold out in 1995), testing milk for chemicals harmful to consumers. 
"That was his day job," Martin Beatty says. "His love has always been coaching throwers."
Luke competed successfully in masters events for many years, though it's not easy to get him to discuss his achievements. He especially liked to compete at the Dartmouth Relays, as his close coaching friend and contemporary, Carl Wallin, was the long-time Dartmouth's head coach of men's and women's field. 
"I won in my age group," is all he said when I asked about his level of success. He competed well into his 60s, winning shot-put events in regional competition until injuries curtailed his masters activities. 
The last 18 months have been difficult for Luke. In late 2021, he was diagnosed with prostate cancer. Weakened by radiation, he contracted COVID, and then long COVID, affecting his lungs. In February, he was not getting any better and tests confirmed he had blood cancer. He was very sick.
Even at his lowest point last winter, he continued to coach. "One of us would meet him at his car with a wheelchair to bring him to the field house elevator," Beatty explained, "and out to the throwing circle in Virtue, where he would video tape and critique every throw. 
"I worried and asked him if it were smart for him to drag himself to practice. 'At home, I would be sitting around bored. At practice, I can sit and coach,' he would say." 
At present, the cancer treatments are going well, a blessing, and Luke is getting stronger and feeling more optimistic as the school year approaches. 
Chris Hamilton tells the story of bumping into Luke at the Shoreham Service Center a while back. "I was glad to see him because I had a question about my shot-put technique, so Luke demonstrated for me what I was doing wrong and the right way to do it — for about a half hour in the parking lot!
"He can really communicate. He's a great coach."
—————
Karl Lindholm can be contacted at [email protected].
More News
The Middlebury College football team scored first the outlasted visiting Bowdoin on Saturd … (read more)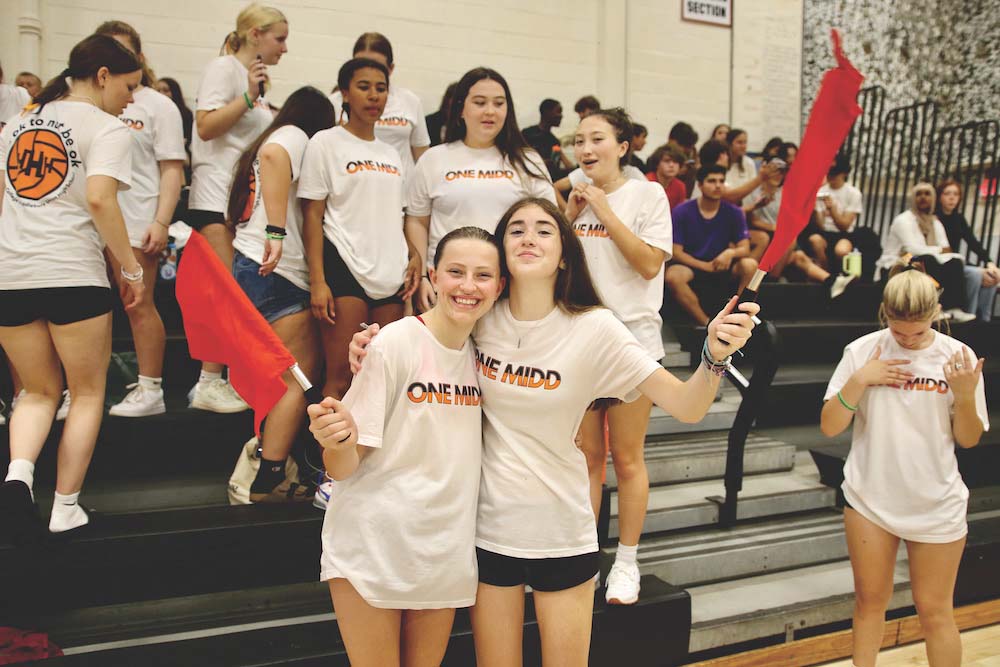 Considering the Middlebury Union High School volleyball team's decidedly successful record … (read more)
In a hard-fought girls' soccer match on this past Saturday, Middlebury outlasted Vergennes … (read more)