Former Tiger field hockey standout back as coach
MIDDLEBURY — A former Middlebury Union High School and St. Michael's College field hockey standout has returned to her Tiger team this fall to take over as its head coach.
MaKayla Foster Broughton, a 2016 MUHS graduate, has been entrusted with getting a program back on track that has struggled in recent years to find its footing in Division I. 
Broughton played as a forward on competitive teams during her four-year Tiger career, during which MUHS won three playoff games and reached the semifinal round during her sophomore season. 
She capped her high school career by being named to the Vermont Twin-State team and the Metro Conference First Team (her program assistant this season, Tajah Marsden, shared both those honors). 
Broughton then played four years at St. Mike's, starting as a senior and scoring seven goals and assisting one. 
Now in her second post as an elementary school educator, this one teaching 4th grade in Shoreham, Broughton's long list of scholastic awards at St. Mike's include making regular appearances on the National Field Hockey Coaches Association's National Academic Squad.
Before this fall, Broughton, 25, who married Jordan Broughton in June 2022, had been commuting to teach in Westford. The move closer to home allowed her to consider heading the MUHS program when another MUHS alum, Brandi Whittemore, stepped down. 
"It opened up some time on the schedule," Broughton said. 
She acknowledged taking over the varsity job without a lot of coaching experience, although she was a regular at the summer youth clinics operated by the St. Mike's program. But Broughton said MUHS Activities Director Sean Farrell encouraged her to apply, and had been set to mentor young athletes at Westford. 
"Coaching has been something I've been wanting to do," she said. "Back in 2020, the time I was student-teaching up in Westford, I went through the Girls On The Run programming, and I was all set to start that program there, and I was super excited, and then the pandemic struck." 
"So with the change in job, much closer, and then with the opening here I reached out, and it just kind of went from there."
Broughton, a varsity softball player and basketball player at MUHS, also acknowledged she missed athletics.
"Being back in a sports routine is amazing," she said. "I love the competition and the camaraderie and getting to know people in different ways."
TAKING OVER
She has enjoyed working with the team.
"What I have liked about coaching so far is getting to know the kids. I've liked being able to pop into drills or play with them when they're down a player, just the activity," Broughton said.
She noted the natural connection between her profession and her new part-time position.
 "(I enjoy) sharing everything that's in my head from all these years of playing and being able to use it. It's definitely parallel," Broughton said. "It's an easy switch to go from teaching to coaching. It's all a form of teaching."
She sees the difference in learning styles and abilities of pre-teens and teenagers. 
"It's really interesting to see how quickly kids grow up and develop their own identity and develop that confidence, and also that ability to understand complex systems," Broughton said. "Games and sports are complex systems, and the girls, even in this one week of preseason, have been picking up on so much."
Broughton said she makes sure to go over the "why, and not just the what" of what she wants the team to do. 
"I feel (that approach) quenches people's desire to learn, and that's my goal in both my work environments," she said.
While new to coaching, Broughton feels she has learned from her coaches over the years, from the youth level up through college. For example, she remembers having recently retired MUHS football coach Dennis Smith as a youth softball and basketball coach. 
"I remember him saying, 'We leave a place better than we found it,'" Broughton recalled. "And actually I say that all the time in my classroom. Little things like that have really guided me in my own philosophy, and then they just kind of pop out of my mouth when I talk to the girls."
She talked a bit about her own philosophy as she starts her coaching career. 
"I believe that all students have the ability to learn, and the same is true of athletes," Broughton said. "We all have these different levels of skillsets. So going into each practice and talking to each one of them and really giving off the belief that they are capable, that's been huge."
Essentially, she wants her athletes to believe in themselves. 
"That's a big part of being an athlete, right?" Broughton said. "The other aspect of that is validation. Just based on my own experience when I feel seen, understood and respected, I do my best work. So that's what Tajah and myself are trying to incorporate into the program."
Broughton understands the Tiger program has not set the world afire since early 2010s. Since 2017, MUHS has competed in the Division-II postseason and won four first-round playoff games in five seasons, but not advanced further. And the Tigers have taken their regular season lumps in the competitive Metro Conference. 
And this year's team, while returning a number of players, is still young, with just three seniors and three juniors. 
As well as looking for leadership to develop among the more experienced players, Broughton said she and Marsden will be focusing on the basics to create a foundation for sound play.
"It's a fresh start. We've been emphasizing that. Build on what you remember, but let's revamp it so that everybody is feeling like they're capable of learning," Broughton said. 
"A big goal has been really honing in on our fundamentals," she added, citing including stick skills, "triangle play," and "knowing what to do with the ball when, as well as communication."
Broughton said she, Marsden and the Tigers had fun in the preseason despite early practices on the college turf when rain made the high school fields unplayable, plus more double sessions than the program has typically held.
"There hasn't been a practice where I haven't really enjoyed it," Broughton said. "Even the girls have said, 'We really like coming to practice.' It keeps me going."
More News
The Middlebury College football team scored first the outlasted visiting Bowdoin on Saturd … (read more)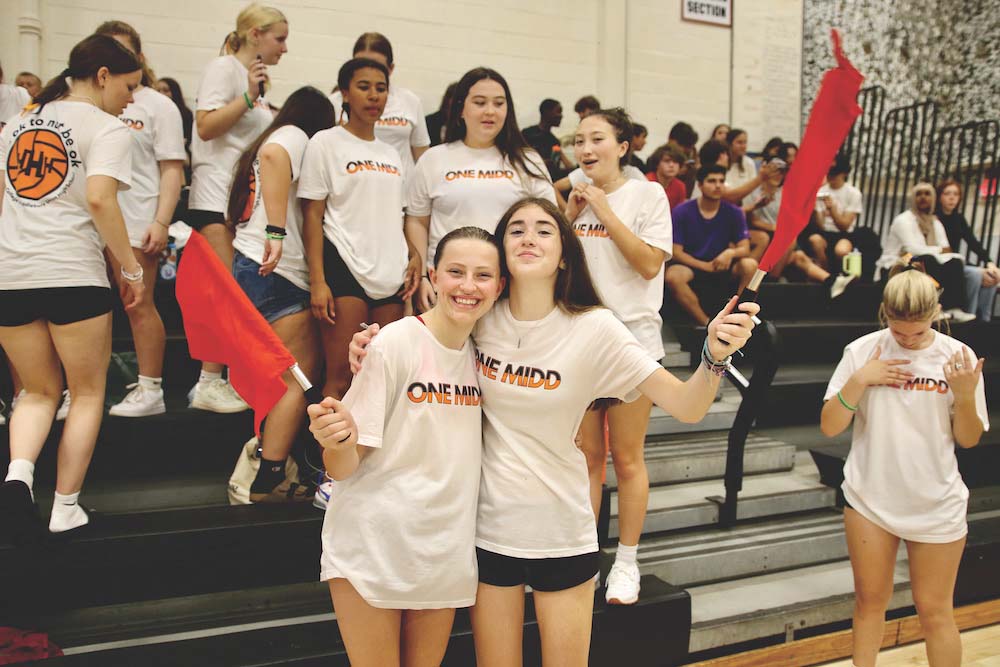 Considering the Middlebury Union High School volleyball team's decidedly successful record … (read more)
In a hard-fought girls' soccer match on this past Saturday, Middlebury outlasted Vergennes … (read more)