Lincoln school district ready for first year
LINCOLN — As the first day of school approaches, Lincoln School District officials are looking forward to the supervisory district's inaugural year. 
District leaders say this first year of operation will mostly mirror previous school years, though they expect the months ahead to also include adjusting to a new normal in Lincoln and exploring new opportunities. 
"We're looking forward to settling into our new governance structure and continuing to nurture the youth of Lincoln," said Lincoln Community School Principal Tory Riley.  "And, as always, we look forward to continued collaboration with the many, many townspeople who make this school and district a vibrant place to learn and grow, contribute and belong." 
Despite the Lincoln School District's new status, Riley said the experiences of Lincoln Community School (LCS) students and their families should feel familiar. 
"Most teachers and staff are returning. Our calendar is the same as surrounding districts. We will continue with LCS traditions such as All-School Hike Day, a Multi-age Cultural Study during the winter, and weekly all-school assemblies," she explained. 
Transportation in the district will also operate similarly to prior years. Lincoln School Board Chair Jennifer Oldham said the district will contract with Betcha Transit/Student Transportation of America, which has for decades provided transportation to Addison County school districts.
"They know Lincoln and they know our routes. It'll look very similar to previous years, although we will be saving money by using two bus routes instead of three," Oldham said. "It might not be exact, but we will have all of the same drivers."
The district will also continue to provide transportation for Lincoln middle and high school students who attend Mount Abraham Union High School. The Lincoln School District offers full school choice to its 7th- to 12th-graders, though Oldham said 77% of the town's middle and high schoolers will continue attending Mount Abe this school year. 
GETTING CREATIVE
While much will remain the same, Riley said district staff are exploring potential changes in the areas of curriculum and reporting at the Lincoln Community School. 
"We are continuing to build a cohesive K-6, proficiency-based curriculum and have begun developing a report card that will reflect student progress in academic skills," she said. "The expected outcome is for a student to experience K-6 grades in a way that makes sense to them because they can see their own progression." 
Riley said the curriculum and report card will include what LCS calls "the essentials" — visual art, music and physical education classes. 
"We'll also be measuring growth in aspects of learning and being human, such as communication, perseverance, self-awareness and collaboration," she said. "Because the majority of our students will attend Mount Abraham as 7th-12th graders, we will be attentive to making that transition smooth for students."
Oldham said she is looking forward to exploring other ways the district can exercise creativity in the upcoming year. 
"For me, it's looking at both being creative financially and being creative in terms of the kinds of partnerships we make outside of the school to bring new things in and expose the kids to different things," she said. "This last year has been really focused on the nitty gritty of executing the withdrawal and the exit agreement with (the Mount Abraham Unified School District) and putting in place all the operational infrastructures, so this first year is about being creative."
SUPERINTENDENT SEARCH
In the months ahead the Lincoln School District will also begin conducting its search for a permanent superintendent. Earlier this year, the Lincoln School Board hired Madelyn Crudo Burke of Mendon to serve as acting superintendent for the district. Crudo Burke will continue to fill the top administrator position during the upcoming school year. 
Oldham said the district is in the process of interviewing individuals and companies to facilitate the superintendent search.  
"Sooner is better for us. We're not exactly in the normal cycle of superintendent recruitment," she said of the search. "We have a great interim, but certainly we'd love to have someone identified by the end of the year."
The superintendent search is also expected to identify ways the top administrator could help cover the responsibilities of the district's business manager position. The business manager post is a central office position with responsibilities that include finance and HR management and overseeing food service operations.
Oldham said the district is currently filling its business manager needs with an external consultant and increasing the capacity for existing staff to take on part of the post's responsibilities. Ultimately, the district would like to explore potential overlap between the responsibilities of the superintendent and business manager positions. 
"We have two 0.5 full-time equivalent positions for the central office and it's just looking at what is going to be the best way to fill those two positions," Oldham explained. "How we ultimately finalize the business manager position will be directly related to the skills of our next superintendent."
Lincoln School Board member Mary Gemignani noted that once the district identifies a permanent superintendent, board members can begin working on other initiatives.  
"We are working on developing our vision and mission statement based on input we are gathering from the community," she said. "Once we have hired our superintendent, we will begin working on a long-term strategic plan."
As the school year gets underway, both Gemignani and Oldham are excited to continue supporting the district's staff and students. 
"I'm looking forward to being part of a school community that is transparent, believes in partnerships with families, and where children receive the education they need, and educators' expertise is respected and their voices heard," Gemignani said. 
Oldham added she is also looking forward to empowering the district's educators to maximize the teaching and learning experience in the district. The school board chair said she is grateful for the support of the Lincoln community throughout the district's journey.  
"If it weren't for the support and generosity of this community, this could have never happened," she said. "I just want everyone in this town to know that this is more than just a group people that's been working on this. I want people to know that they're very much a part of this."
More News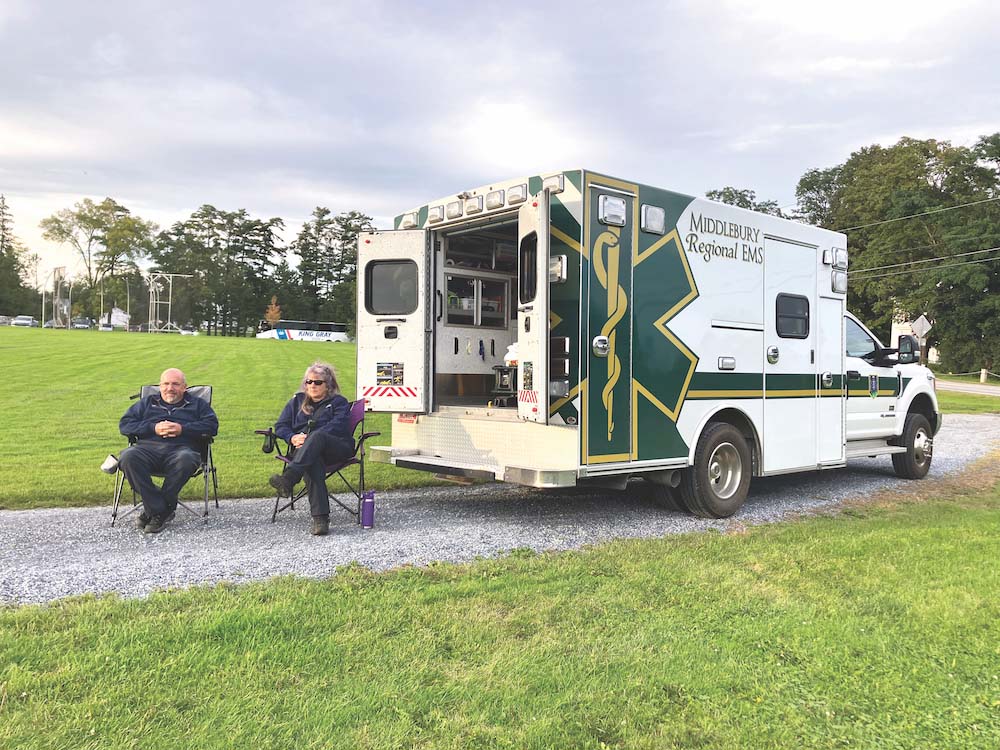 Middlebury Regional Emergency Medical Services wants to eliminate its annual Town Meeting … (read more)
Middlebury police are investigating the death of a Middlebury College junior and say the p … (read more)
In the course of her almost 101 years on Earth, Vergennes resident Margaret Clifford, bett … (read more)