UPDATED: Vermont State Police Log: Troopers respond to serious boating and driving accidents
ADDISON COUNTY — Vermont State Police have cited Gerard J. Vorsteveld, 49, of Panton with boating while intoxicated after a serious accident on Lake Champlain on Sunday evening. See a full story here.
Separately, a 61-year-old Granville man and a 37-year-old Warren man were both killed when the vehicles each was driving crashed — apparently into each other on Route 100 Monday evening.
At around 8:30 p.m., Vermont State Police were called to the crash near Route 100's intersection with Leland Jones Road in Warren. Police report that Harley LaPlante of Warren was driving a 2020 Mazada M3 and a Granville man who was not named was driving a 2013 Ford Explorer. Both men were pronounced dead at the scene. The crash is still under active investigation at this time.
Police said they'd release the Granville man's name after they notified his family.
UPDATE: On Aug. 17, state police released the name of the Granville man who was killed in this crash. He was Douglas Morrill, age 61.
State police said their investigation  showed that Morrill was driving north on  Route 100 around a right-hand curve before the crash and was fully within his lane of travel. Harley LaPlante was driving southbound but was completely within the northbound lane. The vehicles collided in the northbound lane and came to rest blocking Route 100.
Anyone with information that could assist investigators is asked to call VSP's Berlin Barracks at 802-229-9191 or leave an anonymous tip online at https://vsp.vermont.gov/tipsubmit.
OTHER CRASHES
Vermont State Police dealt with two other serious, multi-vehicle crashes in Addison County, but thankfully neither involved loss of life.
In the first, on Aug. 10 at 11:22 a.m. troopers rushed to a crash on Route 7 near River Road in New Haven. State police report that Christopher Hart, 33, of Fair Haven was driving a Boondock Motors Kenworth tow truck northbound behind a Toyota Prius being driven by 71-year-old Giovanna Lapore of Jericho. Police allege that Hart failed to maintain a reasonable distance between his tow truck and Lapore's Prius, and the tow truck drove into the back of the Prius, forcing it off the road and down into a ditch.
Prius passenger Judith Wade, 81, of Jericho sustained minor injuries; no other injuries were reported. The Prius was a total loss.
Police issued Hart a traffic ticket for following too closely, which, if proved, carries three points on his insurance and a $220 fee. Additional charges pending.
Troopers were assisted on scene by the New Haven Fire Department and Middlebury Regional EMS.
The other crash happened on Aug. 13, a little after 4 p.m. At that time, troopers responded to a three-vehicle accident on Route 7 near the Cram Road in Leicester. Their investigation showed that Victoria Racine, 21, of Middlebury was driving a 2014 Jeep Compass northbound when she allegedly failed to see 49-year-old Toby Gay of Shoreham in a 2019 Chevy Silverado stopped and yielding to southbound traffic ahead of her, as he waited to turn left onto Cram Road. Racine drove into the back of Gay's pickup, pushing him into the southbound traffic, police said. Gay's Silverado collided with a 2002 Dodge Ram driven by Chaz Pike, 22, of Sandgate, according to the police investigation.
Racine and passenger Cale Quenneville Jr., 30, of Brandon both sustained major, non-life threatening injuries. Gay sustained a minor injury, according to police
Troopers were assisted on scene by Brandon Fire Department, Brandon Area Rescue Squad and Middlebury Regional EMS.
Traffic tickets are pending.
More News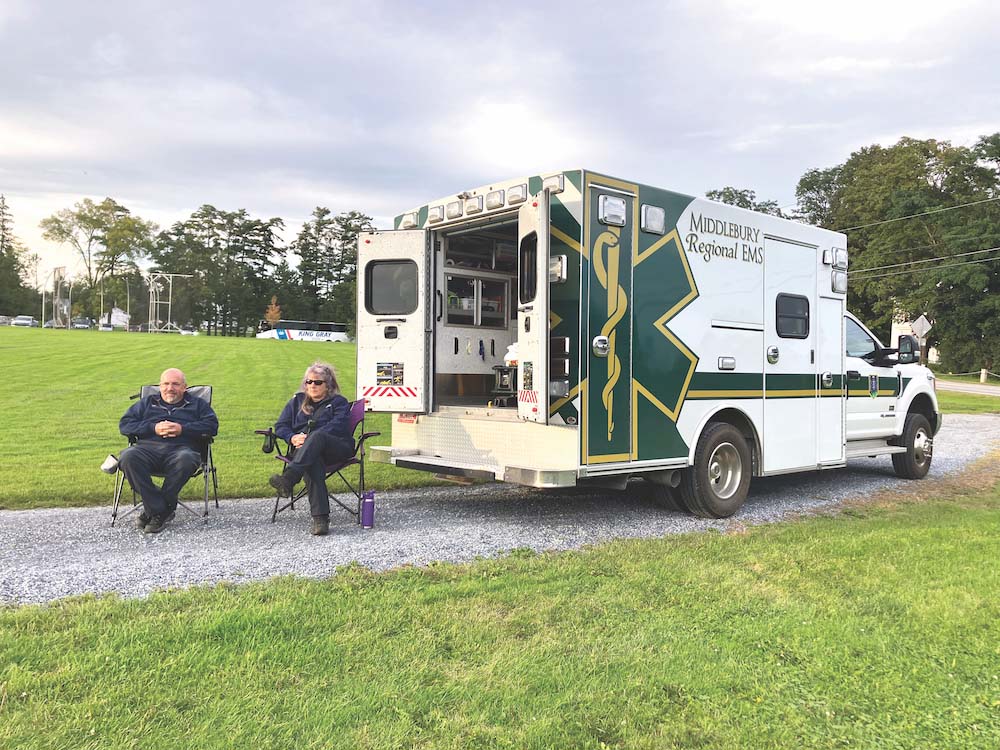 Middlebury Regional Emergency Medical Services wants to eliminate its annual Town Meeting … (read more)
Middlebury police are investigating the death of a Middlebury College junior and say the p … (read more)
Vergennes resident Margaret Clifford offers nearly a century of recollections, from losing … (read more)