Vergennes Police Log: City police investigate sexual assault
VERGENNES — Vergennes police since Aug. 1 have been investigating an alleged sexual assault in which they said both the alleged assailant and victim are juveniles. Police said they cannot comment on the case except to say the investigation is ongoing.
Also between July 31 and Aug. 13 Vergennes police conducted 14 patrols in cruisers and two on foot, 31 traffic stops, and two welfare checks; responded to five false alarms; fingerprinted three job applicants; and:
On July 31 dealt with a woman they described as homeless who was reported to be vomiting and out of control at a city bus stop. Police took her first to the John Graham Shelter, but had to return when personnel there reported she became abusive. They then took her back to a bus stop, where this time she apparently hopped on a bus.
On Aug. 1:
• Began investigating the theft of an $800 generator from a Victory Street home.
• Stood by while an individual picked up belongings from a Hillside Acres apartment.
On Aug. 2 took a report from a Meadowbrook Drive resident of an anonymous threatening call. Police advised the resident to block the number.
On Aug. 3:
• Sent a department Drug Recognition Expert to the Vermont State Police barracks in New Haven to evaluate an impaired driver.
• Served an abuse-prevention order to a Walker Avenue resident.
• Asked an unhoused person camped out on Meigs Road to move along.
On Aug. 4:
• Stood by until a vehicle that broke down at the intersection of Routes 7 and 22A could be towed away.
• Calmed a Hillside Drive argument between a parent and children.
• Told a Hillside Drive couple not to set off fireworks following complaints from Commodore Drive nearby. On Aug. 5 they warned the same couple again not to set off fireworks after the pair drove along Commodore Drive playing loud music and tossing firecrackers because they were upset about the complaints.
On Aug. 5 responded on behalf of state police to a domestic dispute in Addison, but said the alleged victim refused to cooperate.
On Aug. 7 looked into a report of an allegedly suspicious person taking photos of a city property, but could not ID the individual.
On Aug. 8:
• Dealt with a two-vehicle accident on Main Street.
• Returned a wallet found on Main Street to its owner.
On Aug. 9:
• Heard that an Addison Northwest School District official had harassing messages delivered in a case of mistaken identity. Police said the district IT department had already blocked more messages.
• Cited Patrick Durfee, 45, of Bristol for driving with a criminally suspended license after stopping him in the Shaw's Supermarket parking lot.
On Aug. 10 heard a report from a Union Street resident of someone ringing a doorbell and then vanishing.
On Aug. 12:
• Dealt with a three-vehicle accident at the intersection of Main and Canal streets; police said one vehicle was totaled.
• Looked unsuccessfully for a vehicle reported to have passed unsafely on Monkton Road.
On Aug. 13:
• On behalf of state police responded to a report of a family fight at a Monkton Road home in Ferrisburgh and determined it was a mental health issue affecting one party, who was transported to Porter Hospital for help.
• Ticketed a man for riding an ATV on a sidewalk and in the road.
• Helped out state police by having a department Drug Recognition Expert evaluate an alleged impaired boat driver in a Lake Champlain boating mishap.
More News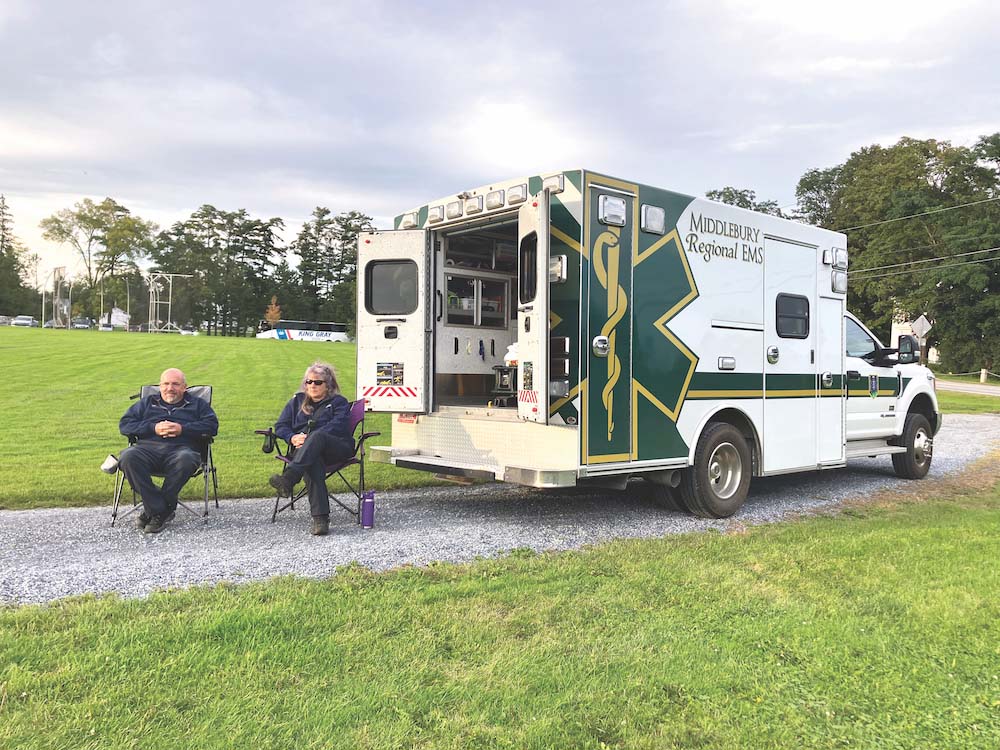 Middlebury Regional Emergency Medical Services wants to eliminate its annual Town Meeting … (read more)
Middlebury police are investigating the death of a Middlebury College junior and say the p … (read more)
Vergennes resident Margaret Clifford offers nearly a century of recollections, from losing … (read more)