Film festival's varied lineup brings cinematic spark to Middlebury
"The joy of it, from beginning to end, is that the festival takes place right before our eyes … We are open to films about things we've never seen before, from places we had no experience with."
— Lloyd Komesar
MIDDLEBURY — The ninth annual Middlebury New Filmmakers Festival (MNFF9) will host a record number of movie makers during its Aug. 23-27 run. This year's crop of 82 visiting filmmakers hail from as far away as Indonesia and as near as here in Vermont — home to Mount Abraham Union High School grad Sierra Urich, whose documentary "Joonam" is one of the most highly anticipated offerings at MNFF9.
Downtown Middlebury will, on a small scale, play its annual, late-summer role of "Hollywood East" for an eclectic collection of newly minted filmmakers, established stars and movie fans.
MNFF9 will boast 118 films — a mixture of features and shorts — that'll be screened at six Middlebury venues: Town Hall Theater, the Marquis Theatre (two screens), Middlebury College's Dana Auditorium and Twilight Hall, and the Swift House Inn (outdoors). The festival will kick off at 11:30 a.m. on Wednesday, Aug. 23, with several offerings, followed by an opening night program: 6 p.m. screening at THT flowed by a 9 p.m. party at the Swift House Inn. Special tickets have already been sold for those events.
The next four days will offer an abundance of movie options, coupled with special events, Q&As with movie directors and honored guests, parties and awards.
Lloyd Komesar and Jay Craven — producer and artistic director, respectively, of MNFF9 — have been among the few constants during the nine-year run of a festival that seems to reinvent itself annually.
"Each year begins with a lump of clay; we don't know how we're going to sculpt it," said Komesar, who spent nearly 30 years as a sales, research and distribution executive in the film and television industry, including with the Walt Disney Company in New York and Los Angeles.
"The joy of it, from beginning to end, is that the festival takes place right before our eyes," he said. "We don't wear blinders; we are open to films about things we've never seen before, from places we had no experience with. I am never jaded by the process because it's a constant revelation."
Craven's experience in film and the arts goes far beyond MNFF. He's an internationally known filmmaker in his own right, and is approaching his 49th season of presenting performing arts in the Northeast Kingdom.
"Every performance remains fresh to me," he said.
He likes the way MNFF temporarily transforms the county's shire town in late August.
"The town takes on this special glow for me," he said.
As does the festival content.
"Every festival is entirely different, by virtue of the group of people who come together," he said. "So much of this experience is about interaction with the filmmakers and the audience members. The films themselves … are distinctly different than any previous year. It remains fresh. What powers that for us is the sense of discovery that audiences have in approaching the material and in encountering the filmmakers. There's nothing really repetitive about it."
Clearly, the quality of this year's submissions and the lifting of COVID restrictions in most parts of the world has contributed to the heightened interest in this MNFF. Komesar anticipates the festival will have sold upwards of 200 passes by the end of this week, with more sales expected right up until the Aug. 23 opening.
"People tend to buy (passes) late," he said. "We use 200 as a benchmark. It's a very good number of us."
Komesar on Monday placed advance sales to individual films at about 100. He noted tickets have only been available since Aug. 9, and he expected that number to exceed 150 tickets by week's end. So that's 200 passes for the entire festival, and 150 tickets for individual films.
"That's pretty robust," he exclaimed. "Last-minute ticket buying usually comes in strong."
SOME FILMS OF NOTE
One of the hottest tickets so far? Urich's "Joonam," a feature length documentary. Komesar said demand has been so high — particular from folks in the Bristol area — that Marquis Theater managers have agreed to screen the film simultaneously on both the theater's screens at 11:30 a.m. on Saturday, Aug. 26.
Here's the tag line for the film: "Spurred by a provocative family memory and a lifetime of separation from the country her mother left behind, a young filmmaker delves into her mother and grandmother's complicated pasts, and her own fractured Iranian identity."
Also generating particular interest: "I am a Noise," directed by Miri Navasky, which takes a look at the 60-year career of legendary singer-activist Joan Baez, offering "an honest look back and a deep look inward as (Baez) tries to make sense of her large, history-making life, and the personal struggles she's kept private."
Attendees will partake in a live Zoom Q&A with Baez following the screening on Thursday, Aug. 24, at 7:15 p.m.
Additionally, ticket sales have been surging for "Little Richard: I Am Everything," which "tells the story of the Black queer origins of rock 'n' roll, exploding the whitewashed canon of American pop music to reveal the innovator — the originator — Richard Penniman."
If you're planning on buying individual film tickets the day of the screening, bear in mind that demand is typically higher for "prime time" (7:15 p.m.) showings. And Komesar explained pass holders get first dibs on seats.
As previously reported, this year's crop of MNFF honorees and special guests will include Alexander Payne (for Sustained Excellence in Directing), Beth Levinson (for Sustained Excellence in Documentary Filmmaking), Risa Bramon Garcia (for Sustained Excellence in Casting), Su Friedrich (for Sustained Vision and Excellence in Experimental Filmmaking), Yoni Brook (for Innovation in Documentary Filmmaking), and John Slattery (for Sustained Excellence in Directing and Acting).
Each of these honorees will be saluted with not only an award, but with screenings of some of their work, and they'll participate in Q&As with Craven. These Q&As have become a popular feature of MNFF, and Craven will be busy in that regard this year. Owing to the stellar turnout of filmmakers at MNFF9, more than 90% of the 118 films in this year's festival will get a Q&A, according to Komesar.
"If you're an audience member, it's a highly enriching experience," he said of the post-film conversations. "If you're a filmmaker, beyond screening your film, you have an opportunity to talk with a knowledgeable moderator and directly to the audience — and reap the benefit of being more engaged."
In addition to reduced COVID anxiety and eager travelers, there's another reason for the big turnout of film representatives this year: The availability of travel assistance. Festival organizers raised $10,000 this year to help offset some of the traveling expenses for incoming movie reps, hailing from the U.S., as well as Lebanon, Argentina, Great Britain, Puerto Rico and, of course, Indonesia.
In all, 15 of the 82 visitors are receiving MNFF travel fund money, according to Komesar, who said another $10,000 will be raised for the same purpose for MNFF10.
"It increases the geographic diversity of our festival to bring in people from other countries, or distant points in the U.S.," such as the West Coast and Minnesota, he said.
As has been the case for most editions of MNFF, many Addison County lodgers, restaurants and retailers will see an uptick in business during the festival. Komesar said 15 local businesses are offering discounts to customers with an MNFF9 pass or participant's badge.
County residents are hosting 75 festival visitors this year. Many of those hosts are located within walking distance of downtown Middlebury.
The recently expanded Ethan Allen Express passenger train will be ferrying several MNFF9 guests into Middlebury from the New York City area, Craven noted.
Komesar and Craven are excited for this year's festival and are already looking forward to next year. The window for MNFF10 submissions opens on Jan. 2.
"We never know what will be submitted," Komesar said. "It never gets old."
For all things MNFF9 — including details on tickets, festival honorees and the films themselves — go to middfilmfest.org. And see the official program inside this edition of the Independent.
Reporter John Flowers is at [email protected].
More News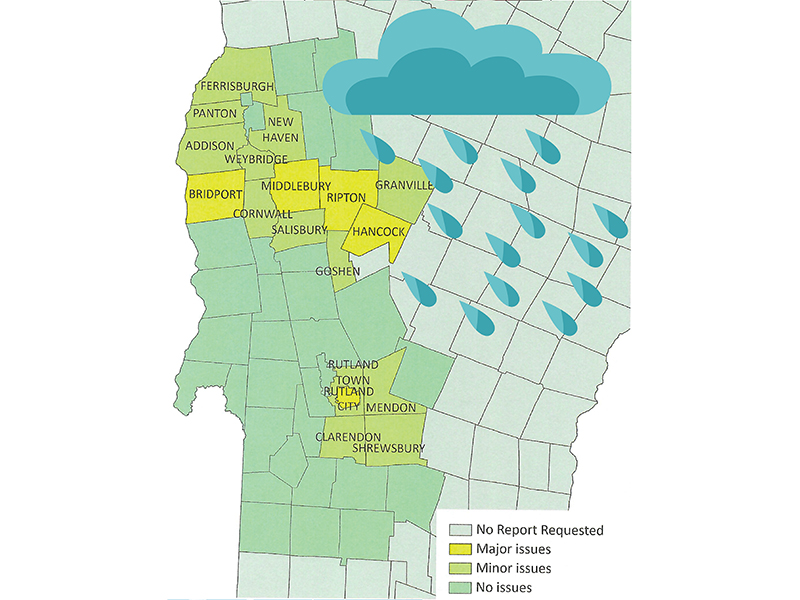 Local towns may get federal money to pay for more than a million dollars in cleanup and re … (read more)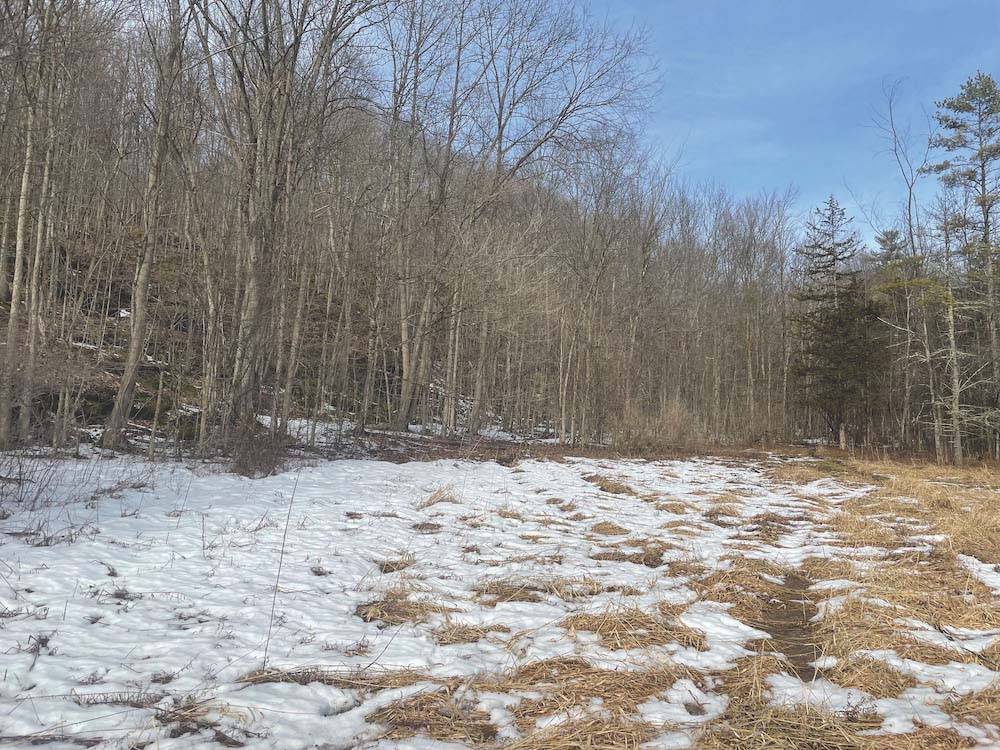 The Vermont Fish and Wildlife Department is putting $566,667 in grant money toward conserv … (read more)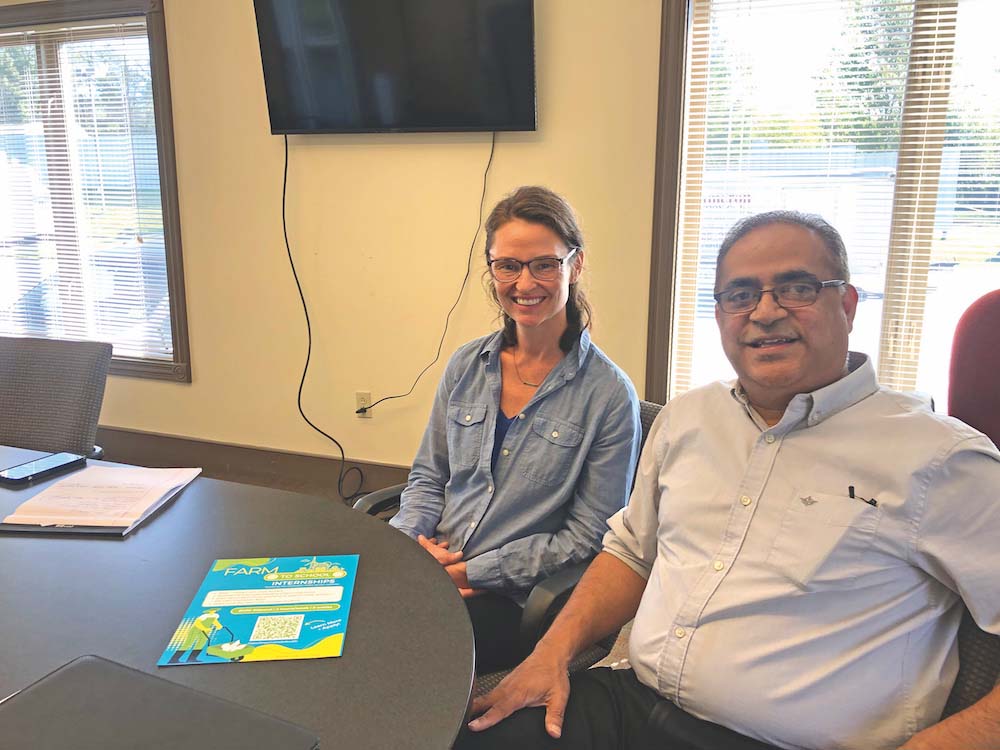 Like most things, the future of agriculture in Vermont lies in the hands of younger genera … (read more)