$600K grant to help John Graham Shelter fulfill its mission
"These (homeless shelter residents) are people who have approved vouchers to use at an apartment — if they can find one. It's just that we can't find a place for them."
— Executive Director Susan Whitmore
VERGENNES — John Graham Housing & Services (JGHS) has won a $596,731 grant through the Vermont Housing Opportunity Program (HOP) to increase its support not only for houseless individuals and families, but also for the advocates who assist them.
The HOP program is a major source of funding for emergency shelters and affordable housing programs throughout Vermont. HOP-funded services connect households with a range of benefits and services — including physical, mental and behavioral health — and remove barriers to help households secure and maintain a home.
At JGHS, the funding will help ensure its shelter will remain open and staffed 24/7, thanks to employee raises and more resources for shelter operations, utilities, repairs and maintenance.
Today's JGHS is an outgrowth of the John Graham Emergency Shelter, established at 69 Main St. in Vergennes as a tribute to the late John Graham, who was a tireless advocate for Addison County's most vulnerable residents. During the past 42 years, the organization has created 36 emergency shelter beds, seven affordable housing properties and 20 affordable apartments.
John Graham Shelter used to simply provide short-term stays and food for houseless persons. It has grown into more of a full-service entity that helps its guests secure the resources, education, counseling and other tools they need to hopefully exit the cycle of homelessness — permanently.
To that end, JGHS has a staff of 14 full- and part-time employees. That staff includes service coordinators, a program manager and shelter coordinators (some of whom work weekends and evenings). JGHS Executive Director Susan Whitmore added a few staffers when she took the helm of the organization in May 2021.
"The staff was stretched pretty thin," she recalled. "We made a valiant effort to fund the additional staff positions through foundation and private funding … But (the budget) is like walking on a tightrope. So we're really grateful for the HOP funding."
Whitmore promised some of the HOP resources will allow JGHS to give modest pay raises to staff. She noted human services workers are typically under-paid, which contributes to frequent turnover.
"People can make more working at Dunkin Donuts," she said of some entry level jobs in the field.
"We have trouble being fully staffed," Whitmore continued. "(A wage increase) helps us become more competitive in attracting employees and retaining our staff. Our biggest concern on a daily basis is staffing the shelter."
JGHS service coordinators are paid on a scale of $24-$30 per hour, to start. Night managers and shelter coordinators are paid at a base hourly rate of $16.50, according to Whitmore.
"We're hoping to get them up to $18," she said.
This isn't the first time JGHS has received HOP funding. The Vergennes nonprofit applies for this key revenue source each year, never knowing exactly the amount it might receive. Any HOP grant money helps JGHS cover annual spending of around $1.3 million.
Fortunately, this year's HOP grant represents a 34% increase compared to what the nonprofit received for fiscal year 2023. It's also the largest HOP grant that JGHS has ever received, according to Whitmore.
Addison County has earned a reputation for having a coordinated network of social services. When a household asks for help, a variety of housing service providers collaborate to ensure that a person or family not only finds a shelter bed, but support services. Those in need get a "housing assessment," which places them on a priority list for a local, affordable rental unit (if any are available). The list prioritizes people, in part, based on any disabilities, families with young children, and those who might be fleeing domestic violence.
SHELTER IS FULL
It used to be that John Graham Shelter would see fewer guests during the summer, as some houseless persons elected to camp outdoors instead of staying in a more regimented setting.
Not this summer.
The shelter is currently completely full, with 15 families on the waiting list, according to Whitmore. There's a household residing in each of the building's nine bedrooms. Guests — which currently include five children — share a living room and kitchen, which is without a stove right now.
"We have three microwaves set up in the kitchen right now," said Whitmore, who's seeking grant money for a new stove and refrigerator.
Addison County's housing shortage is contributing to longer stays at the shelter. Guests used to stay an average of 30-60 days — a number that has inflated to 200, with some guests staying for a year or more, according to Whitmore.
"And these are people who have approved vouchers to use at an apartment, if they can find one," she said. "It's just that we can't find a place for them. People are having to be parked at shelters for a longer period of time."
Guests follow different life journeys that lead to JGHS. In general, some guests are dealing with a substance use disorder. Others are dealing mental health issues. Still others are down on their luck, are fleeing an abusive partner, are refugees, or all of the above.
But all tend to have one thing in common, Whitmore believes.
"There's no one that hasn't had significant trauma or traumas that have led to them being without a home," she said.
For more information on JGHS, visit johngrahamshelter.org.
Reporter John Flowers is at [email protected].
More News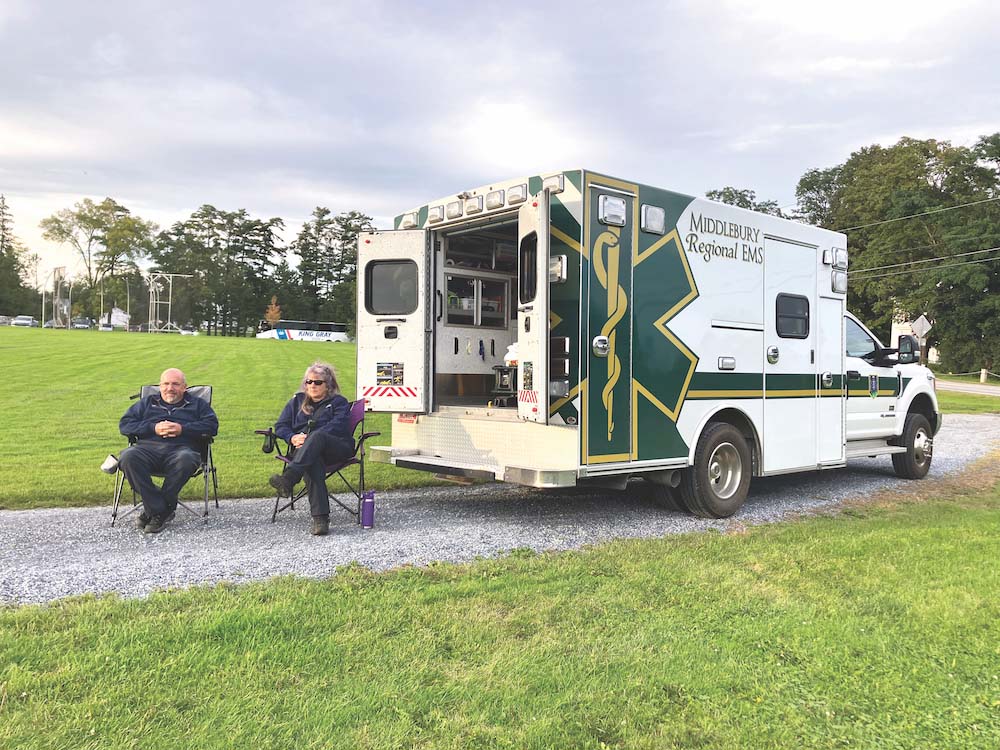 Middlebury Regional Emergency Medical Services wants to eliminate its annual Town Meeting … (read more)
Middlebury police are investigating the death of a Middlebury College junior and say the p … (read more)
In the course of her almost 101 years on Earth, Vergennes resident Margaret Clifford, bett … (read more)