MUHS harrier competing at mountain-running world championship
RIPTON, Vt./ FONTE CERRETO, Italy — Baxter Harrington has left the Green Mountain running trails in his hometown of Ripton, Vt., to travel to the rugged Apennine Mountains in central Italy, where this week he will compete in the 2023 Youth Skyrunning World Championships.
Early this week Harrington will join 13 other runners from across the USA to compete in the World Championships that will take place in Fonte Cerreto, L'Aquila, Abruzzo, Italy, which is 135 east of Rome.
"I've always loved the challenge of running up the mountain in my backyard," Harrington said in a press release. "While the high peaks of Italy are a bit daunting in comparison to the green hills of Vermont, I'm super excited to be a part of this team and push myself as an athlete."
A rising senior at Middlebury Union High School and a member of the Tiger cross country team, Harrington will compete in the Youth B category for boys ages 17 and 18.
Baxter will be joined by two other Vermont Runners: Heidi Haraldsen of Harwood and James Underwood of Woodstock .
The U.S. Youth Skyrunning Team is coached by fellow Ripton resident Ryan Kerrigan, who also coaches the Frost Mountain Nordic ski team at the Rikert Nordic Center.  He has led the U.S. team since 2018, when his roster included Sam Hodges of Cornwall.
The runners in Italy will start on Friday, Aug. 4, with the 3.8K "Vertical" race over the rugged mountains with a vertical climb of 1,033 meters. Then, after two days off, on Sunday Aug. 6 will see a second competition, the 13K "Sky" race, which features 1,300 meters of vertical climb. The highest elevation in the Vertical race is 2,136 meters, or over 7,000 feet.
The Vertical race will have individuals start every 20 seconds, like in a cross country ski race. The Sky race will feature a mass start like in a cross country running race.
More News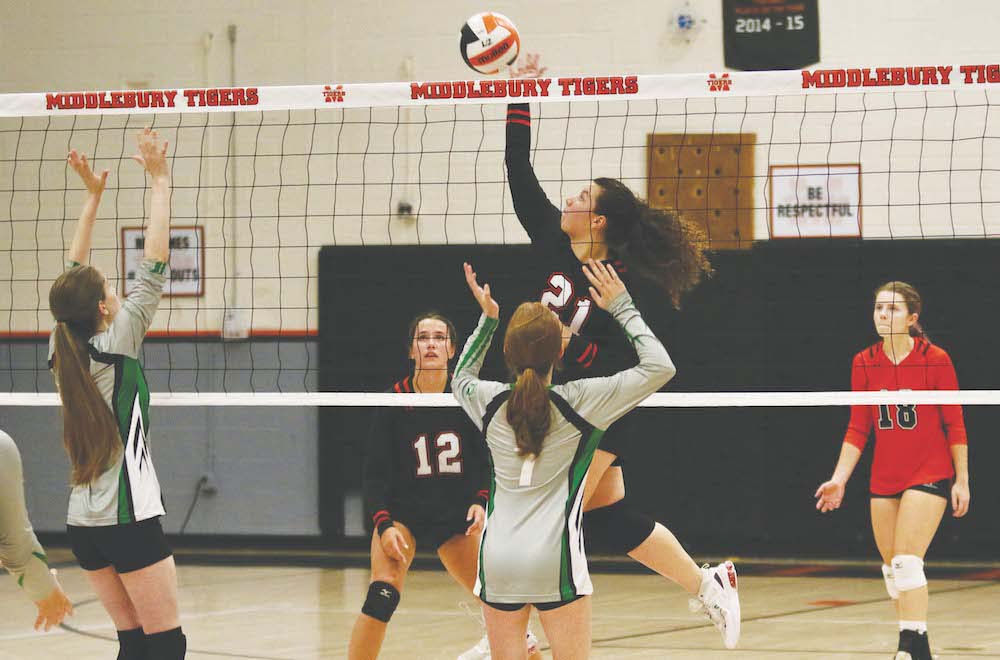 The first-year Middlebury Union High School girls' varsity volleyball team continued its r … (read more)
Soggy conditions didn't slow down Middlebury runners noticeably at a cross-country meet ho … (read more)
I gave Bill Lee a call last week, hoping he was at his home in Craftsbury and we might arr … (read more)