County awaits FEMA verdict on disaster aid
MIDDLEBURY — Federal Emergency Management Agency (FEMA) officials continue to inspect flood-related damage in our area in a process that may lead to Addison County being added to the list of Vermont counties covered by the federal disaster declaration announced by President Joe Biden on July 14.
The president's declaration has to this point made federal funding available to affected individuals in Chittenden, Lamoille, Rutland, Washington, Windham, Orange, Caledonia and Windsor counties. This assistance can include grants for temporary housing and home repairs, low-cost loans to cover uninsured property losses and other programs to help individuals and business owners recover from the effects of the disaster.
Jason Maulucci, spokesman for Gov. Phil Scott, said Vermont's damage reports are currently being evaluated by FEMA leaders. Scott is looking for the federal assistance net to be cast as far as possible across the state, according to Maulucci.
"From the start, the governor's request has been for all 14 counties to be designated," he told the Independent. "FEMA and the president wanted to issue the original approval as soon as possible, so the declaration included counties for which they had visual aerial assessments that met the threshold. The governor's office continues to push additional counties being added as soon as possible.
A list of benefits available to property owners in counties under a federal disaster declaration can be found at tinyurl.com/bk8pz9wv.
"Although for individual assistance, the president's declaration initially only included six (counties), we fully anticipate others will become eligible," he reiterated.
With that in mind, state Sen. Ruth Hardy, D-Middlebury, stressed that Addison County residents in need of assistance should report their flood-related damage as soon as possible to Vermont 211, at vermont211.org.
FEMA officials said federal funding is also now available to state and local governments and certain private nonprofit organizations on a cost-sharing basis for emergency work and the repair or replacement of facilities damaged by the flooding in all 14-counties — Addison, Bennington, Caledonia, Chittenden, Essex, Franklin, Grand Isle, Lamoille, Orange, Orleans, Rutland, Washington, Windham and Windsor.
As of this morning, Friday, July 21, FEMA officials had inspected flood-related damage to properties in Ripton, Middlebury, Lincoln, Salisbury and Bristol. As previously reported by the Independent, heavy rainfall during the past 10 days has damaged various roads, culverts and bridges; destroyed crops; flooded basements; and caused other hardships for residents, municipalities, farms and businesses in Addison County.
Meanwhile Middlebury Emergency Management Director Tom Hanley this morning reported the level of Otter Creek has receded from "major flood stage" to "minor flood stage" and is expected to continue to recede below flood stage today. There are no river or creek flood warnings currently in effect, he added.
Still, folks shouldn't yet let down their guard, according to Hanley. A flash flood watch has been issued for Vermont from noon today (Friday) until 2 a.m. Saturday "due to the potential for isolated severe thunderstorms between noon and 6 p.m. with gusty winds being the most serious threat," he said. "Saturated ground elevates the risk of trees toppling over. Any sudden deluge from a severe thunderstorm in the drainage area (South Lincoln/Ripton/East Middlebury) can raise the level of the Middlebury River quite suddenly."
More News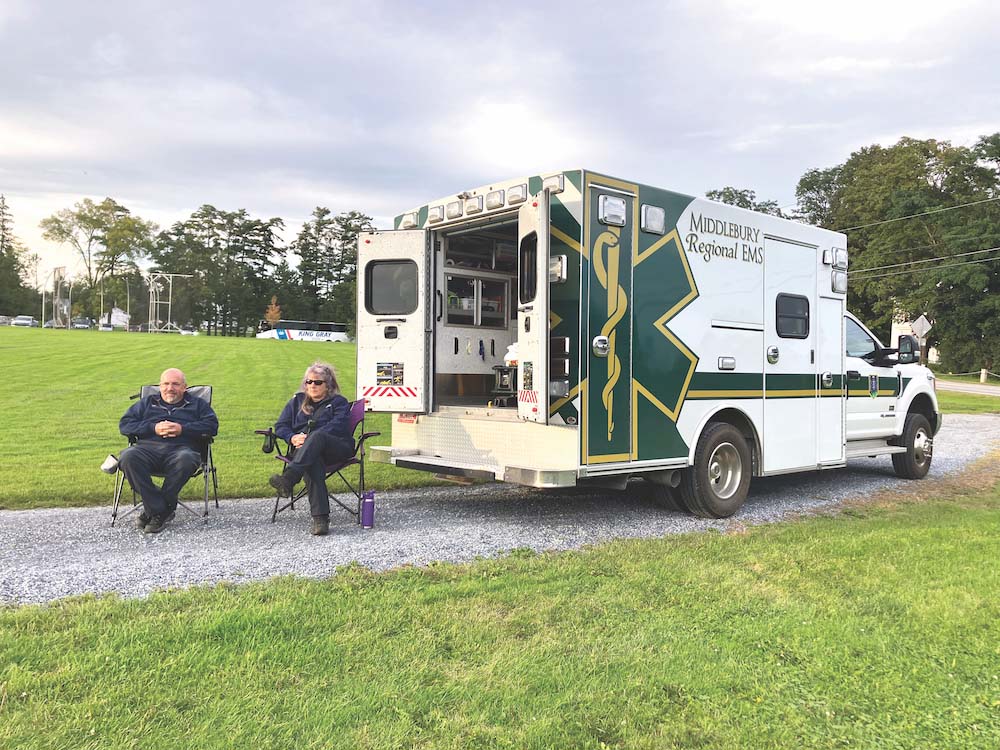 Middlebury Regional Emergency Medical Services wants to eliminate its annual Town Meeting … (read more)
Middlebury police are investigating the death of a Middlebury College junior and say the p … (read more)
In the course of her almost 101 years on Earth, Vergennes resident Margaret Clifford, bett … (read more)