Karl Lindholm: Another woman in the Baseball Hall of Fame?
A long time ago, Dec. 9, 1999 to be exact, in my first year offering these pearls of wisdom in the Independent, I started a column with "Fenway Park: What a dump!" and went to offer additional observations in that vein:
"The usher who shows you to your seat finished first in his class at rudeness school. The bathrooms remind you of the outhouse at your 1950s getaway at Sabago Lake. The food, overpriced, gives you indigestion for a week."
I did acknowledge, however, that Fenway was also a shrine.
Bill Lee, who is in the Red Sox Hall of Fame, said it best in Ken Burns' baseball documentary when he first glimpsed Fenway as a rookie in 1967: "When I finally found Fenway Park, I said 'This is not a ballpark, it's a factory' with the brick façade and everything.
"Then I went through the gates and up the little tunnel and I saw the green … and I got down on one knee and blessed myself and said, 'Thank God for making me a ballplayer because this is heaven!'"
A dump and a shrine both.
Red Sox ownership in 1999 was talking about the possibility of building a shiny new baseball stadium perhaps in downtown Boston, on the waterfront. In my apostasy, I thought that wasn't such a bad idea.
I am as nostalgic as the next guy (more so, my friends and family insist), but I thought maybe we could get a stadium in Boston with all the modern conveniences but one that still paid homage to baseball's past in its design.
Baltimore had done that with spectacular success, right downtown, next to the Inner Harbor, with the building of the stunning Orioles Park at Camden Yards in 1992. Forty years later, it is still celebrated as one the best parks in the game.
Florida-based businessman John Henry bought the Red Sox in 2001. He was a principal owner, along with Tom Werner and longtime baseball man, Larry Lucchino. When this ownership team decided to renovate venerable Fenway rather than relocate, Lucchino knew exactly who to call.
Janet Marie Smith.
Lucchino was president of the Orioles when they were planning to move from Memorial Stadium to build a park in the heart of the city. He hired Smith as her vision of a ballpark that would change downtown Baltimore and bring people together coincided with his own.
He said Janet Marie Smith was the Orioles' "best free agent signing." With an undergraduate degree in architecture and a master's in urban planning, she was brought in to oversee the design of Camden Yards. She had worked on urban projects in New York and Los Angeles.
They were a great match.
Her work in Camden Yards "effectively created a new generation of stadiums," according to baseball historian Eric Enders, author of Ballparks: Then and Now, moving them away from the concrete "cookie cutter," "soulless" multi-use stadiums of the '60s (both baseball and football).
She combined "the best elements from classic stadiums with modern building techniques and technology," Enders wrote.
Before joining Lucchino and the Red Sox in 2002, Smith spent five years in Atlanta leading the project to transform Atlanta's massive Olympic Stadium into Turner Field, a 49,000-seat baseball park, and then assisted in the planning of Petco Park when Lucchino was president of the Padres (1995-2001). Her work with the Orioles, Padres, and Braves led her to the Red Sox in 2002.
Smith was senior vice-president of planning and development for the Red Sox from 2002-2009. It took a whole decade to finish the renovation of Fenway (built in 1912) at a cost of over $270 million. Enormous infrastructure improvements were required. 
All along, however, the interests of fans were emphasized. Smith's team decided to put seats on top of the famed left-field wall (Monster seats!) and to annex Jersey Street (formerly Yawkey Way) at the park's front entrance as a pedestrian way on game days. Both features have been popular with fans in creating a festive atmosphere.
When the Red Sox completed their renovation, under Janet Marie Smith's direction, Fenway was no longer a dump and remained a shrine to baseball and its long history in Boston.
In 2012, she was appointed senior Vice President of Planning and Development for the Los Angeles Dodgers, a position she holds today. She has overseen $300 million in renovations of Dodger Stadium (built in 1962, it's the third oldest park in Major League Baseball). She introduced changes that were integrated into the stunning natural setting of the park on a hilltop in Chavez Ravine overlooking the city.
In 2017, she joined Lucchino again and oversaw the overall design and construction of the beautiful new stadium in Worcester, Mass., Polar Park, home of the Red Sox' top minor league team, the WooSox.
I attended a ballgame at Polar Park in its first season, 2021, and had a personal tour of the park from Larry Lucchino himself (he has a very good friend who lives here in Middlebury).
It's a truly beautiful, functional park with the fan experience always at the very forefront. One of the concourses has a wall of photographs of Negro League stars, a feature which you don't see everywhere and certainly appealed to me.
Speaking of the Negro Leagues, Effa Manley is the only woman to have a plaque in the Baseball Hall of Fame in Cooperstown, alongside 340 men. She was the owner, with her husband, Abe, of the Newark Eagles of the Negro National League, the baseball brains of the team that sent Monte Irvin, Don Newcombe, Larry Doby, and others on to stardom in the MLB and won the Negro League World Series in 1946.
There are those who believe there's another woman whose impact on baseball qualifies her for the game's highest honor.
Janet Marie Smith.
Karl Lindholm can be contacted at [email protected].
More News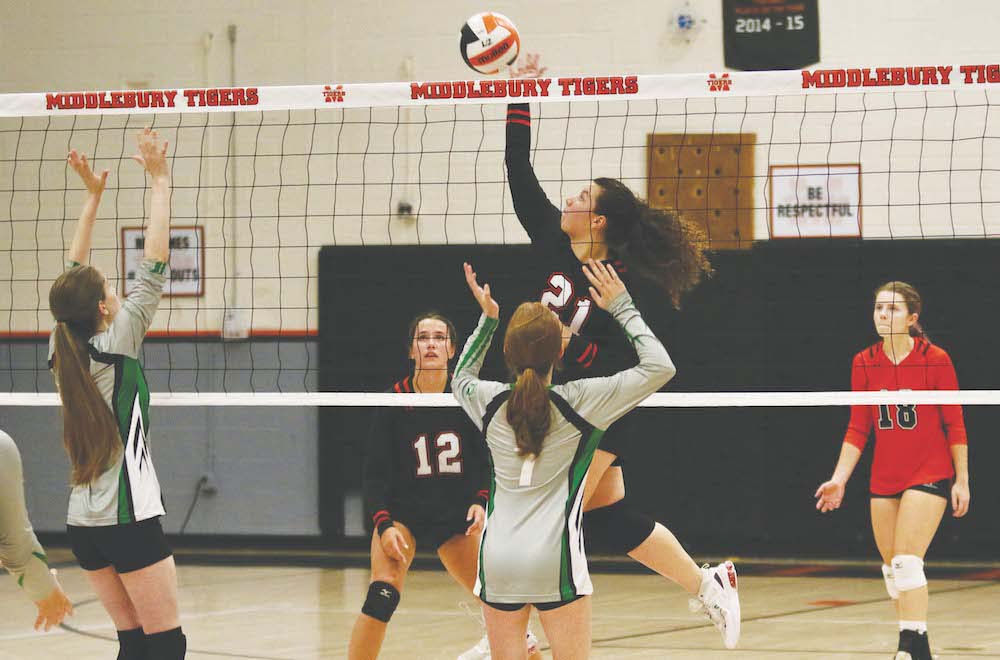 The first-year Middlebury Union High School girls' varsity volleyball team continued its r … (read more)
Soggy conditions didn't slow down Middlebury runners noticeably at a cross-country meet ho … (read more)
I gave Bill Lee a call last week, hoping he was at his home in Craftsbury and we might arr … (read more)