Art stand features roadside treasures
BRISTOL — Farm stands are a familiar roadside attraction in Addison County. The simple set-up offers consumers a convenient way to purchase locally grown produce and other products directly from area growers whenever they spot an open stand. 
But what if that well-known model could also be used to connect community members with the work of local artists? That's the idea behind the new Plank Road Art Stand and Gifts, run by Bristol resident and artist Brenda Myrick. The art stand operates out of a converted pony trailer parked in front of Myrick's home at 7824 Plank Rd. 
The roadside treasure trove is filled with paintings, hand-blown glass and gifts created in Addison County. Passersby can poke into the art stand and purchase pieces by leaving a check or cash in a cash box or making a payment through Venmo. 
"It's an art stand where you know you can go and just walk in, pick up a few cards or a gift without having to go into a store. (You can) just be going by, but you're also supporting a local artist," Myrick said of the operation. "It's more accessible for everybody." 
Inspiration for the art stand struck earlier this year when Myrick and her husband, Jim Lienau, were out on a walk. 
"I noticed that someone had a farm stand in a really small pony trailer. I went in and looked at it and thought it was really cool. Later on, it kind of clicked: 'I'm going to do that with art,'" Myrick said. 
The Bristol artist secured a pony trailer of her own and Lienau renovated the it, installing a skylight and building shelves to display artwork. 
Myrick said she thought the setup could provide an easier means of selling her work. 
"It just came together as an idea that as an artist, you can sell your own art and help it go to nice homes," she said. "It can be hard to be a working artist and keep making artwork and find places for it if you're not in a gallery. It's pretty cool to have your own space."  
WHAT'S INSIDE
Visitors will find many of Myrick's pieces inside the trailer. Myrick has been painting since she was a child, largely working with acrylics and oils and specializing in expressionistic styles. 
Myrick studied studio art and art education at the University of Vermont and has served as an artist in residence at Johnson's Vermont Studio Center and the Basin Harbor Club in Ferrisburgh.
Myrick's earlier works, depictions of nature, animal portraits and landscape scenes, are displayed throughout the trailer. 
The roadside gallery also features hand-blown glass creations made by Lienau and watercolor paintings done by Myrick's mother, Barbara Lane. 
Myrick said her mother is a self-taught artist and has been painting since her early 30s. She does predominantly watercolor landscapes and has studied with watercolorists Tom Lynch and Zoltan Szabo. 
Now 93, Lane is still painting, though less so than during her younger years. 
Myrick is excited to have her work displayed alongside her mother's. 
"It's so awesome to have her artwork in there too," she said. "She was a big influence, so it's really wonderful to bring it full circle." 
Eventually, Myrick hopes to feature the work of other local artists at the art stand. One of her ideas is to collaborate with local artists that dabble in similar subject matter. 
"I have a lot of art that has animals in it, and I was thinking of inviting a couple of artists that I know that also do portraits and do a lot of animals," Myrick said. "Maybe I can invite a few artists and do more of a gift theme. I'm excited about inviting other artists." 
In addition to local creators, Myrick wants the roadside gallery to be a vehicle for supporting nonprofits in the county. The art stand donated 20% of the proceeds from its grand opening to the 5-Town Friends of the Arts, and Myrick would like to raise money for other organizations in the future.
"That's one of my goals, is to pick some nonprofit and make a month-long benefit so I can donate to some of my favorites and some that I don't know yet," she said. 
The Plank Road Art Stand officially opened on June 24 and has so far seen a slow trickle of mostly mail carrier and bicyclist clientele. Myrick is hopeful more community members will stop by the stand, which is expected to remain open every day from 9 a.m. to 3 p.m. (weather permitting) through the summer. 
ACCESSIBLE ART
Myrick hopes the art stand offers a more accessible way for consumers to purchase locally made artwork in an affordable price range. Pieces featured in the trailer range from under $10 for smaller cards and vinyl stickers to upwards of $100 for larger works. 
The art stand on wheels might eventually reach consumers in other parts of the county. Myrick plans to hitch the pony trailer to a 1950s Chevrolet truck currently parked beside the stand and set up shop at local markets, such as the annual Bristol Harvest Festival. 
In the meantime, Myrick is looking forward to meeting those that stop by the art stand in search of a locally-made treasure to take home. 
"I'm most excited about seeing people come in and get some art, and (making) that connection. It's all about the joy of spreading art," she said.  
Those interested in seeing updates about the Plank Road Art Stand can find more information on Instagram @brendamyrickarts or online at www.brendamyrickart.com. 
More News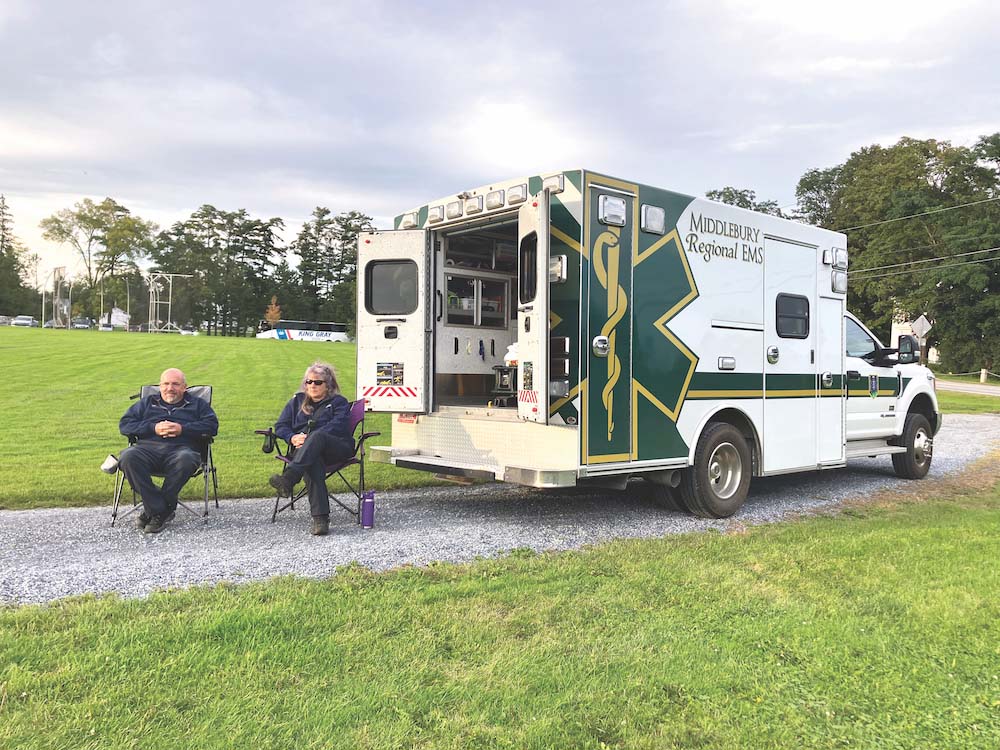 Middlebury Regional Emergency Medical Services wants to eliminate its annual Town Meeting … (read more)
Middlebury police are investigating the death of a Middlebury College junior and say the p … (read more)
In the course of her almost 101 years on Earth, Vergennes resident Margaret Clifford, bett … (read more)