Dr. Rosenberg restored mobility to hundreds
MIDDLEBURY — Physicians are justifiably lionized for their dedication to healing the sick.
And it's not a stretch to say that hundreds of Addison County residents would call Dr. Ben Rosenberg's care "life-changing."
Rosenberg has restored mobility to hundreds of hobbling locals during his 30-year run in Middlebury as an orthopedic surgeon. If your original equipment broke down, you'd limp over to Dr. Rosenberg's joint to get sized up for a new hip, knee, shoulder or other body work to help get you back in the game.
"To fix someone's knee and then see them out skiing is really a treat," Rosenberg said during a recent interview.
But after three decades of wielding a scalpel, Rosenberg is ready to spend more time on the slopes himself. Last week he bid adieu to Porter Orthopedics as he transitions to semi-retirement. He'll soon begin a two-days-per-week gig at the Northwestern Medical Center in St. Albans, but the 64-year-old's done seeing patients in Middlebury — the only place he's practiced since completing his medical training back in 1993.
Rosenberg's journey into medicine was in large part influenced by his maternal grandfather Dr. Max Fershtman, who practiced for many years in Rhode Island.
"He was an old-fashioned general practice (physician)," Rosenberg recounted. "He carried a little black bag and visited patients in their homes. He was a wonderful guy and a great source of inspiration to me."
Fershtman talked to his grandson about his experiences, which included service as a U.S. Army physician during World War II. In retirement, Fershtman's basement still housed some of the tools and relics of his doctoring days. Young Ben aspired to a similar "country doc" lifestyle, similar to that portrayed in the 1990s TV show "Northern Exposure," which was set in rural Alaska.
"I always liked the rural West and thought I'd end up in Idaho or Wyoming or Montana," Rosenberg said with a smile. "But I married a girl from Boston, so that was out."
Vermont proved a nice compromise. It certainly afforded the desired a rural backdrop and was close to family in Massachusetts. Rosenberg became familiar with the Green Mountain State while working on the ski patrol at the Sugarbush Resort in Warren when he was still applying to medical schools.
"After living here for that year, I always wanted to come back," he said.
He and his wife did just that after Ben completed medical school. They chose Middlebury, home to Porter Medical Center and several thriving physicians' practices.
Rosenberg joined Porter Orthopedics in 1993, right out of a sports medicine fellowship at Tufts New England Medical Center, believing he'd have a partner in Dr. Dwight Campbell. But Campbell moved to Maine just three days after Rosenberg's arrival. This meant the latter had to fly solo.
"The first decade I was here, I had to work through this idea that I needed to take care of all the orthopedic needs of the community," Rosenberg said. "I worked day and night because I was the only orthopedic surgeon in town. I was on call 24-7-365, for four years, until I finally said to the hospital, 'Guys, I can't do this anymore; you're going to have to hire somebody.'"
As a result, Porter hired Dr. John Ayers, who was at Porter Orthopedics from 1997-2001. Following his exit, Porter brought in some visiting physicians for a year until Dr. Eric Benz's arrival in 2002. Rosenberg called his partner of 21 years "a wonderful guy and as excellent a surgeon as you'd ever want to meet."
It was tough in the early going, though.
"Not only did I have to figure out how to practice orthopedics, I also had to figure out how to run a business," he recalled.
The newly minted physician had the extra challenge of hiring virtually an entire new support staff for the practice he was joining. One of his first hires was Dee Funk, RN, who Rosenberg said has been a guiding force for the practice.
"I like to say that he got me by default," Funk said with a smile, "but I'm glad I've been here for this length of time."
Funk helped Rosenberg assemble a solid, four-person team. The office gradually added physicians' assistants, and then Porter Orthopedics was off and running.
9,000 SURGERIES
It's been a busy and fruitful career.
Rosenberg has performed an average of 300 surgeries per year — including 40-50 joint replacements annually — since he started. That's roughly 9,000 surgeries during his 30-year run.
He reflected on industry changes — including the advent of electronic medical records (EMR) — that have affected his and other practices since the early 1990s. Each patient now has an EMR that includes vital stats, test results and medical history that is conveniently available to the patient and healthcare provider.
But progress can come at a price.
"My patient load has actually decreased," Rosenberg said. "There's so much more that goes into seeing a patient now. The EMR is a two-edged sword — it has advantages and disadvantages. Particularly for physicians, who are forced to do a lot of administrative tasks that were formerly done by our support staff. When I was first here, my documentation consisted of dictating — for less complicated cases — two or three lines into a Dictaphone. I could see upwards of 35-40 patients in a day. Now, if I see 22 patients in a day, it's crushing. It's decreased my through-put here by almost 50%."
He believes the new EMR requirements are a major reason for the growing waiting lists of patients seeking out specialty healthcare services like neurology, urology and ortho.
"Now, in order to get seen and get through, you end up seeing more people; there are more medical systems involved. It's just harder getting people through the system," he lamented.
Rosenberg also bore witness to big changes in orthopedic surgery that have greatly benefitted patients. 
"We do surgery now that generally involves smaller incisions and quicker recovery. But the biggest thing is that people hardly ever have to be in the hospital anymore," he said. "When I was training back in the '80s, when someone had a knee replacement, we'd admit them into the hospital the night before, they'd have their surgery, and for the next two days following surgery, they'd lie in bed with their leg in a giant dressing, elevated. They couldn't bear any weight; they'd do some physical therapy for about a week after surgery.
"Now, people come in in the morning, have their knee replaced, and leave that afternoon," he added. "People recover more quickly."
The speedier recovery time isn't really a product of equipment; Rosenberg said there've been minimal tweaks in joint replacement hardware.
"For all intents and purposes, a knee replacement now looks pretty similar to a knee replacement 30 years ago," he said.
What's really expedited patients' convalescence is a better understanding of anesthesia and the use of medicines that substantially decrease intra- and post-operative bleeding, according to Rosenberg.
"We've come to the understanding that pushing people along quicker, allowing them to bear wait and move is more beneficial than 'protecting' them," he said. "It's largely a function of improved understanding of the healing process and the mechanical process of having someone come in from surgery and recover from it."
TREATING GENERATIONS
Rosenberg is a gregarious man and his patients have always represented more than a "procedure" to be completed and cleared off the docket.
"I see people from all walks of life, all ages and all genders," he said. "I also see their family members, so it's a multi-generational thing. Having been here so long, I know the families of this community better than most people."
And he's come to know Addison County folks through multiple avenues.
In addition to his practice, he's served as the team orthopedic surgeon for the Middlebury Union High School football for the past 20 years, and as orthopedic consultant to Middlebury College athletic teams since he arrived here in 1993.
"It's a privilege to understand people's lives and their challenges," Rosenberg said.
He'll miss his local patients and of course his staff, which includes three employees who've been with the practice for 20-plus years: Funk, Val Dupont and Val Doria. He noted Doria was originally hired as a file clerk and is now an RN and the practice's "total joint coordinator."
Funk said Rosenberg will be missed. She reflected on the heavy lifting that he and his senior staff have done through the years.
"Ben and I have weathered the revolving door of staff over the years, conquered two electronic medical record systems and have witnessed actual x-ray film transition to digital x-ray," she said. 
"I have a deep appreciation for Ben's knowledge and expertise," she added. "I feel honored to have contributed in some small way to support Dr. Rosenberg's 30-year career."
Porter President and COO Tom Thompson expressed the hospital's appreciation for Rosenberg's service to Addison County.
"Dr. Ben Rosenberg has been a respected member of our region's medical community for over 30 years," Thompson said. "Together with Dr. Benz and their team of allied health professionals, nursing and support staff, Dr. Rosenberg's legacy is an orthopedics program that has been recognized nationally for its patient outcomes."
What's next for Rosenberg, other than his part-time ortho assignment?
"I really love to do outdoor things," he said. "I'm 64 and see a closing window on my ability to do some of these things, so I want an opportunity to do the skiing, backpacking and biking before I can't do it anymore."
He also wants to do some volunteer ortho work.
Porter has yet to name a replacement for the departing Dr. Rosenberg, but it has a few good candidates. "Honestly, it's challenging to recruit to a small rural area," Rosenberg said. "Most orthopedic surgeons train in big metropolitan centers, and they only know that setting."
Adding to the hiring challenge — not only at Porter, but at most Vermont hospitals — is the lack of available housing, school choices and entertainment, Rosenberg acknowledged.
"It's a special person who wants to come here — typically, someone who has some sort of connection to Vermont," he said.
Reporter John Flowers is at [email protected].
More News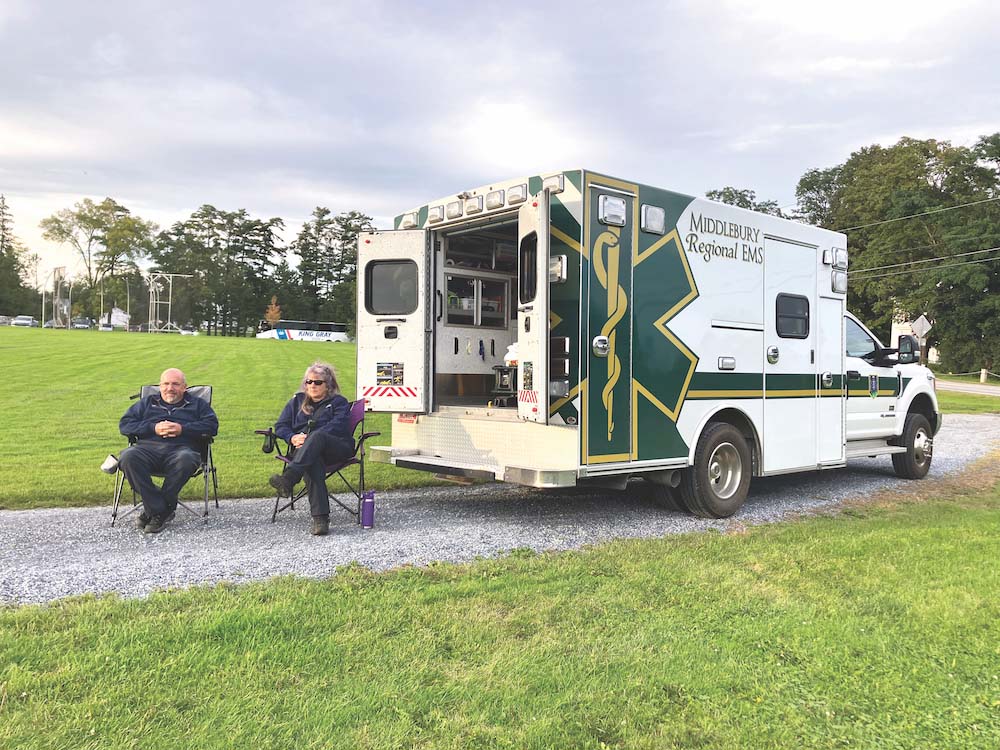 Middlebury Regional Emergency Medical Services wants to eliminate its annual Town Meeting … (read more)
Middlebury police are investigating the death of a Middlebury College junior and say the p … (read more)
In the course of her almost 101 years on Earth, Vergennes resident Margaret Clifford, bett … (read more)