Middlebury celebrates Pride
MIDDLEBURY— On June 25, 2023, the 40th anniversary of the state of Vermont's first Pride march, Middlebury hosted its second annual Pride festival on the Middlebury Town Green. With upwards of 200 people at the parade, organizers called Sunday's festivities a success. 
"It's a collaborative effort and it has been so wonderful to have such a great response to our community," said Elio Farley, MiddPride coordinator. 
MiddPride celebrates Vermonters in the lesbian, gay, bisexual, transgender and affiliated community. Specifically the goal is to show respect for and give visibility to LGBTQ+ youth in and around the county. 
It took a great deal of collaboration amongst local volunteers and vendors to coordinate Sunday's events. 
The day began at 11:30 a.m. at Ilsley Library with the Pride Parade Pre-Party. The library was full of families with their children getting ready for the 1 p.m. kickoff of the events, collectively known as Pride. Parents and their kids were making signs, decorating crowns, coloring their faces and more. Caitilin McMillan's 14-month-old son played with a small pride flag while she held him in her arms at the pre-arty.
"It's so nice to come together as families beforehand and get ready and get in the spirit," she said. "It's so sweet the town's doing the parade and it makes us really proud to be part of it."
McMillan hopes that bringing her little one to events like this one early on will teach him that "love can exist across a huge spectrum and to be proud of that." 
At 12:30 p.m. folks started making their way over to College Park where the parade was set to begin. As they anticipated the parade, attendees all expressed their excitement for the day's events. Among the attendees was State Sen. Ruth Hardy, D-Middlebury. She shared in the excitement of the community on Sunday. 
"I am hoping that our community comes out to celebrate gay pride and queer joy," she said of her hopes for the day. 
The parade, led by Grand Marshal Nicolas Leslie, set off at 1:15 p.m.  
Folks of all ages marched down Main Street from College Park to the town green while bystanders cheered them on from the sidewalks. 
Once at the green, marchers passed under a large rainbow arch set up at the park entrance. There were booths for different vendors set up along Main Street and on the green. Vendors sold jewelry, clothes, stickers, henna tattoos and more. 
A festive atmosphere was set with live music and lawn games. One could see kids rolling each other down the hill in inflatable bubbles, kids jumping in a bouncy house, some folks playing a giant game of chess. Food trucks parked in front of the fountain doled out bites to eat. There was a lot to keep everyone entertained throughout the afternoon. 
At 3 p.m., the Drag Queen Story hour was kicked off with a drag performance delivered by Claire de Lune. After her performance, drag queens Emoji Nightmare and Miss Beth sat in the gazebo and read aloud from banned picture books starting with "Red" by Michael Hall. They read an array of children's books that promote a message of acceptance that have been banned in certain states. 
Rain held off until just after the festival came to an end at around 5 p.m.
To wind down the day's festivities, a dance party called "Queerphobia's a Drag Afterparty" began at 8 p.m. at the Town Hall Theater. An Addison County band called The Almendros performed. Attendees danced the night away to the band's eclectic array of music. 
With Pride month coming to an end, Farley explained what he hopes will come of Sunday's events. 
"We hope people will be moved to support us," he said. "It would be really wonderful if there were members of the community who are willing to financially support us. Pride doesn't end when June ends. I'm really excited for this to push forward more queer community building. So it doesn't feel as different to be queer in Middlebury."
More News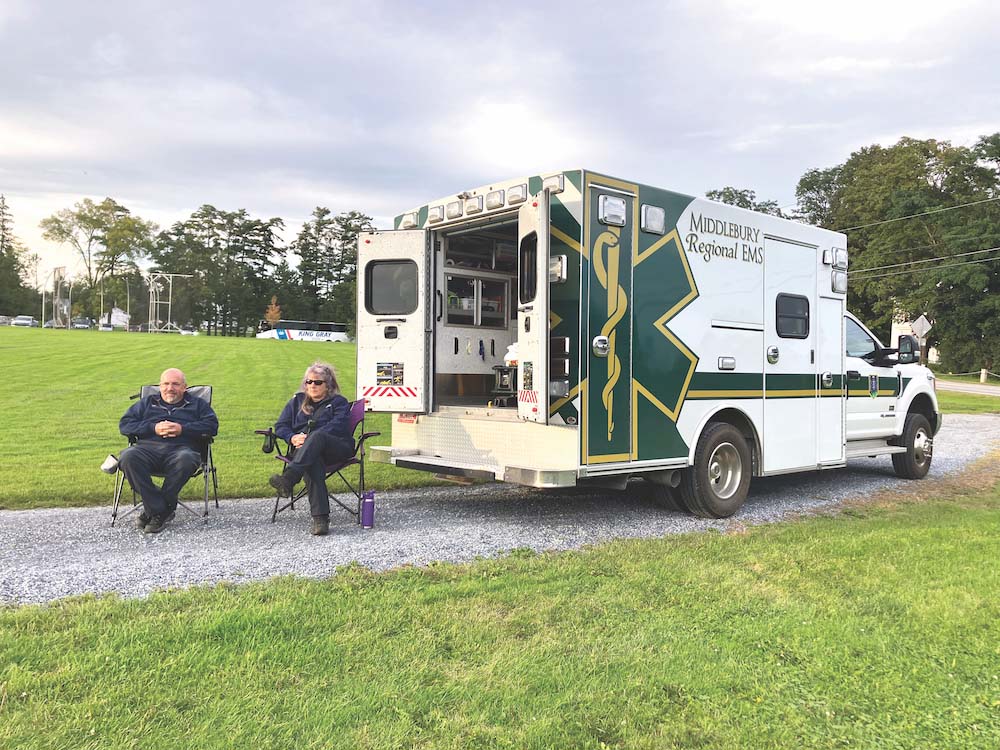 Middlebury Regional Emergency Medical Services wants to eliminate its annual Town Meeting … (read more)
Middlebury police are investigating the death of a Middlebury College junior and say the p … (read more)
In the course of her almost 101 years on Earth, Vergennes resident Margaret Clifford, bett … (read more)