Karl Lindholm: Local boy makes good — in golf!
His name is Hogan — naturally, he's a golfer.
"I'm told my parents were going through possible baby names and came to 'Hogan' and said, 'That's a good one.' My dad was a club pro, so I was born into a golf family.
"There are stories and pictures of me playing around with kiddie clubs and balls when I was two. I was playing in tournaments by the time I was six."
Ben Hogan is on everyone's Mt. Rushmore of golf: a stoical purist, consummate shot-maker, possessor of golf's most beautiful swing, Hogan won 64 tournaments between 1938-59, nine majors.
That's quite a legacy to live up to! This Hogan, Hogan Beazley of Middlebury, Vermont, a 2019 graduate of Middlebury Union High School, and now Middlebury College as well, has done his namesake proud. 
This spring, Hogan was a captain of the NESCAC Champion Middlebury College golf team, was the co-medalist (low score) at the NESCAC tournament in May, and received the John B. Stabile Memorial Trophy at graduation, one of the six prestigious athletic honors. The Stabile Trophy is "awarded to a member of a men's team who best exemplifies the Middlebury spirit."
I asked Erin Quinn, Middlebury athletic director, to define the Middlebury "spirit" encompassed in the Stabile Trophy and he wrote "a competitive and aspirational spirit, balanced with respect, humility and a selfless team-orientation."
Born in Nashville, Tenn., Hogan came to Middlebury with his family for his eighth-grade year at Middlebury Union Middle School. His relationship to Middlebury's Ralph Myhre Golf Course began almost immediately. 
"I started as a cart boy at 15," he told me in our conversation in the golf shop snack bar last Saturday. (That day last weekend, if you recall, was miserable and wet, but Hogan had already played 18 holes in the morning and was headed back out with friends after our time together.
"I've worked here ever since then, doing anything and everything — in the shop, on the grounds, helping Paul (golf pro Paul Politano) run the league competitions."
Hogan calculates that he has played "the Ralph" over 900 times. He holds both the official course record 65, and the unofficial course record 64 ("unofficial" because he played the first nine holes solo before being joined by a club member for the back nine).
"There's rarely a shot I haven't hit on the course," he said, "and that's definitely an advantage. I'd be fine playing blindfolded." 
He applied to Middlebury College "early decision," but was also interested in Tufts and Dartmouth. In his senior year at MUHS, he took a math course at Middlebury and liked the students in the class and the professor. "It's like I took a car out for a test drive," he said. "'I can see myself here,' I thought."  
Hogan's experience at Middlebury was complicated for him and all students by the pandemic. In the fall of his first year, 2019, he was selected as one of the top five Middlebury golfers to play in the annual Williams tournament.
Then, that spring, 2020, there was no team at all, school was shut down, students sent home — and in the next school year, life was very strange indeed, many students taking time off, others studying remotely. "We only had five returning players and a walk-on," Hogan said, "we had to play with teammates in fivesomes, but we did win the NESCACs at Amherst."
The pandemic wasn't all bad. While human interaction was severely restricted, golf was considered an acceptable activity, as it is played outdoors and human contact can be limited. "My game got a lot better," Hogan said. "It helped being able to play 36 holes every day."
The highlight of Hogan's junior year, with COVID restrictions significantly reduced, was winning the Duke Nelson Tournament on his home course in the fall of '21, with some 20 schools and 120 golfers competing. Hogan shot 72 the first day and 68 the second to win by three shots.
(It should have been four as Hogan actually shot a 71 the first day but mistakenly signed his scorecard for a 72. Had the mistake been in his favor, he would have been disqualified!)
This past year has been "magical" in his words. "We had a really good team, three of our top five players were seniors, it was Coach Beaney's last year, so we wanted to do well." 
Once again, the Panthers won the NESCAC Championship, this time in Auburn, Maine, at the Martindale Country Club (Bates College hosted) on a miserable cold (temps in the 30s) rainy day. The teams played 18 holes the first day and just nine the second. Hogan was a co-medalist (with teammate Colin McCaigue), shooting a 72 the first day and finishing three over par in the muck. 
NESCAC Coach of the Year Bill Beaney describes Hogan as a "special young man," and it is clear they had a special coach/athlete relationship. In an email, he called Hogan's golf game "very mature. He has most every shot needed. He has great course management skills and a very repeatable effortless swing that he developed with his dad at an early age."
"Over the four years that Hogan played golf at Middlebury College," Beaney added, "he grew from a shy young man lacking confidence into an effective leader, setting an example with his work ethic and practice habits. He has a passion for the game and a love of people, his teammates particularly. 
"Hogan is respected by the golf coaches' community for his play and his sportsmanship. He was our NESCAC sportsmanship award winner."
A final note: Hogan is a Neuberger … that is, of the Middlebury Neubergers. His mother, Mary Alice Beazley, is the third of Fred and Dottie Neuberger's four children. Many of you, no doubt, know Dottie and knew Fred well as they were visible and highly respected members of the Middlebury community. 
Fred, class of '50 at Middlebury, was the Middlebury Director/Dean of Admissions from 1958-91 (he died in 2011). Dottie ('58) worked for the Counseling Service of Addison County for 50 years as a school-based clinician, 25 years at MUHS.
I also met with Dottie Neuberger last weekend at her home at EastView. She is understandably proud of her grandson. "He's a good kid. He smiles more now; he's really opened up. He cares. He wants to help get things done."
She is also a fan of his coach. "Bill has really made a difference in Hogan's life. As a coach, he is good at team building. He has high expectations for his players and wants them to be members of the community.
"Fred would have been so happy that Hogan came to Middlebury and had success."
A math major at Middlebury, Hogan is taking his talents to Washington, D.C., in August. He has accepted a position as a "strategy consultant" with Accenture Federal Services, "working with federal agencies implementing technology," (as he explained to me). 
In the meantime, you can find him at "the Ralph."
—————
Karl Lindholm can be contacted at [email protected].
More News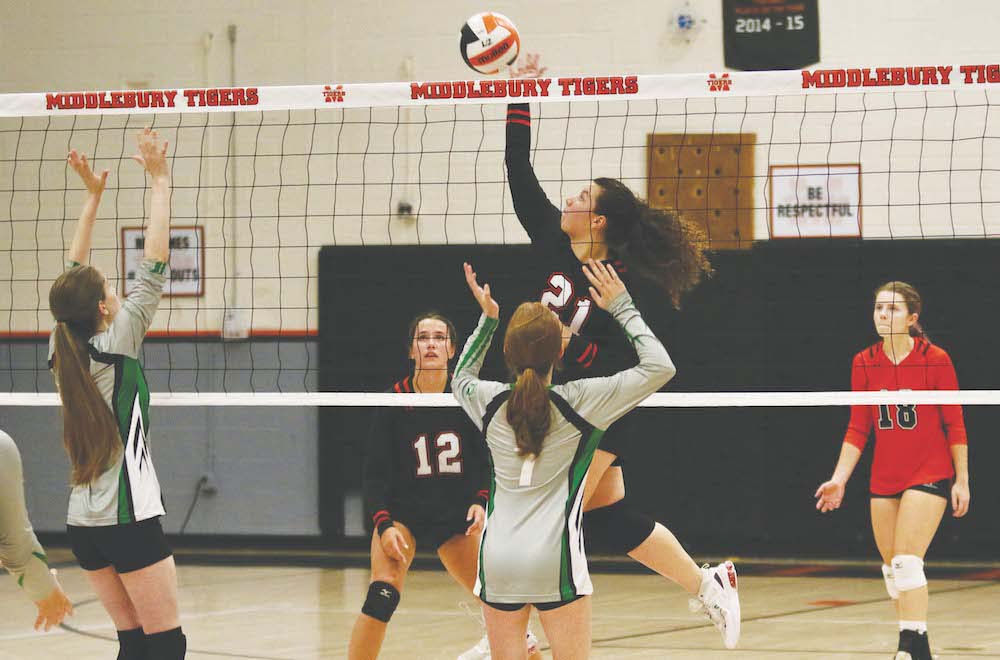 The first-year Middlebury Union High School girls' varsity volleyball team continued its r … (read more)
Soggy conditions didn't slow down Middlebury runners noticeably at a cross-country meet ho … (read more)
I gave Bill Lee a call last week, hoping he was at his home in Craftsbury and we might arr … (read more)