Half pipe to be installed at Middlebury Rec. Park
MIDDLEBURY — Middlebury-area skateboarders are about to get a fun, sneak preview of what it'll eventually be like to have a permanent, concrete skatepark in town.
Organizers of the Middlebury Skatepark Project and their community partners will build a mini-ramp — or small half pipe — next to the municipal pool and recently installed bike pump track in the Middlebury Recreation Park, near Mary Hogan Elementary School.
It means that skateboarders, scooter riders, inline skaters and wheeled sports enthusiasts of all kinds will also have a purpose-built space to practice in Recreation Park, while fundraising continues for a concrete skatepark at the same location.
Organizers have landed a $5,000 "Spark Connecting Community Grant" from the Middlebury-based Vermont Community Foundation, which — in tandem with volunteer labor — will make the half pipe a reality. 
A "community build day" will be held this Saturday, June 24, and skatepark boosters are seeking helpers to assist with final assembly of the mini-ramp. Experienced builders will be on-site to provide direction and ensure quality construction. Any interested volunteers can email Jill Quackenbush at [email protected] for more information.
"We hope the mini-ramp will help activate this corner of Recreation Park, and provide a safe, visible place for wheeled-sports enthusiasts of all ages to practice and gather as a community in the near-term while we fundraise for the concrete park," Quackenbush, secretary of the Middlebury Skatepark Project board, said through a press release. "Once construction begins on the concrete skatepark, the mini-ramp can be disassembled into sections and moved to another location — it will live on, even after the concrete park is built."
She noted South Burlington resident and skateboarder Joshua Buck donated his backyard mini-ramp to the project, which will be deconstructed, repaired and given new life as the foundation of the Middlebury ramp.
Silver Maple Construction has been working closely with volunteers from the Middlebury Skatepark Project and experienced mini-ramp builders to design and construct additional sections for the mini-ramp in their woodshop, which will expand the mini-ramp from 16 feet wide to 24 feet wide, according to Quackenbush.
She praised Silver Maple for being an early partner on the mini-ramp effort. The local company has also contributed what she said was "invaluable logistical support and expertise" throughout all phases of the project.
Quackenbush gave a shout-out to Nop Metalworks for donating sections of galvanized pipe for the coping material, and rk Miles for contributing $1,000 worth of materials for the ramp — which will include 4-foot-wide decks and railings.
The Middlebury Department of Public Works will kick in materials and labor to prepare the Recreation Park site, and the Addison Central Teens — based at the teen center next to Mary Hogan School — served as Middlebury Skatepark Project's fiscal sponsor for the Spark Connecting Community grant. It's a Vermont Community Foundation grant program that's "intended to light the spark that keeps Vermonters healthy and happy," Quackenbush said.
The Addison Central School District board voted unanimously in May to allow construction of the mini-ramp at the Recreation Park, which is on property owned by the district.
The Middlebury Skatepark Project board in April provided the town selectboard with an update touting a spirited fundraising campaign for a new, 7,500-square-foot, concrete skatepark that could be operational in the Recreation Park by next fall. Rough estimates for the structure were placed at $330,000 to $525,000, a number that will in part depend on the cost of materials and the complexity of the facility design.
Reporter John Flowers is at [email protected].
More News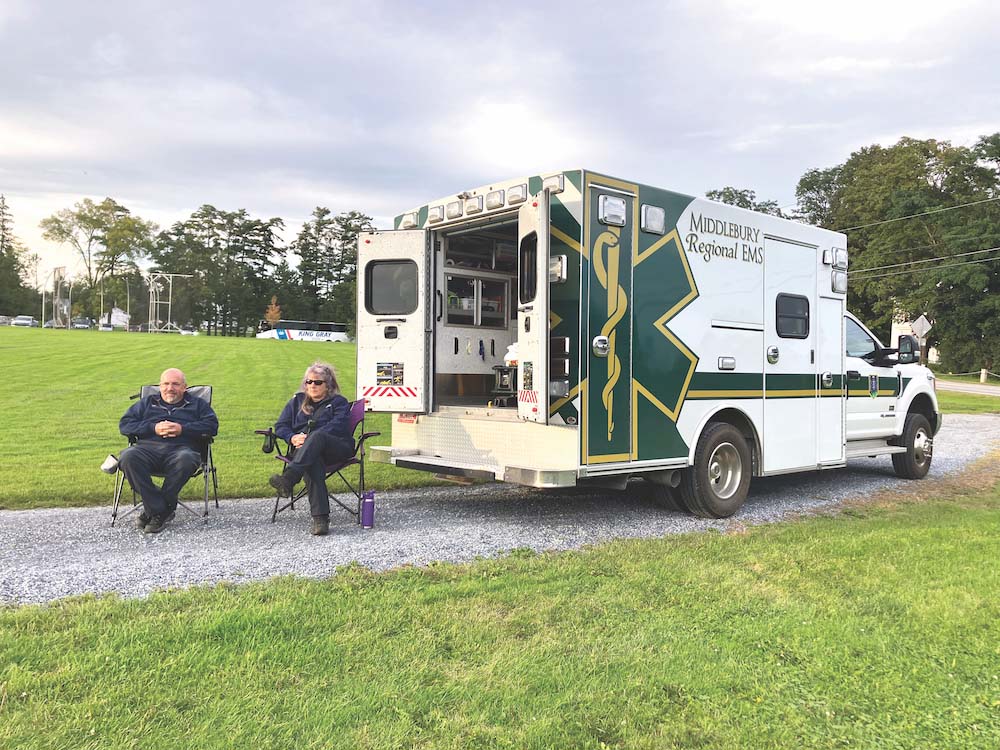 Middlebury Regional Emergency Medical Services wants to eliminate its annual Town Meeting … (read more)
Middlebury police are investigating the death of a Middlebury College junior and say the p … (read more)
In the course of her almost 101 years on Earth, Vergennes resident Margaret Clifford, bett … (read more)