Summer Guide: Enjoy your summer outside on wooded trails
ADDISON COUNTY — Whether you plan on walking to the top of Mount Abraham, the highest peak in Addison County, or just want to take a ramble in the woods, summer is a great time to get outside and enjoy nature by hiking.
We asked three local hiking experts — all of them lead hikes with the Green Mountain Club — some questions about hiking here in Addison County and present their answers here. Our experts are Morris Earle of Middlebury, Liana Merrill of East Middlebury, and Ken Corey of Shoreham. Here are some of their thoughts on taking walks in nature.
1. How did you get into hiking?
Morris Earle: When I was a child, our family would go to the White Mountains every year . We would hike above tree line, where the fog and wind and rocks covered with lichens made for a mysterious environment. I was completely hooked. After moving to Vermont, the Green Mountains became an attraction, with their more gentle wilderness feel.
Liana Merrill: I grew up in New Hampshire, where my love for hiking started in the White Mountains. When I moved to Vermont for grad school at UVM, I joined the executive committee of the Vermont Chapter of the Sierra Club and became the outings coordinator for the chapter, so I could use my love of hiking to give back to the community a bit. I was leading hikes all over the state at that point. 
Meeting my now husband brought me to Addison County, specifically Middlebury, and I shifted to leading hikes for the Breadloaf section of the Green Mountain Club, where I could lead hikes closer to home.
Ken Corey: I have been an avid hiker since I was a teen. Mt. Wachusett and Mt. Monadnock are both close to where I grew up and I was able to experience the joy of walking in the woods and enjoying gorgeous scenery from mountain tops. 
2. What about Addison County makes it a particularly good place to hit the trail?
Morris Earle: Addison County is a hiker's paradise, with many quiet trails where you may see no one else all day, and easy access to the high peaks of the Green Mountains, the Adirondacks and the Whites in New Hampshire.
Liana Merrill: Just about the same time I moved to Middlebury, I had a knee injury that left me unable to climb the taller peaks. I loved that Middlebury and the surrounding areas of Addison County had plenty of lower elevation hiking trails and places to explore, which I think makes it very accessible to so many folks. Now that I'm able to venture up a bit farther in elevation, I also appreciate the wide variety of hiking trails Addison County offers. There's truly something for everyone!
Ken Corey: Addison County gives access to the Long Trail where one can climb the summit of Mt. Abe and get 360 degree views. You can head south a bit from Lincoln Gap and get to Sunset Ledge, the Vermont Presidential range, and the Breadloaf Wilderness. 
In the Breadloaf Wilderness on the summit of Mt. Grant, one cannot see signs of human intervention, particularly following the end of logging and the regrowth of now untouched forest. There is a very special feeling about the place. 
In Addison County, there are also a myriad of other shorter, but beautiful gems of places to hike. They include the Trail Around Middlebury (TAM) and subsidiary trails and Branbury State Park with cliff views of Lake Dunmore, Falls of Lana, and the beautiful high altitude Silver Lake. 
It is not necessary to be on top of a 4,000-footer to enjoy the beauty of nature. There is also easy access to countless hikes, large and small, just beyond the boundaries of Addison County.
3. Do you have a favorite hike?
Morris Earle: My favorite family hikes are to Silver Lake, Rattlesnake Point (as long as the falcons are done nesting), Mount Abraham and Snake Mountain, but anywhere on the Long Trail is great too. I try to go hiking every day, and always feel much better if I do.
Liana Merrill: My favorite hike in the area by far is up to Rattlesnake Cliff. Not only does it have an amazing view of the vast Addison County and even farther into the Adirondacks and beyond, there's something extra special about only being able to hike up there at certain periods of the year, as it's closed to the public for a long stretch of time to avoid the peregrine falcon nesting.
Ken Corey: It is difficult to point to a favorite hike. If restricted to Addison County, I would choose the Cooley Glen and Emily Proctor Trail loop in the Breadloaf Wilderness, a 12-mile-plus hike with a variety of views and a richness of plant and animal communities.
4. Are there any essentials that someone must have on a hike? 
Morris Earle: Hiking poles are a big help for balance, speed, and saving the knees. 
The mountain tops may be 15-20 degrees colder than the valley, and very windy, so being prepared for cold weather or rain is a good idea.
Hypothermia and getting lost are two of the biggest dangers. People are advised to bring a map, compass, and on longer hikes a head lamp because cell phones often die or have no service. This is a cause for many requests for rescue. Vermont has a dedicated rescue coordinator, Drew Clymer, who is extremely knowledgeable and skilled. If you need a rescue, have someone call 911.
Being prepared with warm fleece, wool, or down clothing in case of bad weather or injury can be lifesaving. Cotton clothes are a real liability if wet.
Liana Merrill: It definitely depends on the type of hike and the season (I like to hike all year round). If I'm going to be out on the trail for much longer than an hour, I make sure to bring extra water with me. In the warmer months, a hat, bug spray, and sunscreen are always with me. I try to avoid cotton clothing, as it doesn't dry out very fast. Be sure to wear sturdy shoes, and hiking poles can never hurt if you're going to be changing elevation at all or going over lots of streams and slippery rocks. In the winter or colder months, it's always a good idea to carry extra layers along with you, as well as a warm hat and gloves. Traction for your shoes or even snowshoes may be needed as you gain elevation.
Ken Corey: Essentials for hikes vary for different people, but as a leader, it is important to emphasize safety and being equipped with sufficient water, food, and clothing. Sunblock (if exposure on an open ridge or summit for significant time) and a "natural" bug repellant are important for most. I also carry a first aid kit and a cold pack. Many people like to use poles for stability and to help with joint issues. I prefer hands free until such time that I think they are needed.
5. What are your standard words of advice do you offer hikers before you lead them out onto the trail?
Morris Earle: Joining the Green Mountain Club is a great way to meet people and find someone to go hiking with. 
Liana Merrill: Stay together, look out for one another, and be sure to let someone know if you need to step off the trail or take a break. Other than that, just try to enjoy the beauty all around you!
Ken Corey: It is important for people to know their limits, particularly on long hikes with significant elevation gain (over 2,000 ft.). Often people do not self-screen and can hold the rest of a group back. Join a group that suits personal ability with respect to distance, elevation gain, and roughness of terrain. There are group hikes available for all ability levels all year round. Safety and mindfulness of planting feet are so important, always taking the extra seconds needed to hike in spots where there are gnarly spots, though there are not too many of those on local trails. Finally, take in the surroundings and learn about the forest communities and the plant and animal species they support. Hiking enriches lives beyond measure, while helping to maintain physical and mental health.
—————
Saturday, Aug. 19, has been designated as Long Trail Day. The Green Mountain Club started it as a celebration of the trail that runs through Vermont top to bottom from the Canadian border to the Massachusetts border. It is also a social fundraiser for the club, which not only promotes walks in the woods, but organizes work to keep Vermont trails in good shape.
Look at Aug. 19 in the Calendar in this Summer Guide. It details seven Long Trail Day hikes sponsored by the Green Mountain Club.
More News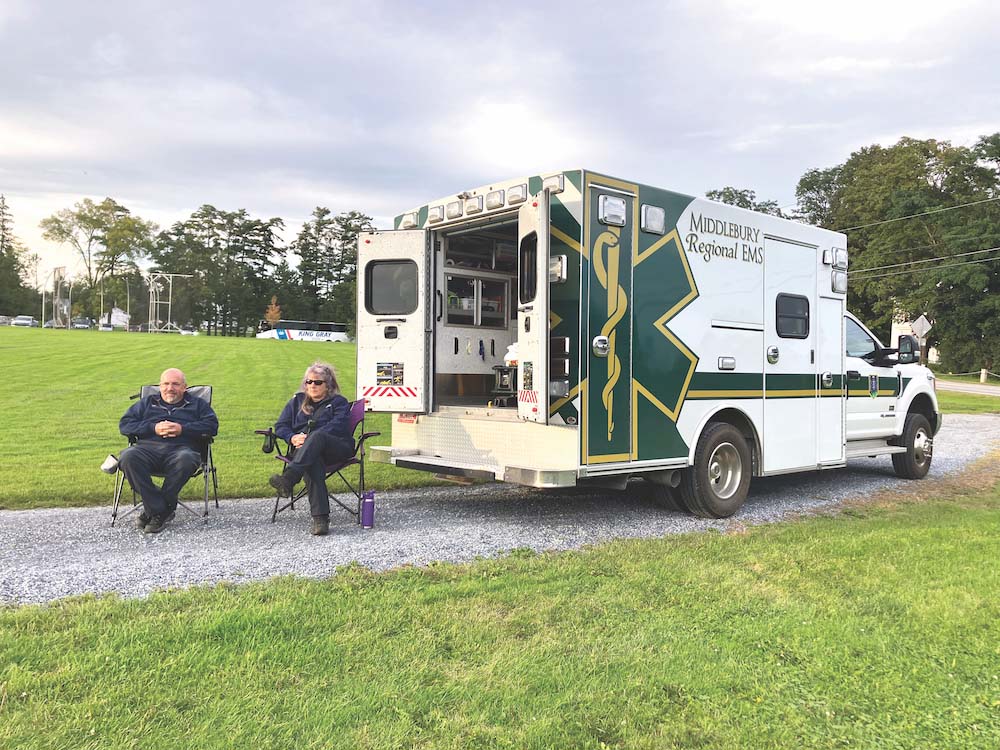 Middlebury Regional Emergency Medical Services wants to eliminate its annual Town Meeting … (read more)
Middlebury police are investigating the death of a Middlebury College junior and say the p … (read more)
In the course of her almost 101 years on Earth, Vergennes resident Margaret Clifford, bett … (read more)