East Middlebury Ironworks site gets historic marker
EAST MIDDLEBURY — It's not unusual during the summer to see folks of all ages duck below the Route 125 bridge spanning the Middlebury River, just west of East Middlebury Village.
More likely than not, the people making that detour are doing so to swim.
But if they'd just explore a little bit, they could also take a deep dive into Middlebury's past — specifically, the deteriorating vestiges of a major iron works, once a lynchpin of the local economy.
"It is certainly a part of the history of East Middlebury and its contribution to the development and prosperity of the village and its people is undeniable," said East Middlebury Historical Society Treasurer Bruce Yelton. "The iron works had a significant social impact on the town. It provided jobs for many people and helped to create a sense of community. The works also brought new people to the town, including skilled workers from other states."
The East Middlebury Historical Society this past Sunday, May 29, unveiled a new sign that members hope will steer more people to the iron works, which cranked out product from roughly 1831 to 1890.
Area history buffs have long known of the iron works' existence. Yelton, 73, has always been drawn to the past and was a historian by trade — as a teacher and researcher — prior to his recent retirement. He and his wife Debbie did some exploring prior to moving to East Middlebury and came upon the iron works ruins.
"I got involved with the (historical society) … and started to do some investigating, and discovered it was the last operating iron works in Vermont when it closed in 1890," he noted during a phone interview.
The ruins gave Yelton more perspective on 19th-century Vermont.
"You realize the Vermont you see now — with maple trees and green hills, pastures and very bucolic — is not how it was from its settlement here until well after the Civil War," he said. "It was heavily industrial, extractive and destructive."
Yelton said the former East Middlebury iron works has been recommended as a national historic site — one that's ironically hidden out of plain view.
"Even people who live here and walk down to the river during the summer for a swim don't know what it was," he said. "So I thought it could use a sign."
A sign can only say so much, so Yelton hopes people seek out more facts about the iron works after seeing it — just as he did several years ago. If they do, they'll learn some interesting facts.
"If you can use your imagination for a bit, think about where we are standing in 1831 — 192 years ago," Yelton told a group of people who gathered for the sign unveiling on Sunday. "The riverside and hills around us would be bare of trees, below us 16-foot-tall chimneys belched flames and heavy black smoke. Trip hammers weighing 400 pounds crashed against the raw 'pigs' of iron produced by the works. Heavy wagons drawn by oxen bringing charcoal from Ripton and ore from New York would leave the dirt track road behind you muddy and rutted.
"From across the street came the stench of raw animal hides being turned into leather," he continued. "Three dams across the river turned water wheels and power saws, while blacksmiths pounded away at their anvils. A far different scene than what we see today — except for the occasional pack of 40 Harley-Davidson riders roaring by."
East Middlebury actually hosted an iron works as early as 1810. Known as the "Eagle Forge," it did a brisk business in plow shares before being washed away by the Middlebury River. The newer iron works was completed nearby in 1831, by George Chapman.
"George was the prototypical entrepreneur of Middlebury," Yelton said. "He dabbled in many things and ended up a prosperous merchant in town. A true Vermonter."
In its heyday, the works consisted of a large charcoal and ore shed, a forge building containing three bloomery hearths each 16 feet tall (and each with its own large waterwheel), one trip hammer, a smaller waterwheel house and a dam, according to Yelton. Penstocks connected the dam with the water wheels and pipes supplied cooling water for the forged iron, which was turned into nails, wagon hardware, fireplace liners, tools, heavy machinery and stove parts.
Chapman made a handsome profit from his iron works. It cost about $40 to produce a ton of iron during the 1840s, Yelton said, while producing a net profit of $10 per ton for the producer. According to Yelton's research, the works produced around 385 tons of iron between 1846 and 1848, earning today's equivalent of $145,000 profit. James Slade, who took over the business during the 1850s, reported sales of $15,000 in a single year — the equivalent of $540,000 today.  The iron works during the mid-19th century employed 10 men at an average wage of $40 per month — the equivalent of $1,548 today.
East Middlebury's iron works continued to prosper through the Civil War and until the depression of 1875-76, whereupon it was unable to compete with larger, more efficient works in the south and Midwest, according to Yelton.
"The economy of Vermont began to shift to the romantic, back-to-nature tourist industry by the beginning of the 20th century," he said.
A final nail was hammered into the iron works' coffin in 1890, with its machinery sold for scrap about 10 years later.
All that remains are ruins, but they tell a story we shouldn't forget, according to Yelton. Vermont during the late 1890s took a detour away from mineral extraction, leading it to the pristine environmental reputation it enjoys today.
"(The iron works ruins) provide context for where we've been and maybe help in thinking about where we're going," he said. "We, as individuals and groups, make choices that can affect the course of events. We cannot predict the future, but we are still able to make choices that can lead to different outcomes."
Information about the iron works site is included in the second edition of East Middlebury Historical Walking Tour. This booklet is available from the Sheldon Museum bookstore or from the East Middlebury Historical Society. The East Middlebury Historical Society meets April through November on the second Tuesday of each month at 7 p.m.
Reporter John Flowers is at [email protected].
More News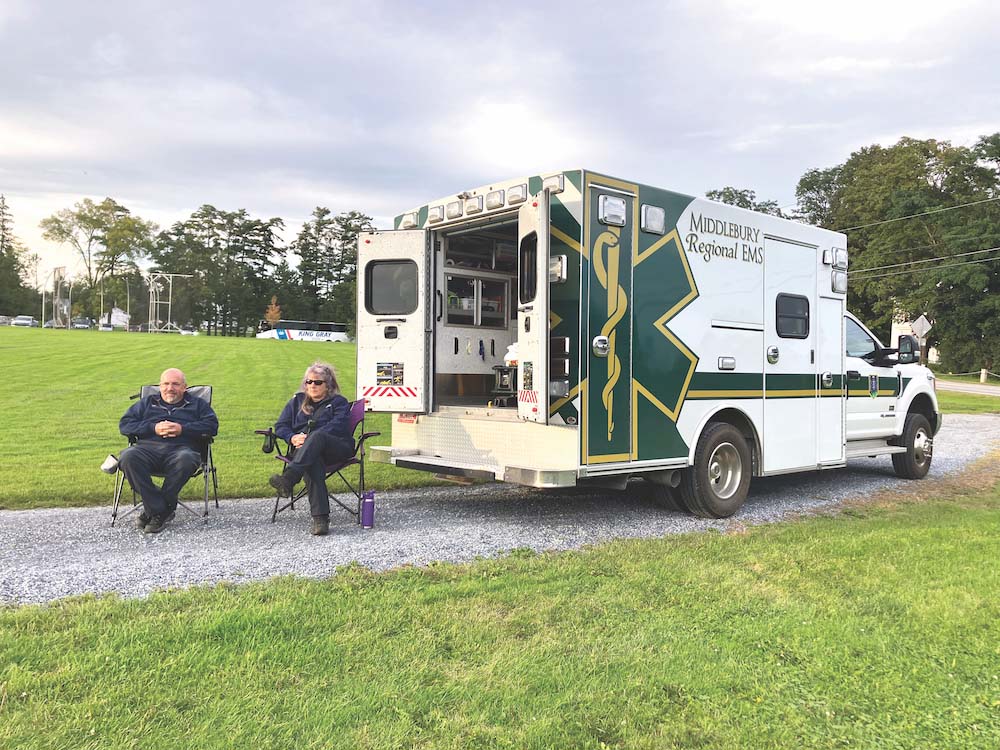 Middlebury Regional Emergency Medical Services wants to eliminate its annual Town Meeting … (read more)
Middlebury police are investigating the death of a Middlebury College junior and say the p … (read more)
Vergennes resident Margaret Clifford offers nearly a century of recollections, from losing … (read more)