Tiger football throttles Rutland, evens their record
MIDDLEBURY — It was the way the Middlebury football team dreamed about starting Friday night's home game against rival Rutland on the way to a dominant 28-7 victory.
After taking the opening kickoff, the Tigers scored on their second play from scrimmage. Senior fullback Cam Stone burst through a hole on the left side and continued on to a 47-yard touchdown.
Then on their first defensive series the Tigers junior linebacker Cole Warren and Stone at defensive tackle both sacked Rutland quarterback Eli Pockette, forcing a punt.
Sure, the Tigers made a few mistakes in the game, including a fumble when they reached the Rutland 8 later in the first quarter, but by halftime they led by 21-0 and had outgained the Ravens, 220 yards to nine.
The Tigers also propelled themselves back into the Division I playoff race with a win that evened their record at 2-2. And, Stone said, they wanted to avenge a heartbreaking loss to Rutland a year ago, adding Friday's fast start set the tone.
"We took a hard loss against them last year, and we really wanted to punch it in (early)," he said, adding, "It was really important especially because it's Rutland, Middlebury and Rutland. But I think this was a really good win, and we should celebrate this."
Coach Dennis Smith credited an improving offensive line, for better play after the Tigers' 0-2 start. On Friday the Tigers rushed for 264 yards and protected junior quarterback Jacob Kemp while he completed five of seven passes for 87 yards and a touchdown.
"My front line, my five guys up there, are just getting more and more confident in what they're doing," Stone said. "They're able to adjust to those situations when the defense is throwing different things at them."
Defensively the Tigers also controlled the line of scrimmage. Rutland rushed 14 times for 42 yards, and the Tigers sacked Pockette four times for 30 yards of losses. Pockette finished nine of 16 for 90 yards, with 76 of those yards in the fourth quarter.
Smith said the Tigers have improved on defense.
"Defensively we were experimenting with a couple new things early, and we're still using some of it, but we're going back to our old roots with the 5-2 and building off that," Smith said. "The guys have come a long way in four weeks."
Smith added Kemp has helped lead the Tigers to a pair of wins after taking over at quarterback, while Stone has provided a spark.
"We've solidified with our quarterback. He's doing a good job," Smith said. "And we've got Cam going at the fullback position, and that opens things up for the other guys."
On Friday's third possession the Tigers marched 58 yards to go up 14-0. After Kemp ran for 13 yards after a nice ball fake, he connected with sophomore tight end Angus Blackwell, who outmuscled a defender for a 26-yard catch at the RHS 3. Tiger senior halfback Cole Schnoor waltzed in on the next play, and Jackson Gillett's second kick made it 14-0.
A fumble ended the next march, but the Tigers got the ball back at the Rutland 44 after a Cam Stone punt had pinned Rutland deep.
Three plays later a bad snap gave them a third-and-13 at the Tiger 37 with the clock winding down. Smith called for Kemp to take a knee, but the Tigers didn't, or chose not to, hear him. Kemp organized them for a spike to stop the clock and with time for one more play the Tigers sent everybody long.
Kemp's toss reached the RHS 2, where Gillett outleaped a defender, but could not come down with the football. But it deflected to Schnoor behind him in the end zone for the touchdown as time expired. Gillett's kick was good again, and it was 21-0.
Smith acknowledged it was not what he had called for, and remembered that Rutland had scored against his team the same way a year ago.
"I'm like, 'We're done,' you know?'" Smith said. "But the boys just got back on the ball and made a great spike. And … basically what happened there was what happened to us against Rutland just before the half. They threw a Hail Mary up there and it bounced off and they caught the damn thing. And that's just what happened today."
The Tigers kicked to Rutland to open the second half and quickly put the game away even though Tyler Weatherhogg returned the kick into MUHS territory. But Stone tipped a Pockette pass in the backfield, and Blackwell picked if off in midair and returned it about 25 yards to the Rutland 33.
Three plays later Stone steamed through the line from the 30, shrugged off a defender in the secondary and hit paydirt. At 9:23 of the third quarter, the game was clinched.
Rutland scored late, capping a 61-yard march in which Pockette completed five passes, including a 3-yard TD toss to Hayden Jones.
Stone ran 14 times for 134 yards, Gavin McNulty six times for 42 yards, and Schnoor 14 times for 33 yards.
Smith, like any coach, made note of the Tigers' miscues, but he is clearly encouraged by the improvement
"The guys did a great job," he said. "We made some big blunders, and we'll work on that, but the little ones are always going to happen. We're getting better, and the kids are working hard."
Stone, too, said the Tigers are aware they still have plenty of work to do.
"We're still making mistakes. There are a lot of things we have to correct. But I think we're improving every game," he said.
Defending Division I champion Essex, which has also won its last two games, including against St. Johnsbury, will visit on Friday. That made this past Friday's win even more important, according to Smith.
"It was huge, huge. (What if) we're 1 and 3 and go play Essex next week?" he said. "But if we can keep going and keep getting better as we have been, I feel very good, and let's see what happens later on in the season."
More News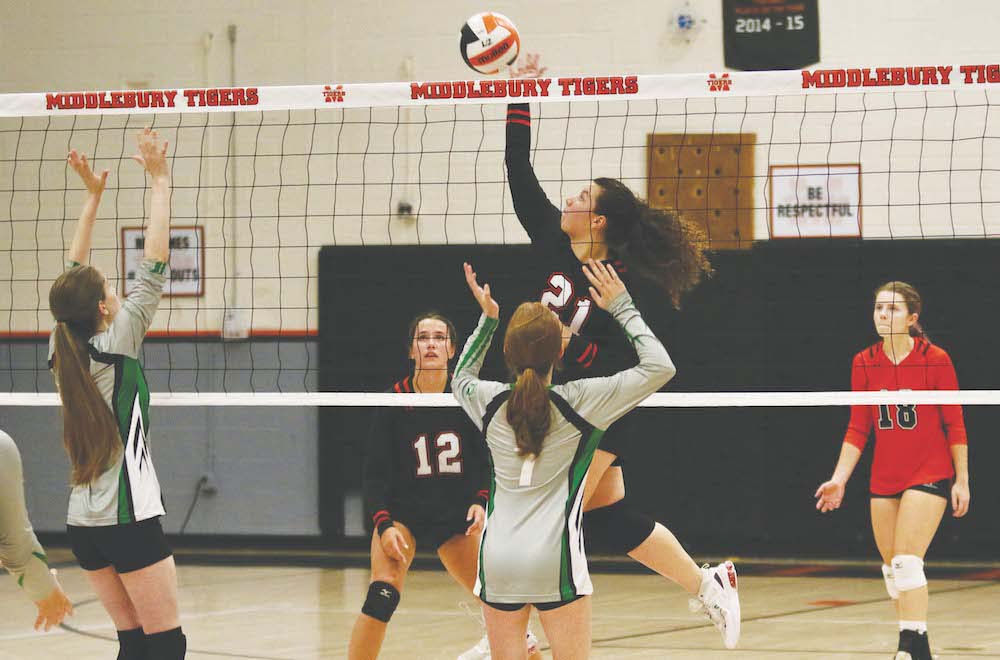 The first-year Middlebury Union High School girls' varsity volleyball team continued its r … (read more)
Soggy conditions didn't slow down Middlebury runners noticeably at a cross-country meet ho … (read more)
I gave Bill Lee a call last week, hoping he was at his home in Craftsbury and we might arr … (read more)