Public-service-minded vet to lead city parade
VERGENNES — When he was asked why he was picked to be the marshal in this coming Monday's big Memorial Day parade in Vergennes, Edgar Crosby Jr. — known to everyone as "Bub" — said he really had no idea.
What's a parade marshal do?
"Sits in a car and waves at people," Bub said.
Are you qualified for that?
"I hope so."
Nevertheless, event organizers at American Legion Post 14 in Vergennes chose the Vietnam-era Air Force veteran to lead their parade — traditionally one of the longest in Vermont — despite his protestations.
"At first I said no, I'm not a public figure," Crosby told the Independent. "I've always been kind of under the wire; I don't like the publicity, I just like doing good."
Ah, there it is. Surely the parade planners knew this about Bub Crosby — that he likes doing good.
For years, decades, possibly for his whole adult life, Crosby had been giving himself to his family, to the customers of his business and to his community.
He was made a life member of the Bridport Fire Department after serving the organization for 20 years. He not only fought fires in his adopted hometown as a pump operator, but he also taught other firefighters how to operate the pump equipment while battling blazes. Away from the limelight, he was the department treasurer "forever," in his own words.
And he served Bridport for many years as a member of its planning commission, as well. The town dedicated the 2014 Bridport Town Report to Crosby, noting not only his volunteerism, but also "his easy and pleasant manner with all people."
In 2018 the Lions Club gave Crosby a Melvin Jones Fellowship Award for his service to the community. In particular he was thanked for reviving Veterans of Foreign Wars Post 7823 in Middlebury. A member of Legion Post 27 in Middlebury, Crosby has been more active in the VFW, where he has been commander, trustee, and is still quartermaster. He is credited, along with others, with reviving the post five years ago when many feared it would close.
Crosby is a lifelong history buff, and he and Meg, his wife of 47 years, spent decades collecting postcards and images of Vermont's past. And he didn't just look at the pictures, he studied them and learned their history and the stories around the images they showed. He organized the old images into scrapbooks with one for each town in Addison County, plus a few for Rutland County towns, too. A decade ago Bub and Meg donated a trove of old photos and postcards to the Lake Champlain Maritime Museum, where they reside for all to see in the Crosby Collection.
Many people countywide know Crosby as the proprietor, with Meg, of Bub's Furniture Barn in Vergennes for 25 years, until they sold the business in 2014 and moved to a cottage in Middlebury's Lodge at Otter Creek retirement community. Crosby notes how he did business in Vergennes for 50 years — working in the barn as a youth and with his father's cattle sales business.
Perhaps the most obvious service Crosby has given to the community was his service in the U.S. military, which began in 1968 when he volunteered for the Air Force. He was an active duty airman until 1972, and spent two more years in the Reserves.
After learning about avionics during his first six months in the military, Crosby got his permanent assignment.
"I joined the Air Force to see the world; I got sent to Loring Air Force Base in Maine," he recalled. "It's as far north as you can go."
Joking aside, there were many things he liked about the Air Force. He made lifelong friends of all backgrounds, all ethnicities, "Everybody was in the same melting pot together," he said. "It was a great experience, I wouldn't give it up for anything."
Although based in Maine, Crosby was sent to temporary assignments all over Southeast Asia — Okinawa, Guam, Taiwan, the Philippines. He was an avionics technician and fixed B-52s airplanes — on the ground and in the air.
"It was quite an experience for a farm boy from Vergennes," Crosby said.
He made his longest stay in Thailand, where he was officially recognized for his service in the Vietnam Theater. But Crosby makes it clear that he was not in the midst of fighting.
"I served two tours, one of which was in a combat theater, but I've never been a combat vet," he insisted.
Although he keeps his responsibilities as parade marshal in perspective — "I get to wear my Air Force uniform, but I had to buy a new one because my old one didn't fit" — Crosby said Memorial Day itself is important to him.
"Oh it's always been important; I'm a veteran. Veterans realize what that day is for, and it's not a matter of picnics and beer bashes.
"It's a celebration of the sacrifices that all of us made."
Although never in combat, Crosby still suffers from his service in the military. He was around the despicable chemical known as Agent Orange at his base in Thailand, and the Parkinson's disease that afflicts him is attributed to exposure to that chemical. He knows he isn't the only vet who suffers from such infirmities.
After two years of the coronavirus pandemic keeping people apart, Crosby is glad to see the parades return this month.
"It's nice to get everybody together again," he said. "Society has been fractured by this thing. People aren't visiting like they used to; they're skeptical, hesitant, I think people are lonely.
"I think we are working our way out of that situation — slowly — but that damage has been done socially and economically."
And there is still Memorial Day, the day to remember our war dead, the day to recall the ultimate sacrifices of all those men and women who came before us.
"People should think about it; on Memorial Day and Veterans Day, too," Crosby said. "Take a minute and consider what people gave up and suffered through.
"It's nice to have a good time, and there's certainly nothing wrong with that. But set aside a little time to think about the real reasons we are celebrating Memorial Day."
More News
Blasting ledge could begin on Monday in Vergennes as work on the $25 million Vergennes Gra … (read more)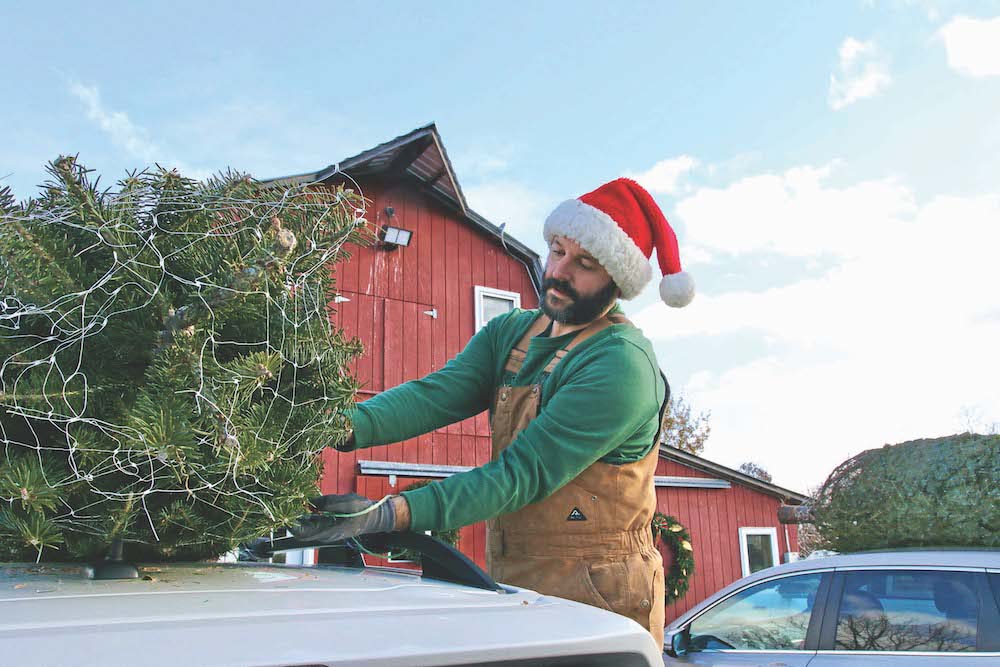 With the holiday season underway, county Christmas tree farms have begun welcoming visitor … (read more)
As the Middlebury Snowbowl prepares for opening day this Saturday, Dec. 9, loyal skiers an … (read more)