MUHS boys' tennis reaches 9-1
MIDDLEBURY — The Middlebury Union High School boys' tennis team added three wins to its résumé and improved to 9-1 as the Division I playoffs loom next week. The Tigers, semifinalists a year ago, are assured of a high seed.
On May 20, the Tigers picked up two forfeit wins over North Country, reportedly because the Falcon team was reluctant to take a long bus ride to Middlebury to lose badly.
On Monday the Tigers coasted at Harwood, 7-0.
The Tigers were set to wrap up their regular season by hosting U-32 on Wednesday. Earlier this season they won at U-32, 7-0.
The individual match results for MUHS at Harwood on Monday were:
No. 1 singles, Clyde Malholtra, M, defeated Cole Baitz, H, 6-4, 6-2.
No. 2 singles, Kellan Bartlett, M, defeated Artur Cantallopa, H, 6-0, 6-1.
No. 3 singles, Jackson Murray, M, defeated Christopher Cummiskey, H, 6-2, 6-2.
No. 4 singles, Iver Anderson, M, defeated Nico Cambio, H, 6-0, 6-1.
No. 5 singles, Edward Fallis, M, defeated River Collins, H, 6-3, 6-1.
No. 1 doubles, Lewis Suchamel/Brian Newton, M, defeated Eric Dessureau/Dylan Silveira, H, 6-1, 6-1.
No. 2 doubles, Finn O'Neil/Silas Taylor, M, defeated Rohin Jordan/Sebastian Ruta, H, 6-2, 6-2.
More News
Tiger boys' cross-country team held off runners from Burr & Burton, VUHS and Mount Abe in … (read more)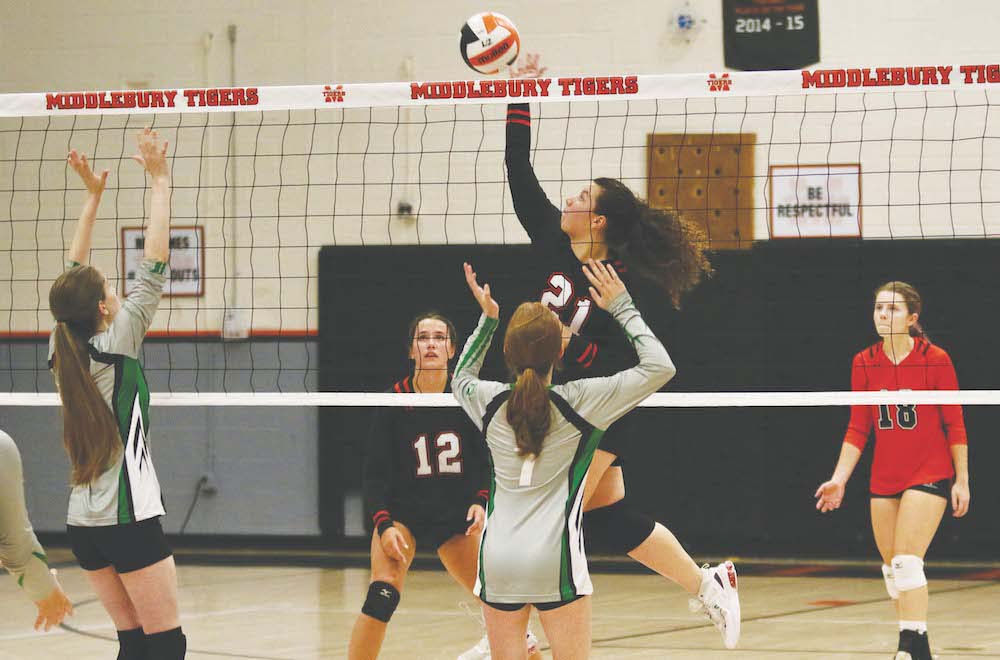 The first-year Middlebury Union High School girls' varsity volleyball team continued its r … (read more)
I gave Bill Lee a call last week, hoping he was at his home in Craftsbury and we might arr … (read more)