USDA to award Vergennes $17.5M for sewer project
VERGENNES — USDA officials will be in Vergennes on Thursday afternoon to make official what will be the federal government's $17.5 million contribution toward the city sewer system's upcoming $25.5 million overhaul.
Vergennes officials had been assured only that the U.S. Department of Agriculture Rural Development branch would fund 20%, or around $5.1 million, toward the rebuild of the city's sewer collection and treatment system, which has been plagued with overflows into Otter Creek and treatment plant deficiencies.
"It's amazing," said City Manager Ron Redmond of the final award.
Officials from USDA Rural Development are scheduled to formally unveil the funding at the city's Canal Street sewer treatment plant at a 2 p.m. press conference on Thursday, April 21.
Expected to join them are the Vermont congressional delegation, city leaders, Vermont Department of Environmental Conservation officials, and other key stakeholders, according to a USDA press release.
City officials said other outside funding sources for the sewer project appear secure, including $6 million of direct federal support.
Before the USDA RD announcement they had projected most customers' rates to rise from $500 to $1,040 over the next five years to fund the project. Redmond said he would recalculate rate projections before the next city council meeting.
PROJECT UPDATE
Meanwhile city department heads, including Redmond, Public Works Director Jim Larrow and Treatment Plant Operator Rick Chaput, and Hoyle & Tanner and Associates engineers are in various stages of planning for the project.
That includes a sump-pump disconnection program. A Hoyle & Tanner study showed, as did earlier research into stormwater infiltration into the system, that technically illegal sump pumps in city buildings and homes are a central source of the persistent system overflows into Otter Creek from its Macdonough Drive pump station.
Redmond said Chaput and Larrow are focusing on rewriting the city sump pump laws. City officials have said they would support property owners if necessary to help them wean their buildings away from sump pumps.
"Rick and Jim are working on the sump-pump plan. We'll present that next time. Our plan is to ask the council to fund the effort using ARPA (American Rescue Plan Act) money," Redmond said. "We ran that past them a couple weeks ago, and they seemed pretty receptive to it."
Hoyle & Tanner project manager Jennie Auster shared details about the larger project with the Independent in a phone interview.
Auster said all projects have preliminary engineering, final design and construction phases. The city wastewater treatment system overhaul also has three parts, all now in the preliminary engineering or final design phases.
The furthest along of those parts are plans for the treatment plant on Otter Creek's west bank, for which Auster said preliminary engineering is complete and, critically, has won approval from the USDA.
Hoyle & Tanner will move into the final design phase for the treatment plant this fall, which Auster said would take about a year, including final regulatory approval.
"It's about a two-year construction period after that," she said. The upshot is the city should have a new treatment plant by late 2025.
A second major part of the overall project is the upgrade to the Macdonough Drive pump station, which handles all the inflow from the city east of Otter Creek, not always successfully, along with the addition of a second line from that station under the river to the treatment plant. The existing cast iron line is about 60 years old, and its condition is unknown.
Hoyle & Tanner is in the preliminary engineering phase for that combined project, which could include new pumps and a holding tank to supplement the pump station. But Auster said the firm is still going "through the process of identifying what specific improvements should be incorporated into the project."
That process will start soon and go through early next year, with the yearlong final design process to follow. That timetable pegs construction to begin sometime in 2024.
The final element is the collection system, which the city is beginning to address with the sump pump effort. Meanwhile, Hoyle & Tanner will continue to look into which of the aging sewer lines need to be replaced, and in which order.
Larrow and his crew will help prioritize those in the worst condition and work around potential paving projects, Auster said. The first focus will most likely be on sewer line replacements for segments downtown and along North Main Street and Macdonough Drive. Those projects could be done within the next couple years.
The Army Corps of Engineers is also expected to step in and replace a number of city sewer lines, but the Corps has a longer lead time before it will begin work, Auster said.
"The ones that are funded through the Army Corps, it's a slower moving process," she said. "We don't anticipate those going into construction within the next five years."
More News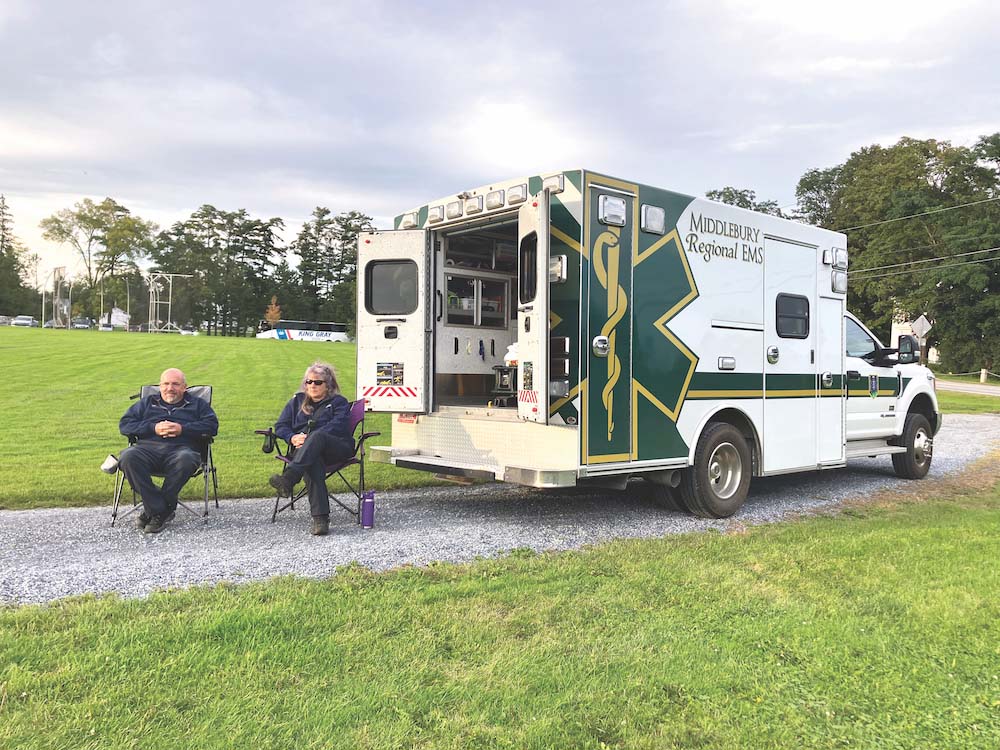 Middlebury Regional Emergency Medical Services wants to eliminate its annual Town Meeting … (read more)
Middlebury police are investigating the death of a Middlebury College junior and say the p … (read more)
In the course of her almost 101 years on Earth, Vergennes resident Margaret Clifford, bett … (read more)