Eagle girls' basketball wins D-II state title
"Laura Bonar and I had a little conversation before the game, and I said, 'You know what? This is time for you to step up.' And she did. I'm really proud of her."
— Coach Connie LaRose
BARRE — Saturday's Division II girls' basketball final began with Mount Abraham senior center Laura Bonar sending favored Spaulding a message.
Bonar blocked four early Tide shots, and a team that had walked over the Eagles by 26 points in February knew it was not going to be as easy this time around.
The game ended with four juniors — Madi Gile, Lucy Parker, Peyton Vincent and Maia Jensen — combining for all 15 Mount Abe points in the fourth quarter, including nine straight to open the period and wipe out the last Tide lead. The Eagles stunned Spaulding, 36-33, to claim the state championship.
The victory wrapped up a 16-8 season for the sixth-seeded Eagles that included four tournament wins, the last three over the Nos. 3, 2 and 4 seeds. Spaulding, riding a 14-game winning streak, dropped to 18-5.
Mount Abe defeated a Tide team that feasts on fast breaks and an uptempo approach. How'd they do it? The Eagles held their own on the boards, minimized their turnovers, and controlled the pace.
Coach Connie LaRose said the Eagles had the ability and willingness to follow a game plan, and the heart to make plays when it mattered.
That plan included two key adjustments defensively. The Eagles started in the 3-2 zone they have used almost exclusively this season, but quickly switched into a 2-3 zone that LaRose said better matched up with the Tide sharpshooters.
"We felt we could get better coverage stretching out the defense. Spaulding has three or four kids who can all nail the three," LaRose said. "Defense did it."
At the same time LaRose said the Eagles abandoned their trademark zone press and just set up in that zone, while also making sure not to allow the Tide to get out in transition.
LaRose said Spaulding easily sliced through and the press in their regular-season victory over the Eagles. By not pressing, Mount Abe took away a source of easy points for the Tide.
"We adjusted our defense pretty well to handle that aspect of things. I can't have five kids either crashing the boards or wandering. Two of you have to be starting back," LaRose said. "They did a good job of those things."
Those tactics, plus patient offense, also allowed Mount Abe to slow the pace more to the Eagles' liking.
"We had that problem throughout the year. When a team like an Enosburg or a Spaulding that plays real quick ball, they go fast, and our answer quite often is to go faster. And I said that cannot work today," LaRose said. "We have got to control the tempo of the game. We've got to control our possessions, try to get a quality look."
All that still probably wouldn't have worked if not for Bonar and the contributions of the Eagles' secondary scorers. With the Eagles pushed out to contest the shooters, Bonar had the Tide second-guessing themselves in the paint.
"She and I had a little conversation before the game, and I said, 'You know what? This is time for you to step up,'" LaRose said. "And she did. I'm really proud of her."
The Tide was also paying special attention to the Eagles' leading scorers, senior Abby Reen and junior Maia Jensen. The two had combined for 37 points as the Eagles upset No. 2 Enosburg, 52-48, three days earlier. On Saturday they played key roles rebounding, defending and handling the ball, but combined for eight points.
Meanwhile, Gile tossed in 16 points. It's no surprise to see Gile shine in a final: She scored winning or go-ahead goals in three straight title games for the Eagle field hockey team. Parker scored seven, all in the second half. Jensen managed six, mostly by slashing into the lane, and Vincent added three vital points in the fourth-quarter.
"Abby Reen scores two points, and Maia Jensen didn't have much. When you can win a state championship when that happens, something else went right," LaRose said.
LaRose noted Gile excelled despite a sore back that has caused her to sit out of practices, while Parker played with a taped-up shooting hand.
Gile sparked the Eagle attack with seven first-quarter points, including a three-pointer from the wing that gave Mount Abe a 9-6 lead heading into the second quarter. An early Jensen drive accounted for the other Eagle points.
The Eagles ran into trouble in the second period when Reen and Bonar had to sit with foul trouble after each scored from close range to help push the lead to 13-8 at 4:05.
Spaulding then went on with a 10-0 run. Sam Donahue turned two steals into layups, and Emily Poulin nailed a three and converted a three-point play in transition to make it 18-13, Tide. Gile answered with her own three-point play in the paint at 0:16, and it was 18-16 at the break.
As the second half opened Parker heated up with two jumpers, which combined with a Jensen free throw was enough to offset a Donahue jumper and put the Eagles back on top, 21-20, midway through the third period.
But the Tide scored five straight to close the quarter — a Sage MacAuley free throw, a Donahue fast-break hoop, and a late Yvonne Roberge putback that set the score at 25-21, Spaulding, entering the fourth.
The Eagles opened that period with more tough defense and nine straight points over the first 4:23 to take a 30-25 lead.
Jensen flashed to the basket and laid in a Gile feed, and then Gile did the same with an assist from Vincent at 6:50. A Vincent putback at 5:30 gave Mount Abe the lead, and Parker powered to the hoop at 4:20 to make it 29-25. Vincent hit a free throw at 3:37 after an offensive rebound to make it a five-point game.
Autumn Lewis scored inside to cut the lead to three, but two Gile free throws at 2:31 and one from Jensen after a key steal at 1:49 made it 35-29. MacAuley answered with a steal and layup to cut the lead to four, but Parker added a free throw at 1:10, Reen grabbed a key defensive rebound, and a Roberge bucket for the Tide was too little, too late, and the Eagles celebrated.
Poulin led Spaulding with nine points, Donahue scored eight, and MacAuley scored six and added six boards.
Bonar was credited with five blocks, a total that might have been low, and five rebounds. Reen led Mount Abe with six boards, and Jensen snagged five.
But stats are just a small part of the Eagles' story. LaRose talked about how quickly the Eagles learned a new defense.
"Thursday and Friday were the only two days we had to introduce anything," LaRose said. "They just nodded their heads and went and did it."
That didn't surprise LaRose.
"They've been receptive to everything we've tried to teach," she said. "They've done that throughout the year."
Nor was she surprised by their ability to rally against a team playing in its backyard.
LaRose said the Eagles lost senior forward Eliza Bent to injury in the first game, and for one five-week stretch a series of players dealt with COVID, leaving the team with not enough athletes to work on their offensive and defensive sets and out-of-bounds plays.
"They've been a resilient team all year," she said.
LaRose summed up.
"They were certainly a true team in every sense of the word when they were in the gym. They were there for each other. They covered each other's backs. They supported each other," she said. "I've had teams that have won championships that have had more talent, more depth. But I've never had one that I've been any more proud of than this group."
More News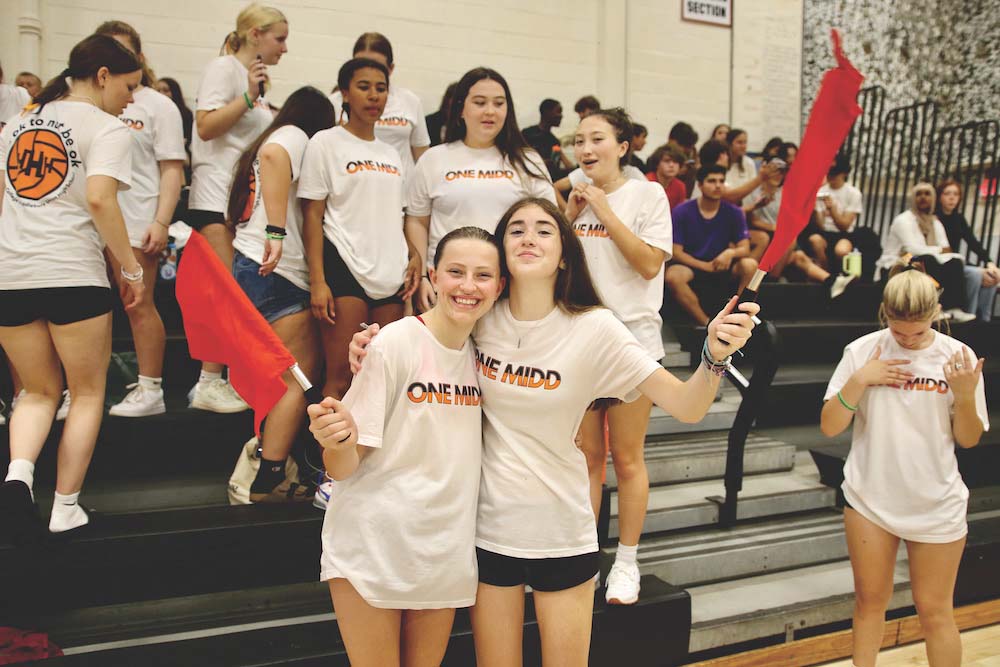 Considering the Middlebury Union High School volleyball team's decidedly successful record … (read more)
In a hard-fought girls' soccer match on this past Saturday, Middlebury outlasted Vergennes … (read more)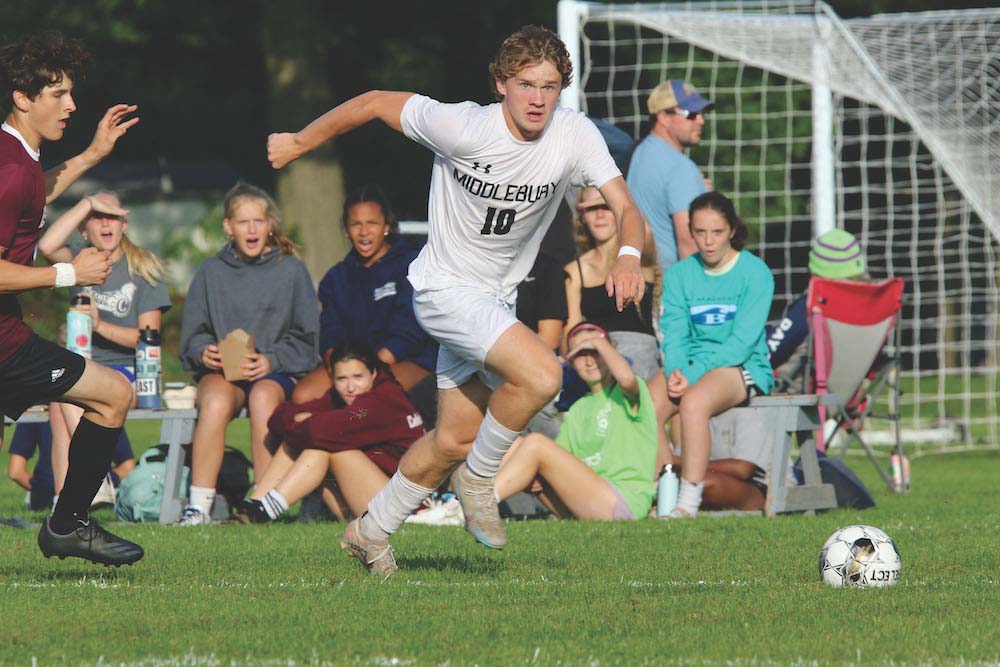 The Middlebury Union High School boys' soccer team survived a scoreless first half in whic … (read more)