Panther women's hockey pulls out OT win over Gulls
MIDDLEBURY — Middlebury College women's hockey coach Bill Mandigo could be philosophical after Saturday's home game.
His team, top-ranked in NCAA Division III, had just dodged an upset by visiting No. 10 Endicott. Mandigo's 9-0 Panthers won, 2-1, by scoring the tying goal with goalie Sophia Merageas pulled and 1:11 to go, and the winning goal on an overtime breakaway — just after Merageas had sticked aside an Endicott breakaway.
And Mandigo had watched Endicott goalie Michaela O'Brien stop 40 shots in a game in which the Panthers outshot the Gulls, 42-15.
"Games with goalies, strange things happen, right?" Mandigo said.
The game was the second time the Panthers had to rally this season for a 2-1 victory over the stingy 9-3-1 Gulls.
On Saturday, Mandigo credited his team's play, Endicott's careful "pack-it-in" defense, and O'Brien's effort.
"The kids played hard. I thought we moved the puck. Their goalie is good. I don't know how many quality chances we had," he said. "They know what they're doing. It's big ice, so they're not going to chase us all over the ice. They're going to sit in front of the net and play defense in a small area."
Despite the Panthers' 14-5 advantage in first-period shots, dangerous chances were few. Early on O'Brien stopped a Katie Hargrave backhand on a feed from senior captain Madie Leidt, and later in the period Raia Schluter set up Molly MacQueen with a cross-crease pass and O'Brien down, but a defender sticked away the puck with an open net looming.
Panther defender Claudia Vira broke up a promising Gull three-on-two rush, and in the final seconds Merageas stopped Jess Burwell's screened bid from the left circle.
The Panthers outshot the Gulls in the second period, 18-2, including seven shots in the first 1:17.
O'Brien stopped a Cat Appleyard wraparound attempt early on, later on denied defender Cece Ziegler's slapper through traffic from the right circle, and on a Panther power play thwarted Leidt twice from the left circle. Her best save might have come midway through the period on Schluter's point-blank rebound bid of a Sabrina Kim shot.
For two periods the Panthers were first to almost every loose puck and often penned the Gulls in their own end.
That changed as the third period opened. The opening faceoff slid in on Merageas, and she chose to freeze the puck for a faceoff. The Gulls then prevented the Panthers from clearing the puck with hard work that paid off with Courtney Sullivan's goal 41 seconds into the period.
In a scramble the puck popped to Sullivan to the right of the net, and she flipped in a backhand. The Panthers were not as sharp for much of the period, but as time ticked down they picked up their play, and a crisp pass from the right point found Jordan Hower alone out front. Hower tried to find the upper right corner with a backhand, but O'Brien shouldered it away.
Mandigo called for time at 1:28 and pulled Merageas. Leidt won a faceoff in the right circle back to defender Eva Hendrikson, who slid the puck across to Vira at the left point. Her one-time slapper zipped through a knot of players and into the right side of the net.
At first Mandigo said the Panthers were lucky to tie the game, but acknowledged there might have been more than good planning involved.
"We had it set up so she was our shooter on that side, and Kate (Hargrave) and Appleyard in the middle, and Madie down low to create havoc. We practiced it the other day, a special shape, and it worked out. We put the people we wanted in the right places," he said.
In overtime — teams now play three on three — the Gulls' Quin Healy skated in alone from the right side, but Merageas sticked away her low bid into the left corner with 2:03 left in OT.
Ten seconds later the game was over. Kim sent Schluter down the left side and in alone on O'Brien. Schluter shifted from her forehand to her backhand as she skated past the goalie and tucked the puck home.
PANTHER PLUSES
Mandigo after the game talked about what has gone right for the Panthers this season, starting with his four-year all-star, Leidt.
"She's really good. She's a leader. She's the catalyst," he said. "When your best player is your hardest worker on the ice and has fun, she just pulls everybody along."
The Panthers are young, he said, but are talented and deep, and they skate exceptionally well. On Saturday he ran four lines for almost the entire game.
"There are a lot of kids who can contribute in a lot of different ways. Every day in practice is fun. They work hard. They're a good team," he said.
When asked about how good the Panthers can be this season, it sounded like there was only one opponent that caused him real concern.
"The upside is keep COVID out of our locker room," Mandigo said. "Seriously, just let us play."
More News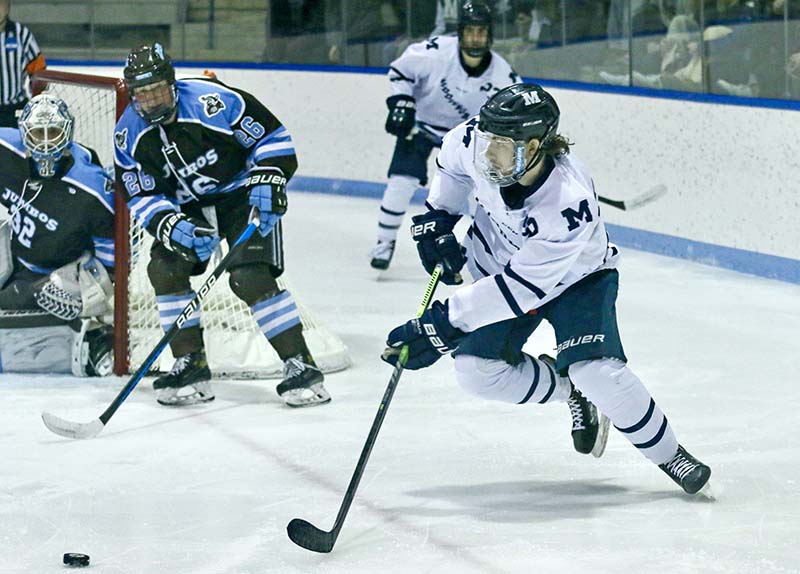 Middlebury College men's hockey surged passed Conn College before falling to Tufts this pa … (read more)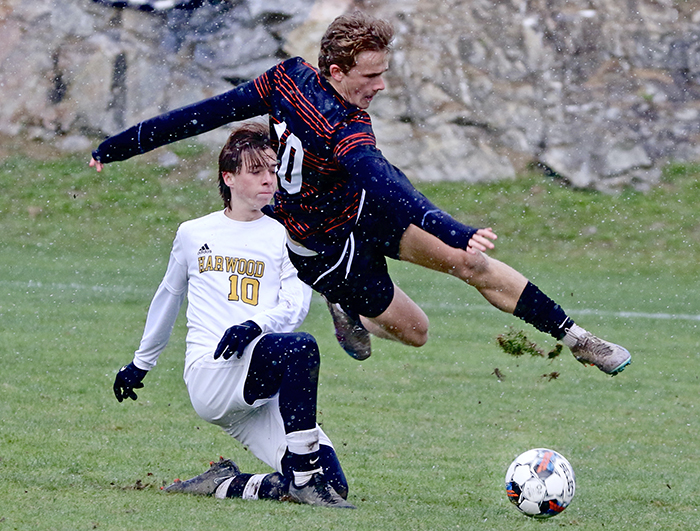 Seven local high school boys' soccer players were named to the Division II or III All-Stat … (read more)
Five area high school girls' soccer players were named either Division I or D-II All-State … (read more)