Fall sports success took many forms
ADDISON COUNTY — There's no question one high school team and its story stood out this past fall.
When a program — Coach Mary Stetson's Mount Abraham field hockey team — wins its fourth straight Division II championship and 11th in 21 years, well, as the saying goes, that's No. 1 with a bullet.
But there were other teams that made their marks or had their moments, too.
Just to start with a full season of unmasked fall sports was a plus after 2020's pandemic-shortened fall season. Teams had more of a chance to grow and improve, runners had more time to improve their stamina, and football players could block and tackle and line up with 11 a side again.
The roster of sports and teams also expanded. Varsity golf returned to Middlebury and Vergennes. The Tigers fared OK with a limited schedule, while the Commodores lacked the numbers to compete as a team, but have middle school golfers on the way.
And the biggest golf news came from Otter Valley, where the boys' team romped to the D-II title with Lucas Politano, who fired a four-over-par 76, and Thomas Politano (85) leading the way.
Also added was bass fishing at VUHS, an offering that a small group of anglers enjoyed. A volleyball club team sprang up at MUHS, and could become a varsity program down the road.
TIGERS
Among the established programs at MUHS, the football program got off to a decent start. The Tigers' season highlight came when they improved to 3-1 with a dominant defensive performance as they knocked off previously undefeated Hartford in late September. The Tigers kept playing hard, but ended up at .500 after a first-round playoff loss to eventual finalist CVU.
Both Tiger soccer teams fared well, although late-season COVID-related issues took the girls' squad out of contention for a top-four seed under new Coach Reeves Livesay, who moved over from the boys' program. Still, a group led by a strong cadre of seniors finished with a winning record and prevailed in a first-round playoff game.
Coach Chris George's Tiger boys played with a little edge, particularly in what proved to be a three-game series with Mount Abe. Each team won by one goal on the others' turf in hotly contested and at-times testy battles. The Tigers won the rubber match, which came in the first round of the D-II playoffs in a muddy, physical battle.
They went on to reach a semi against nemesis Milton, who the Tigers played as well this season as anybody, but still came up short. A fine campaign nonetheless.
The field hockey team again failed to win a game, but showed more offensive spark under another first-year program head, Brandi Whittemore, a Tiger alum who also coaches girls' lacrosse for MUHS.
The Tiger boys' and girls' cross-country teams shone, finishing second and third in D-II, respectively, with seniors Nat McVeigh and Ella Landis as their top runners. Landis qualified for the New England meet, as did North Branch School 9th-grader Estella Laird, who trains with Mount Abe and won the D-III individual title.
COMMODORES
Coach Kevin Hayes's Commodore boys provided the lion's share of the highlights for VUHS this fall. Despite graduation losses from the team that earned the No. 1 seed in D-III in 2020, the Commodores were arguably a better side this season, with more creative spark offensively and a rock-solid back line.
They couldn't hold a late lead against eventual D-III champion Green Mountain in a semifinal, but they had a number of great results in a 10-win season, none more satisfying than their 3-2, double-overtime quarterfinal victory over Peoples, the team that had knocked them off in a 2020 semifinal.
Jonah Mahé finished off the game-winner in that quarterfinal on a feed from Jack Wyman after a Jade Edwards defensive play, all that after the Commodores had rallied from a 2-0 deficit. Good stuff.
In recent years, Co-Coaches Dwight Irish and Peter Maneen's Commodore girls have made more headlines than the boys, but it was not to be this past fall. A talent-laden senior class had graduated in the spring, and the Commodores' remarkable streak of reaching four straight D-III finals came to an end.
Substitute teacher and middle school track coach Mary Neffinger took over the VUHS cross-country program, which fielded a young boys' team and a shorthanded girls' team at the varsity level. The boys had some competitive results, but the better news is there were two-dozen middle-school runners who trained together with the varsity, giving hope for Neffinger's plans to build the program.
Coach Jack McGuire, an avid fisherman and Vergennes resident, was charged with building the school's bass-fishing program. There were only a couple competitions for the dozen anglers who signed up, including six middle-schoolers and three freshmen, to give the program building blocks.
OTTERS
Coach Jodie Field's OV field hockey team provided plenty of on-field highlights for the school, with speedy attackers like Riley Keith and Ryleigh LaPorte, solid midfielder Alice Keith and defender Marissa Connors anchoring an 11-win team that won the Southern Vermont League B Division.
Coach Kipp Denis's Otter football team won the race for third place in D-III behind powerhouses Windsor and Fairfax. OV's biggest win came on Oct. 16, a 41-35 overtime victory over visiting Woodstock that allowed them to leapfrog the Wasps in the D-III standings into third.
The Otters forced a fourth-down incompletion in OT, and won when QB Caleb Whitney scored on a 2-yard keeper. Whitney rushed for 86 yards and three scores and tossed two TD passes to Brady Diaz. Diaz amassed 98 receiving yards and 98 rushing yards in the key victory.
Coach Dick Williams's OV boys' soccer team won four times, finishing the regular season on a high note with two straight wins. Two Otter seniors, goalie Hayden Bernhardt and midfielder Kieran Williams, were named All-State players.
Soccer Coach Tammi Blanchard's OV girls won just once, but goalie Linnea Faulkner excelled — she was named an SVL B Division All-Star as a sophomore.
For Coach Cam Perta's cross-country team, the highlights included top-10 finishes by Sarah Loyzelle and Luke Calvin at the SVL B Division Championship meet.
EAGLES
First-year Coach Eva Friend's Eagle cross-country program saw solid numbers. A former middle school and assistant track coach there, Friend brought along many of her former middle school runners to provide a foundation for the future, even though top runners Noah Engvall and Abigail Johnson will graduate. And Friend said North Branch's Laird plans to run for the Eagles.
Coach Jeff Stein's Mt. Abe-VUHS cooperative football team won just once in D-II, but could easily have won three more times. The Eagles thumped a good OV team for their win with a big second half. Four-year standouts like Carmelo Miceli will be missed, but there is promise in the program.
And if senior QB/kicker Adam Mansfield wants to kick in college, many programs would no doubt be interested.
Another first-year coach took over the boys' soccer team, former Eagle player Rider MacCrellish. The Eagles won just five times, but were competitive in most outings, showed unity and chemistry, tried to play the game right and often succeeded, and played hard. A fine season from this vantage point.
Coach Dustin Corrigan's girls' soccer team's fall was a tale of two seasons. A squad with only a handful of seniors opened with five straight losses against tough competition.
But the Eagles treated those games as learning experiences. Once they started playing more foes in their own weight class, they started winning. They finished the regular season at 5-8-1 and earned the No. 11 seed in D-II. They bested No. 6 Stratton, 2-0, in the first round of the playoffs, as senior Illia Dennison scored twice.
They won again in a quarterfinal against No. 14 Milton, 2-1 in double overtime, when Maia Jensen knocked home a Piper Guillmette feed in the final minute. The group lost in the semis, but what a run.
Speaking of runs, that brings us back to the Eagle field hockey dynasty. Year after year this team makes big saves, converts shootout attempts, blocks shots on the goal line, scores clutch goals in fourth quarters and overtimes, thwarts breakaway bids, and takes over games when it matters most.
This year's edition went 15-1-1, losing only to D-I champion South Burlington and tying the Wolves in a rematch at SB. It was the best record in Stetson's career.
Junior midfielder Madison Gile was arguably the state's best player; senior goalie Maddie Donaldson and senior midfielder Carly Rougier have started for two and three years, respectively; and seniors Molly Laurent, Txuxa (it's pronounced choo-cha, btw) Konczal and Abby Reen have contributed to all four titles.
After the final, Gile described what it was like to play with the team:
"It's like nothing else. I've been dreaming of this since my freshman year, and to keep going and doing it with people I love and know, it's just the best feeling ever."
More News
The Middlebury College football team scored first the outlasted visiting Bowdoin on Saturd … (read more)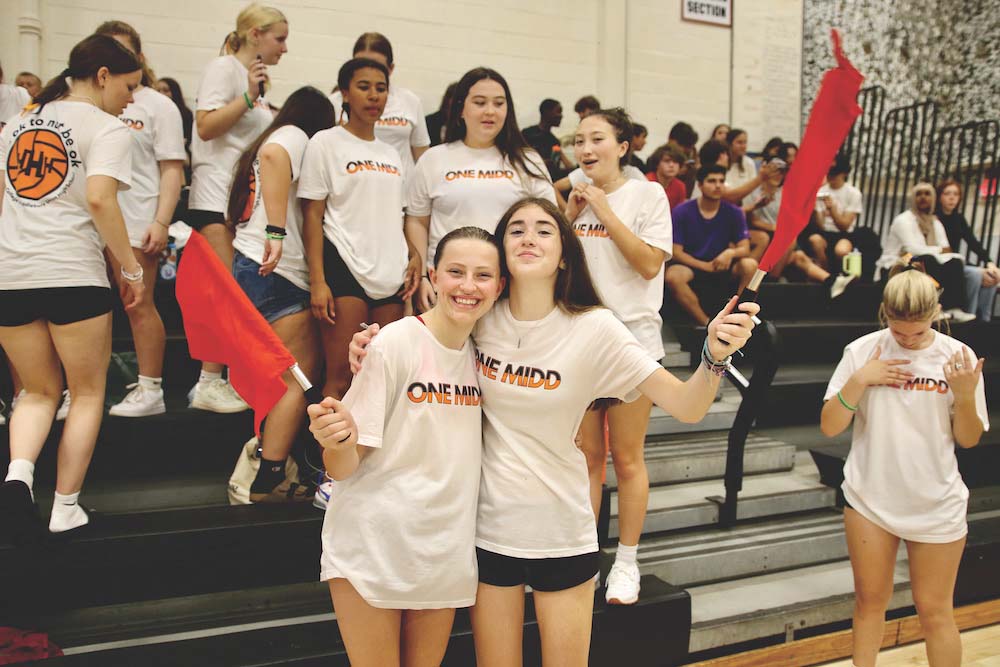 Considering the Middlebury Union High School volleyball team's decidedly successful record … (read more)
In a hard-fought girls' soccer match on this past Saturday, Middlebury outlasted Vergennes … (read more)