Police investigate assault at Mount Abe
"He sees this as an opportunity to not only get help (for his attacker), but also to help other children understand that you don't need to be afraid. It's an empowering moment of being like 'I survived this.'"
— mother of student attacked by Mount Abe classmate
BRISTOL — A seventh-grader at Mount Abraham Union Middle School who was physically attacked by another student during school last week has come home from the hospital and continues to recover from his injuries.
And he is ready to take on the world, his mother says.
"This kid is amazing, I can't even tell you," she told the Independent Saturday night. "He's doing a lot better than every adult around him."
And he hopes his attacker gets the help he needs.
The seventh-grader is still struggling to remember everything that happened during the Nov. 1 incident, but the school did provide his mother with some information that has helped her piece together the story.
ATTACK
The attack occurred during the lunch block, according to school officials, and the mother of the seventh-grader has been given to understand it was perpetrated by two students from the same peer group.
The first student, "Student A," allegedly tried to trip the seventh-grader in a hallway. The seventh-grader's mother said she was told a staff member had observed this incident and led Student A away from the scene.
While the staff member spoke to Student A "around the corner," the seventh-grader asked Student B why Student A had tried to trip him.
"What did I do wrong?," the seventh-grader said, according to his mother.
It was then, she said, that her son was attacked by Student B — verbally and physically.
During the alleged assault Student B kicked the seventh-grader while he was on the ground, according to the seventh-grader's mother.
The two students had never had an altercation before, she said.
Bristol police received a call at 12:36 p.m. that Monday, according to Bristol Police Chief Bruce Nason, and responded to the scene.
Bristol Rescue also responded, and the seventh-grader was put into an ambulance, according to his mother.
His mother was in Williston when she got a call from the school, and she was given a choice about which hospital her son would be sent to, she told the Independent. Alarmed by the "brutality" of what she was hearing described over the phone, she chose UVM Medical Center in Burlington, because it has a children's hospital and because she could get to her son faster.
To the relief of everyone involved, the seventh-grader would be OK.
"We were actually very thankful, because from the brutality of it, we expected a lot worse," she said. "By some miracle he only got a minor concussion and he has bruising on his left side and on his chin, where he was kicked." According to the mother, hospital staff and her son's pediatrician "are all very surprised that he does not have worse injuries."
"He managed to duck and cover, is my guess," she said.
It's still not clear to her why her son was attacked.
"The school couldn't explain anything other than, you know, it was just a wrong place, wrong time."
'CLEAR THE HALLS'
The attack on the seventh-grader was the second of two events at Mount Abe prompting a "Clear the Halls" safety command, according to a memo sent to families by Principal Shannon Warden.
Warden shared that memo with the Independent on Nov. 2 in response to a request for information.
The first incident was related  to a student medical event requiring privacy, Warden said.
The second, the attack on the seventh-grader, was described in the memo as "a physical altercation between two students" that required social, emotional and medical support.
"The safety of our students is our top priority and using this (Clear the Halls) tool helped us keep students safe today," Warden wrote. "Our team will be debriefing today's event to review our response and practices going forward. We remain committed to ensuring Mt. Abraham Union Middle/High School is a safe learning environment for all students."
On Nov. 2, Superintendent Patrick Reen issued a communication to families about behavior concerns and the safety commands used by the schools.
"Recently there has been a lot of attention focused on the social and emotional needs of a few students in some of our schools," he wrote. "Their needs are real, and their behaviors can be big."
The district and its partnering agencies are taking steps to help those students feel and become successful, he explained, while also keeping in mind the needs of students impacted by these behaviors.
Reen also announced that in response to requests from some community members, the district will begin notifying families whenever safety commands such as "Clear the Halls" are used.
"These announcements will not include much detail due to confidentiality but will hopefully help to keep you more informed of what's taking place at school."
The entire announcement can be found online at tinyurl.com/MtAbeNov.
Last week, the Independent was contacted by multiple parents trying make sense of what had happened at Mount Abe on Nov. 1, and at least one of those parents expressed strong concerns to the MAUSD board.
The Independent sent a request for comment to all 13 members of that board on Nov. 2.
School board chair Dawn Griswold declined to comment, citing the Family Educational Rights & Privacy Act.
The only other school board member to respond was Lincoln representative Rob Backlund.
"My heart continues to feel really heavy — for our students and their families, our teachers and classroom support staff, and our 5 MAUSD communities," Backlund wrote on Nov. 4.
Police Chief Nason said the BPD is looking into the incident.
"We are investigating an assault," Nason told the Independent in a Nov. 2 email. "As it is an ongoing investigation, that is all I can provide at this time."
There had been rumors that a student had been arrested at Mount Abe on Nov. 1, but Nason told the Independent Monday morning that this wasn't true.
"No one was handcuffed, no one was taken into custody," he said.
TRANSFORMATION
Over the past several days of his recovery, the seventh-grader who was attacked has undergone a kind of transformation, his mother believes.
"Mentally he is stronger than anyone around him," she said. "He flipped from negative and being bullied, to positive and wanting to make a change in the world. It's amazing to see, honestly, because this child has struggled with bullies for so many years."
Her son was regularly bullied at Bristol Elementary School, she explained. It got so bad that while he was in second grade, she removed him from the school.
"We moved up to Lincoln," she said. "That school (Lincoln Community School) was great. His experience was more positive there."
But then the family had to move back to Bristol and her son's struggles at BES resumed.
And they followed him to Mount Abe.
"Within the first week at the (middle) school he was having trouble," she said. "I kept him out of school, actually. Within the last month I've kept him out of school a lot because he was just in tears. He did not want to go. He just kept saying, 'I want to be alone. Why don't they leave me alone?'"
She noticed a change in her son while he was in the hospital recovering from his injuries.
While the adults around him were on high alert, her son was sympathizing with his attacker and hoping he'd be able to get some help.
"He kept saying that he doesn't want the child's life to be over, and he feels bad about what happened, and he hopes that this doesn't affect him for the rest of his life," she said. "He's very concerned about the other child, and he doesn't have any ill will."
Her son also recognizes that he's in a unique position to make change.
"He sees this as an opportunity to not only get help (for his attacker), but also to help other children understand that you don't need to be afraid," she said. "It's an empowering moment of being like, 'I survived this.'"
REENTRY
The seventh-grader and his family met with school officials last Thursday, three days after the attack.
"We were able to get the story and make (my son) feel like he's got the resources he needs, so he can be safe in the school," his mother said.
After the meeting, she feels a lot better about her son going back to school, she said, and she believes the school understands the expectations she has regarding the safety of her son's learning environment.
"I just hope they understand there are more children like him that need help and support from the school."
Ultimately, her family's goal is to make sure everybody at the school is supported, she said.
"Children need to be safe, to feel like they're safe, and there really needs to be more support brought into the schools. I don't know how that will look, but there really needs to be some sort of support for the teachers, the staff, the kids — everybody."
COMMUNITY
The outpouring of community support has been overwhelming, the seventh-grader's mother said, adding she'd begun receiving messages of support even before she was able to get eyes on her son in the hospital.
"I believe that's part of what helped him: knowing how many people care about him when he's felt so alone for so long."
Her family is also grateful for the folks in the Bristol Rescue Squad and Bristol Police Department.
"(Chief Nason) is just amazing," she said. "He's been very reassuring."
And with the community paying attention, she hopes the incident will be a catalyst for change.
"That might be the positive piece," she said. "I hate having it be my child that this happened to, but it was probably the best child it could have happened to. We're not out for vengeance or anything. We just want change."
Reach Christopher Ross at [email protected].
More News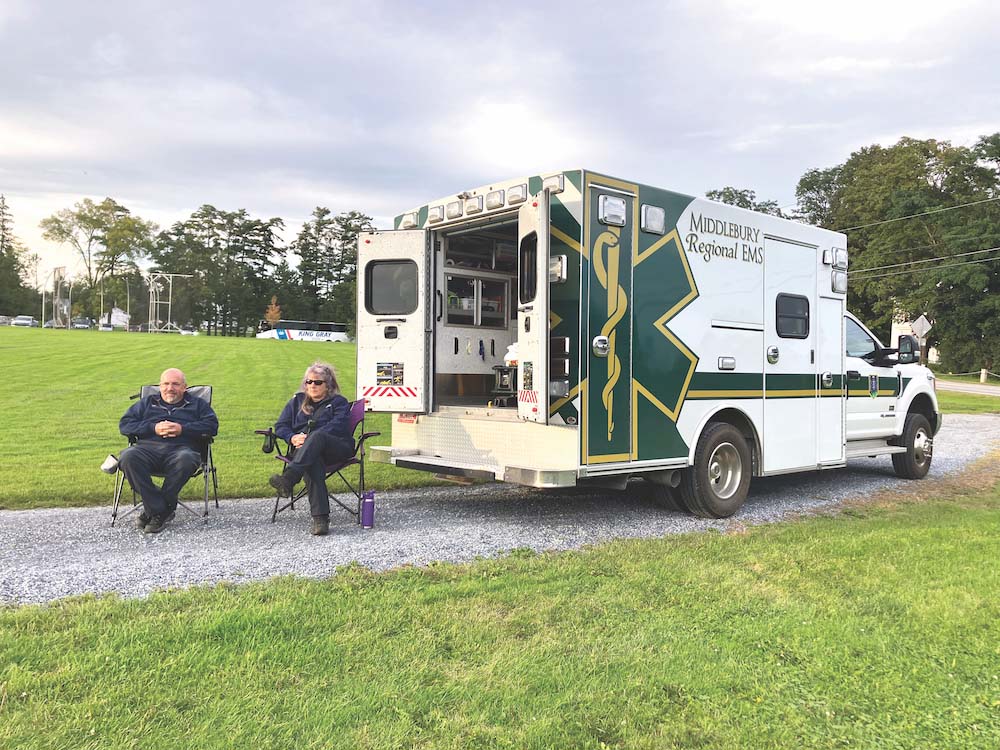 Middlebury Regional Emergency Medical Services wants to eliminate its annual Town Meeting … (read more)
Middlebury police are investigating the death of a Middlebury College junior and say the p … (read more)
In the course of her almost 101 years on Earth, Vergennes resident Margaret Clifford, bett … (read more)