Panther field hockey wins NESCAC title, will host NCAA Regional this weekend
MIDDLEBURY — The top-seeded Middlebury College field hockey team on Sunday survived one of its toughest challenges of the season, coming back from a 3-0 deficit to defeat No. 3 seed Bowdoin, 4-3, in the NESCAC final. The win was the Panthers' 26th straight and 45th in a row at home.
The 18-0 Panthers, the top-ranked team in NCAA Division III and the three-time defending national champion, will now host an NCAA Regional tournament this Saturday and Sunday, with a potentially challenging Regional final looming.
The Panthers will play at 11 a.m. on Saturday against the winner of a Wednesday game between host Vassar and Endicott.
The intrigue comes in their likely Sunday opponent — NESCAC rival Tufts, which took the Panthers into overtime on Kohn Field during the regular season.
On Wednesday, Tufts will host Johnson & Wales, and SUNY-New Paltz will entertain Wilson. Winners of those games will head to Middlebury and meet in the 2 p.m. Regional semifinal on Saturday.
In the Nov. 2 field hockey coaches' poll, Tufts was ranked fourth, while New Paltz was 17th, the only other one of those four teams in the poll. In other words, expect another showdown between the Panthers and Jumbos for a spot in the tournament's Final Four the following weekend.
Tickets on Saturday and Sunday will be available at the site for the games, at $5 for adults and $3 for students.
NESCAC FINAL FOUR
In this past Sunday's NESCAC final, Bowdoin (14-4), which had upset Tufts the day before, took a lead on two Faith Jennings goals in the first period, one from a scramble and one on a breakaway.
In the second quarter, Jennings completed her hat trick by redirecting a pass to make it 3-0.
Later in the quarter, Erin Nicholas put Middlebury on the board by knocking home a Grace Murphy rebound.
The Panthers tied the score in the third period. Joan Vera converted an Isabel Chandler feed on a penalty corner, and Nicholas tipped in an Amy Griffin shot.
Nicholas finished her own hat trick with the game-winner in the fourth by moving past a defender in the right side of the circle before flicking the ball home. It was her 22nd goal of the season, best in NESCAC.
Panther goalie Grace Harlan made two saves, while Bowdoin goalie Maddie Ferrucci stopped six shots. Middlebury held advantages in shots (19-5) and penalty corners (12-5).
In Saturday's semifinal, the Panthers blanked fourth-seeded Trinity, 4-0, without allowing a shot on goal. The Bantams dropped to 12-4. Scoring for Middlebury were Meg Fearey, from Murphy; Griffin, from Chandler; Audrey Lazar, on a rebound of a Vera shot; and Sadie LeStage, from Griffin. Bantam goalie Olivia McMichael made six saves.
More News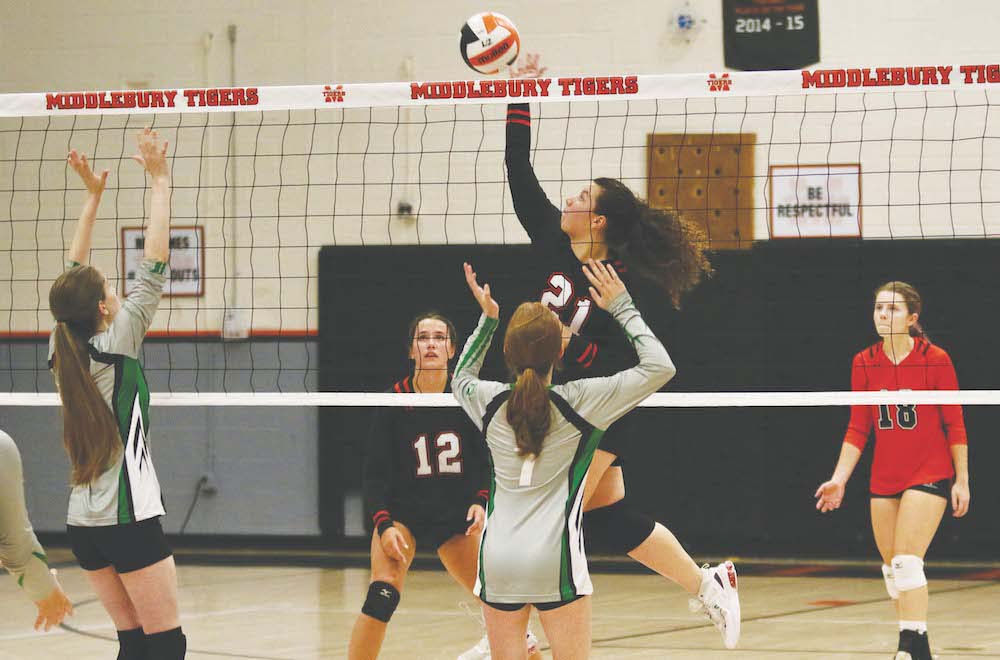 The first-year Middlebury Union High School girls' varsity volleyball team continued its r … (read more)
Soggy conditions didn't slow down Middlebury runners noticeably at a cross-country meet ho … (read more)
I gave Bill Lee a call last week, hoping he was at his home in Craftsbury and we might arr … (read more)