Boys' soccer: Tigers, OV win
ADDISON COUNTY — Middlebury topped Vergennes to highlight the boys' high school soccer slate between Oct. 13 and 19. In other games, Mount Abraham lost at home, and Otter Valley won on neutral territory.
The Commodores also hosted the Eagles on Tuesday; see story on Page 1B.
MUHS VS. VUHS
On Oct. 15 the Tigers edged the Commodores, 2-1, when Henry Carpenter scored in the 75th minute to snap a 1-1 tie. Carpenter also assisted Eddie Fallis's first-half score, and goalie Owen Lawton made six saves for MUHS. The Tigers improved to 7-4-1 heading into a Wednesday game at undefeated Milton, which was played after the deadline for this edition.
The Commodores knotted the score in the second half with a strike from Shamus Rooney, and goalie Abram Francis stopped eight shots. VUHS carried an 8-2-2 record into Tuesday's home match with the Eagles.
EAGLES
On Friday visiting Rice avenged an earlier home loss to Mount Abe by blanking the Eagles, 2-0.
Morgan Kenny and Victor John found the net for the Green Knights in the second half, and goalie Nate Degraff-Murphy made two saves.
Creed Stilwell made 10 saves for the Eagles, who dropped to 4-6-1 heading into Tuesday.
OTTERS
In a Saturday game played as part of a three-game fundraising tournament at Proctor, the Otters blanked Fair Haven, 2-0, improving to 3-8-2 by doing so.
Drew Pelkey, from Aiden Decker, gave the Otters an early lead, and Kieran Williams added a second-half pad goal on a direct kick.
Goalie Hayden Bernhardt worked the shutout, and defender Max Derby was awarded a game MVP jersey by tournament organizers.
More News
Tiger boys' cross-country team held off runners from Burr & Burton, VUHS and Mount Abe in … (read more)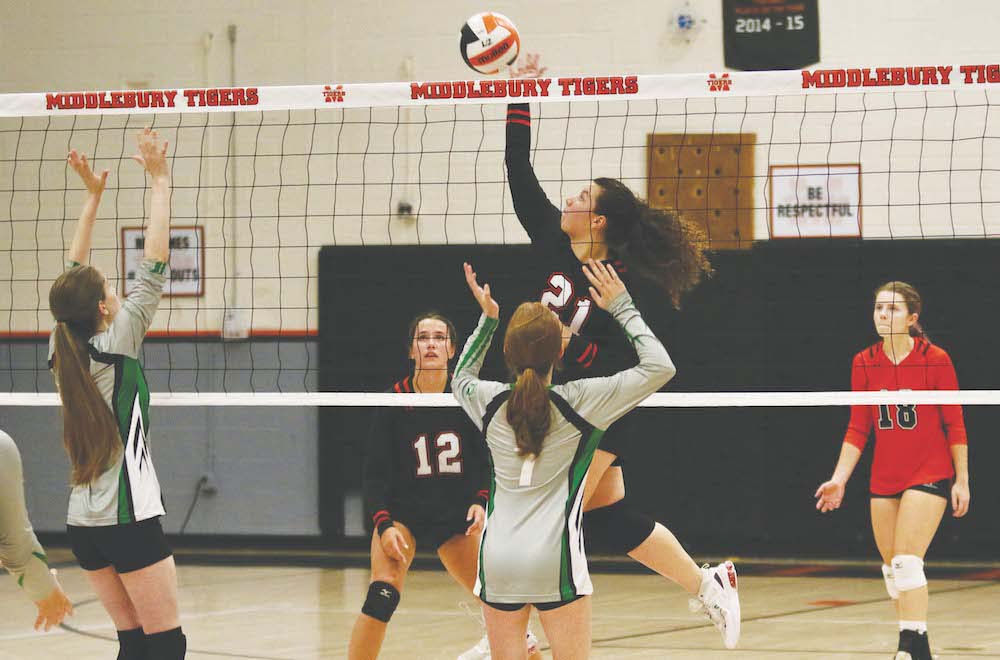 The first-year Middlebury Union High School girls' varsity volleyball team continued its r … (read more)
I gave Bill Lee a call last week, hoping he was at his home in Craftsbury and we might arr … (read more)