Four locals claim Devil's Bowl wins
WEST HAVEN — Three area drivers picked up wins at Devil's Bowl Speedway on Saturday, Sept. 18, one of them clinching a series championship in the process. Two drivers remain in the thick of the race for the titles in the dirt track's top two series.
Orwell's Ray Hanson clinched the 500cc Mini Sprints series championship early in the evening, taking the lead in the fourth circuit of the 15-lap race and cruising to his 11th victory of the summer. New Hampshire's Kamden Duffy trailed in second, Monkton's Kaidin White was fifth, and Orwell's Roger LaDuc took fifth.
Middlebury's Austin Comes prevailed in a 25-lap Limited Sportsman feature, earning his fourth win of the season. By finishing first, while series leader Troy Audet of Bridport was sixth, Comes sliced 12 points off Audet's championship lead and now trails by just 23 points as they duel for the title. New Haven's Alex Layn finished fourth.
In the headline 30-lap Sportsman Modified race, New York driver Jimmy Davis took advantage of a 19th-lap restart to take the lead and held off Castleton's Mike Fisher for the win. It was Davis' first win at Devil's Bowl in 24 years. Shoreham's Jimmy Ryan, Leicester's Adam Piper and Shoreham's Anthony Warren ran 3-4-5.
Series championship contenders Justin Comes of Middlebury and Tim LaDuc of Orwell finished 8th and 12th, respectively, and Comes holds a lead of 18 points over his county rival.
Area drivers swept two Mini Stock races, a 15-lap A feature and a 10-lap B feature.
In the A feature, Brandon's Mark Mahoney nipped Cornwall's Brian Blake by three feet at the finish line to claim the win. Orwell's Daryl Gebo took fourth, but still trails Ripton's Chris Sumner, who was sixth, by 37 points in the title race. Cornwall's Jake Barrows finished fifth as local racers claimed five out of the top six slots.
In the B feature, East Middlebury's Joe Malzac led all 10 laps for his first Devil's Bowl victory in 34 years of racing.
In a 15-lap Super Stock feature New York driver Jim McKiernan posted a coast-to-coast win in the season finale for the series, with Granville, N.Y., driver Paul Braymer in second. Fair Haven's Chris Murray finished third, a result good enough to claim the championship in the division over Braymer.
More News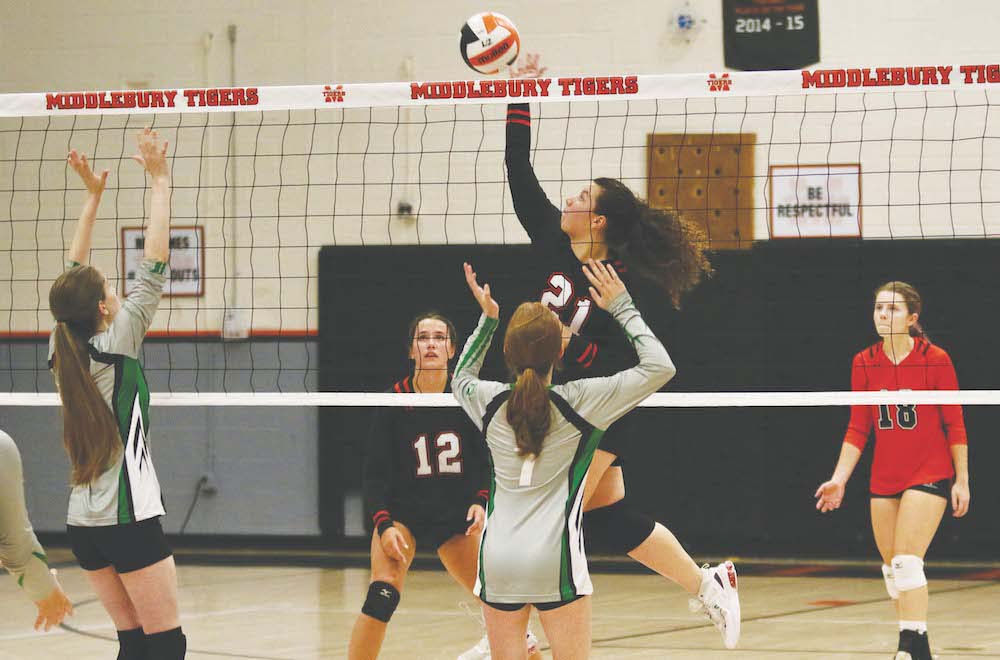 The first-year Middlebury Union High School girls' varsity volleyball team continued its r … (read more)
Soggy conditions didn't slow down Middlebury runners noticeably at a cross-country meet ho … (read more)
I gave Bill Lee a call last week, hoping he was at his home in Craftsbury and we might arr … (read more)