Creek unsettles the dead in Weybridge
MIDDLEBURY — The Weybridge selectboard is proving attentive to all of its residents — even those who haven't paid taxes nor drawn breath for more than 150 years.
At issue are the roughly 20 residents of the old Stow Cemetery at the end of Gooseneck Bend Road. The cemetery has been giving up its dead to the at-times ferocious and unforgiving Otter Creek, with which the disheveled burial ground shares a border.
"This problem has existed for many years," noted former Weybridge Selectman Don Mason, who has become one of Stow Cemetery's most active angels.
"We're sitting here at what was the bottom of the Champlain Sea, which means there's hard clay eight- to 10 feet down," he explained. "The water perks down until it gets to the clay layer, and then it continues downhill. Where the Gooseneck Bend is, downhill is the Otter Creek. So the water proceeds in that direction and takes the land with it."
It's a situation that becomes even worse during major flood events, like Tropical Storm Irene. So the Otter Creek has been taking bites out of the embankment bordering the cemetery, at the same time sweeping away the remains of some of Weybridge's earliest inhabitants.
No one knows how many bones have been lost to the restless waterway. Mason suspects Stow Cemetery has its share of unmarked graves, along with those fortunate enough to be adorned with now-tilting, weathered tombstones etched with names long-since obscured by moss and wind-swept flotsam.
It was only thanks to the special efforts of Vermont State Archaeologist Francis "Jess" Robinson that Stow Cemetery's most celebrated occupant, Josiah Clark, escaped an involuntary surrender to the creek. Clark (1757-1835) was a Revolutionary War veteran who fought at the Battle of Bunker Hill in 1775. Robinson made an emergency trip to the cemetery a few years ago to deftly collect Clark's remains for storage before the creek could claim his coffin.
Clark's spouse and plot-mate, Lucy Bull Clark, has perhaps already lost her standoff with the creek; a team from the University of Vermont's Consulting Archaeology Program (CAP) will sort that out as it disinters the remaining Stow Cemetery inhabitants, perhaps as soon as this fall.
Plans call for the Stow alumni to be re-interred about three miles away in the "Old Weybridge Hill Cemetery," in the woods off of Route 23. Mason and current selectboard members knew there was enough room there to accommodate the Stow crew. And like the Stow Cemetery, the Old Weybridge Hill Cemetery is off the beaten path, and many of those interred there would have been contemporaries of their soon-to-be-new neighbors.
"This seemed like the most appropriate place for them to go," Weybridge Selectman Charlie Jordan said.
 "Both cemeteries are in a defunct state where the town takes care of the cemetery itself."
Weybridge officials have flagged a vacant swath of the Old Weybridge Hill Cemetery that's believed to be vacant. Just to make sure, they'll have a loader scrape down the first four of five inches of soil to ensure there are no unmarked graves below, according to Mason.
John Crock is an associate professor of Anthropology at UVM and also serves as director of the university's CAP program. He's looking forward to leading his students through the Stow-Old Weybridge Hill Cemeteries project. It will provide them with valuable hands-on experience, transporting them through history while allowing them to pick up various clues through examination of the bones.
"Part of the goal of this, too, is to learn a little bit about standard nutrition and pathology of the individuals," he said. "We're doing this primarily to secure and preserve the site, and relocate remains, but it's also an opportunity to look at individuals who lived during this period of time."
It'll be somewhat of a jigsaw puzzle, making sure the remains are as complete as possible, and trying to ascertain where graves might have once existed but have been lost during the ongoing detour of the Otter Creek.
The complexities of the project are actually fueling Crock's excitement. Along with a need to carefully and sensitively extract and handle the remains — protecting them from the whims of Mother Nature — is the prospect of finding other graves and artifacts belonging to what were truly the region's first settlers: Native Americans.
"The Otter Creek has long been known as a highway for Native Americans," Crock said, alluding to the sustenance the waterway has long provided. The creek has thus dictated travel and settlement patterns for humans for many centuries.
"In this case, we'll have to do archaeology from top to bottom," Crock said.
He believes the remains his crew finds "should be fairly well preserved. It has a lot to do with the retention of moisture in the soil. It's better drained than some areas, so typically there's better preservation of bone."
Through it all, Crock said he and his students will reflect on the contributions of the Stow Cemetery inhabitants' lives, while being respectful. While Josiah Clark grabs a lot of headlines, all remains must be treated with equal importance.
For example, one of those interred at Stow Cemetery has a gravestone that no longer shares the deceased's name, but notes he was "killed by the roll of a saw log" at age 20, on May 2, 1839.
Mason believes the Stow-Old Weybridge Hill Cemetery reburial project could top at $40,000. Having the UVM CAP program in charge of the effort is allowing the town to get the job done at a reduced price, as it will involve students working for academic credit, rather than money.
The town will likely be able to chip away at the financing of the project, rather than having to come up with the entire cost upfront, Mason said.
The Weybridge selectboard has pledged $2,000 in town funds toward the effort. Meanwhile, Selectman Charlie Jordan hopes to raise another $3,000 through a raffle of equipment donated by Taylor Rental. Raffle tickets can be purchased through Jordan, and at the Weybridge Town Clerk's office.
The Sons and Daughters of the American Revolution groups have expressed a willingness to contribute to the effort, and VOCA has set up an account for donations, according to Mason.
Asked why he's become so devoted to the cemeteries project, Mason replied, "I feel warmly toward people who, for whatever reason, chose to come to Weybridge."
He joked he's always felt comfortable in a cemetery environment; one of his first childhood jobs was in a graveyard.
"It's not threatening to me, meaning I'm not afraid to be in cemeteries," he said with a smile.
"We're delighted to live in Weybridge, and this is a way to give something back. I'm happy to do it."
Jordan's family has provided stewardship for various Weybridge cemeteries for three generations. He has a relative — Revolutionary War veteran Justus Sturtevant — who is buried at the Old Weybridge Hill Cemetery.
"I have ties to most of the cemeteries in town," Jordan said. "My grandfather and my aunt passed away before I was born, but I've always had a tie to the cemetery, visiting relatives."
Weybridge selectboard member Megan Sutton has done great research on the cemeteries and is completely on board with the task at hand.
"It's kind of a no-brainer; it feels like a community obligation, is how I look at it," Sutton said.
And with the Otter Creek a constant threat, Sutton said, "it didn't feel like we had time to sit back and wait."
Weybridge officials are hoping for a great turnout at the Saturday, Oct. 9 community workday at the Old Weybridge Hill Cemetery. Volunteers of all ages are asked to help out from 8 a.m. to noon as there will be a variety of tasks, ranging from picking up sticks to straightening and cleaning headstones.
Helpers are asked to park in the lot across from the Monument Farms Dairy at 2107 James Road. The lot is adjacent to an old brick building at the intersection of James Road, Route 23 and Quaker Village Road. The path to the cemetery is just south of the mailbox for 2537 Weybridge Road (Rt. 23). The town of Weybridge will supply signs to guide participants and warn drivers of pedestrians.
Those who can't physically help can write a check.
"We would welcome contributions from people in town," Mason said.
Anyone wishing to volunteer labor or donate money to the Stow Cemetery cause should contact Don Mason at [email protected].
Reporter John Flowers is at [email protected].
More News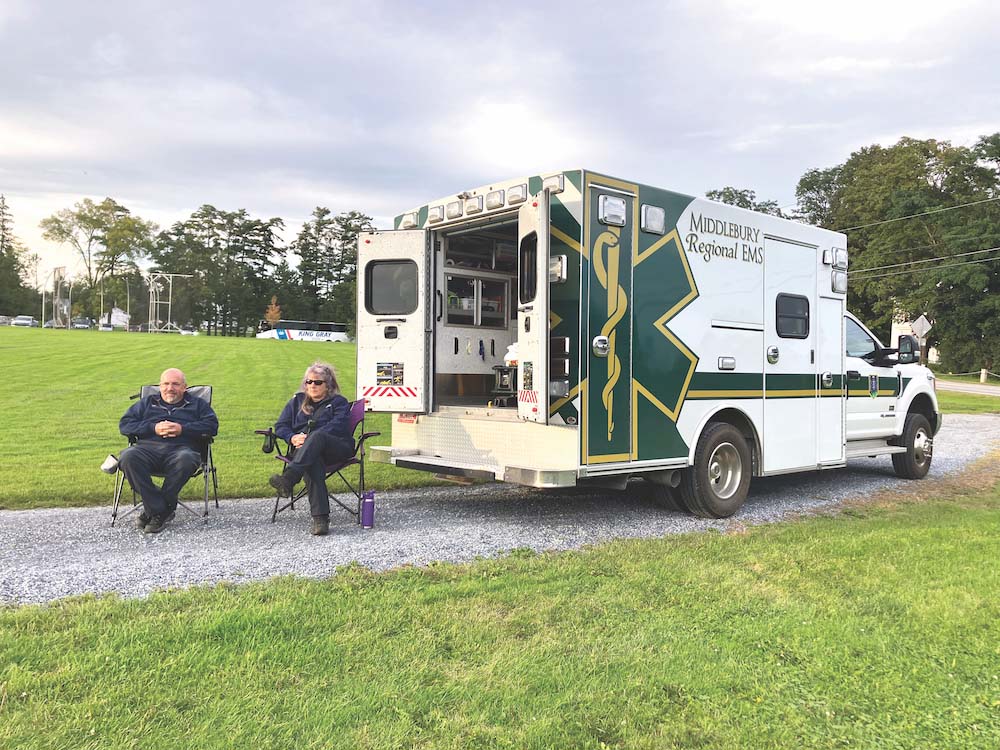 Middlebury Regional Emergency Medical Services wants to eliminate its annual Town Meeting … (read more)
Middlebury police are investigating the death of a Middlebury College junior and say the p … (read more)
In the course of her almost 101 years on Earth, Vergennes resident Margaret Clifford, bett … (read more)