Ryan tops the field at Devil's Bowl
WEST HAVEN — Shoreham racer Jimmy Ryan, 59, ended a two-year winless drought at Devil's Bowl Speedway on Saturday when he won the 30-lap Sportsman Modified feature.
Ryan had an early tussle with Gene Pierson and a sensational mid-race battle with Demetrios Drellos.
Ryan escaped damage on lap 7 when he nudged leader Pierson while the pair raced three-wide up front with Joey Scarborough of Brandon. Pierson's car got pushed into the wall nose-first, ending his bid for an upset win.
Ryan emerged unscathed and was in the lead when Drellos came calling just after the halfway point. The pair thrilled the crowd as they traded slide jobs before Drellos and Scarborough took each other out at lap 20 while chasing Ryan into Turn 1. Ryan ran away in the final 10 laps to score a popular win — the 16th of his long career at Devil's Bowl. Justin Comes of Middlebury rallied late in the race for the runner-up finish — his best of the year — while Orwell's Tim LaDuc was third for the third consecutive race.
James Hanson, also of Orwell, ran his best race of the summer with a fourth-place effort, and Justin Stone of Middlebury came from 18th at the start to finish fifth.
Following the race, Devil's Bowl officials report that Scarborough entered the pit area and intentionally drove his car toward the Drellos pit stall at a high rate of speed, narrowly missing several pedestrians before ramming into the parked racecar of Justin Stone. Scarborough then attempted to reverse his car and change directions before several people including Devil's Bowl Speedway owner Mike Bruno intervened, stopping Scarborough's car from moving. Scarborough then exited his car and a scuffle ensued with several bystanders, Devil's Bowl reported.
The incident resulted in a disqualification and indefinite suspension for Joey Scarborough and several members of his team, and Scarborough has been stripped of all points accumulated in the 2021 season. Drellos was also penalized to last place in the finish order and suspended for one event for hitting Scarborough's car from behind during the race.
Several other Addison County racers had impressive performances at Devil's Bowl on Saturday. The winner's and other county racers placing were:
Sportsman Modified Feature (30 laps)
1. Jimmy Ryan, Shoreham
2. Justin Comes, Middlebury
3. Tim LaDuc, Orwell
4. James Hanson, Orwell
5. Justin Stone, Middlebury
9. Anthony Warren, Shoreham
10. Mike Palmer, Salisbury
12. Adam Piper, Leicester
17. Joey Scarborough, Brandon
18. Vince Quenneville, Brandon
22. Josh Masterson, Bristol
O'Reilly Auto Parts Limited Sportsman Feature (25 laps – extended to 26 laps by green-white-checkered finish)
1. Beau Reeves, Plattsburgh, N.Y.
3. Austin Comes, Middlebury
4. Troy Audet, Bridport
5. Steve Pope, Shoreham
6. Gary English, Salisbury
17. John Gosselin, Shoreham
24. Randy Ryan, Orwell
Super Stock Feature (25 laps)
1. Mark Norris, Benson
2. Chuck Bradford, Addison
10. Jessie Rule, Middlebury
Summit Up Construction Mini Stock Feature (20 laps – shortened to 11 laps by time constraints)
1. Adam Mahoney, Rutland
2. Daryl Gebo, Orwell
8. Derrick Counter, Leicester
10. Jake Barrows, Middlebury
13. Griff Mahoney, Bristol
14. Brian Blake, Cornwall
18. Jakobee Alger, Orwell
22. Hunter Clark, Salisbury
24. Jason Kerr, Shoreham
28. Chris Sumner, Ripton
29. Willie Rice, Poultney
Friend Construction 500cc Mini Sprint Feature (15 laps)
1. John Smith, Poultney
2. Kaidin White, Monkton
3. Gage Provencher, Bridport
4. Roger LaDuc, Orwell
5. Ray Hanson, Orwell
7. Kevin Smith, Brandon
More News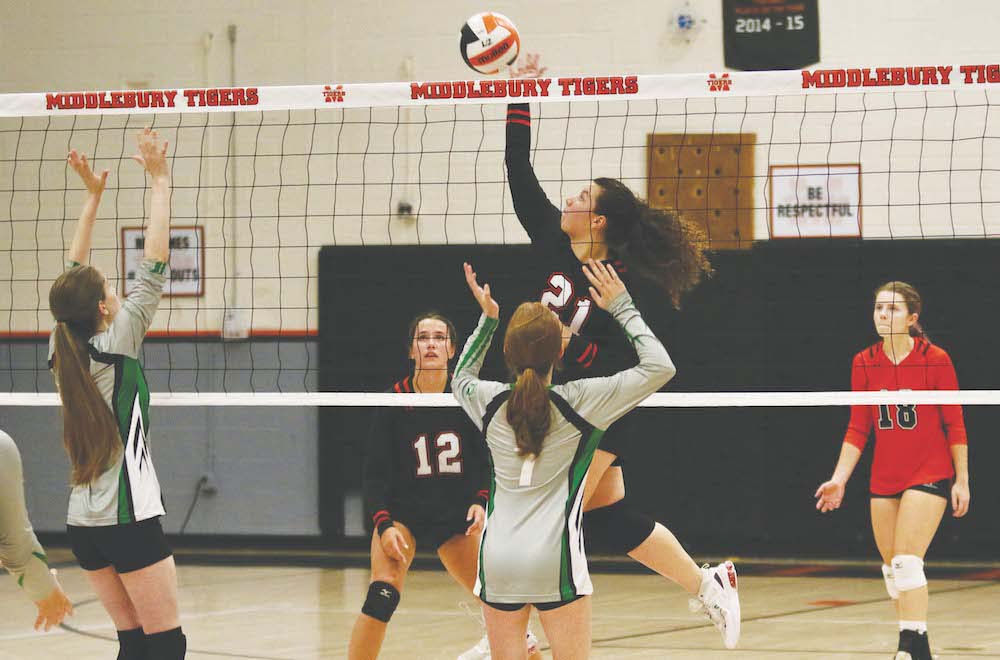 The first-year Middlebury Union High School girls' varsity volleyball team continued its r … (read more)
Soggy conditions didn't slow down Middlebury runners noticeably at a cross-country meet ho … (read more)
I gave Bill Lee a call last week, hoping he was at his home in Craftsbury and we might arr … (read more)